Democrats Fear Brian Sandoval Could Peel Away Latino Voters In 2016
The DNC isn't worried about Marco Rubio or Susana Martinez, but sources who spoke with top officials tell BuzzFeed News they think Brian Sandoval could be a problem for them.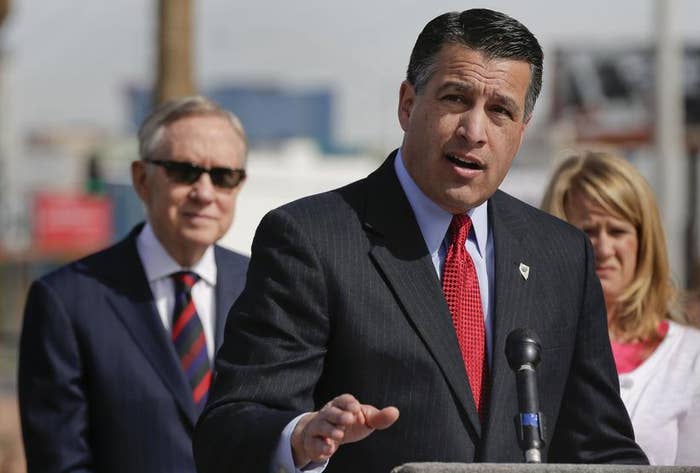 In meetings in the last month top DNC officials have repeatedly mentioned that Nevada Governor Brian Sandoval is best positioned to peel away Latino voters from the Democratic Party in 2016, if he were named the vice presidential nominee, three sources told BuzzFeed News.
According to the sources familiar with the meetings, the DNC does not expect Republicans to pass major policy changes in the next two years that will appeal to Latinos and believes the party's best chance will be to moderate its rhetoric on immigration — and put forth a Latino vice presidential candidate.
The DNC officials don't believe the most dangerous candidate to them is Sen. Marco Rubio, who, according to the sources, they feel has been damaged by flip flopping on immigration. The same goes for New Mexico Governor Susana Martinez, who DNC officials suggested isn't as credible a national candidate as some believe due to her trouble staying on message, according to the sources.
Sandoval, a popular governor, with approval ratings consistently north of 60%, is Mexican-American and resides in the Southwest, two factors the DNC officials believe would work in his favor since close to 70% of Latinos in the U.S. are Mexican. He is expected to be reelected next month.
"They think he's like a Hispanic Mitt Romney," one of the sources who met with the DNC said, calling Sandoval more "relatable." "He has the things people liked about Mitt Romney but he's Hispanic."
Sandoval has made moves on immigration policy that would appease Democrats, as well. In January, he signed a law passed by Nevada's Democratic-controlled legislature that gave licenses to undocumented immigrants. He also has praised the U.S. Senate's bipartisan immigration overhaul.
Still, Sandoval does not have huge name recognition nationally and did not perform well with Latino voters in 2010. The political environment that year, however, featured an unusually heated race between Majority Leader Harry Reid and Sharron Angle. Angle's campaign trumpeted her hardline immigration views, and produced campaign ads that framed Latinos as gangbangers.
At the time, Sandoval also faced some controversy over reported but never broadcast remarks he made about Arizona's strict immigration law, SB1070. Asked whether he was afraid his children would be profiled in Arizona, he reportedly said "my children don't look Hispanic." Sandoval made the comments in a Univision video never made public; the comments were confirmed, however, by the Las Vegas Sun.
Sandoval repeatedly denied making the comments before backpedaling. "I don't remember saying it, and it is most certainly not how I feel," he said in a 2010 statement. "If I did say those words, it was wrong and I sincerely regret it. I am proud of my heritage and my family."
Sandoval only won 33% of the Latino vote according to Pew Hispanic, but according to the sources inside DNC meetings, Democrats believe he would do better if added to the Republican ticket in 2016.
The sources who met with the DNC independently said the conversation included what Democrats could do to counteract a positive gain for Republicans from Sandoval, and turned to HUD Secretary Julian Castro, who recently joined Obama's cabinet.
Asked for comment, the DNC declined to address Sandoval directly and told BuzzFeed News whoever is part of the ticket will be bad for Latinos.
"One thing is clear: we're not taking anything for granted in 2016," DNC spokesperson Pili Tobar said in a statement. "Whoever ends up on the Republican ticket will represent an extreme Republican Party that has pushed for policies that harm the Hispanic community. Simply put, Democrats will be the only party running on our record on issues like immigration reform, health care and education that will expand opportunity for the Hispanic community and all Americans."
The Sandoval camp did not let on that they appreciated the attention from Democrats.
"Gov. Sandoval loves his job and intends to serve his final four years as governor if he's re-elected," Sandoval campaign manager Jeremy Hughes said in a statement.