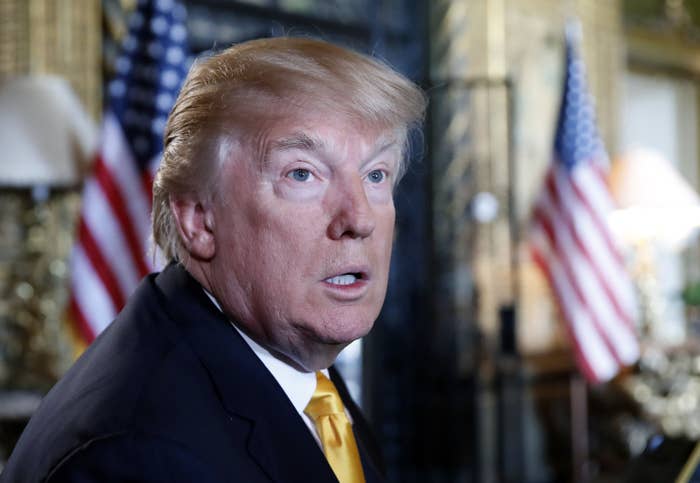 The Republican Party, despite controlling all branches of government for close to a year, finds itself in the puzzling position of desperately trying to pass a tax package that no one quite loves. But seeing that plan become law is a far better scenario than another one White House allies and Republicans are fretting over: What happens to President Donald Trump if the tax plan doesn't pass?
That's not the only existential question facing the White House in December. Trump and Congressional Republicans also face a real risk of a government shutdown once funding expires on Dec. 8, something unprecedented in Washington when one party controls all three branches of government. And there's a genuine chance Republicans' slight majority in the Senate becomes razor-thin after Alabama's Dec. 12 special election, where what should be a surefire Republican seat is in jeopardy following allegations of sexual impropriety against Roy Moore.
Tax reform failing would alone render Trump's first year an abject failure, leaving him with no landmark legislative achievements despite campaign promises to upend Washington. But a shutdown could even further wound Trump's relationships on the Hill, and a Moore loss would be a blow to any potential for year two, deteriorating an already tenuous Senate GOP majority, which as is has scuttled the promise of major legislation like repealing and replacing Obamacare.

Republicans are currently declaring optimism about tax reform reaching Trump's desk in the coming weeks, but reconciling the Senate and House legislation, if the Senate is able to even pass its own bill, will be a challenge. The brash president whose actions have only partly matched his campaign rhetoric could easily find himself limping into 2018 with daunting prospects for legislating.
"I don't think he would get weaker necessarily," a former administration official who remains in contact with the White House told BuzzFeed News, laughing. "I say that because he's already pretty weak. This is someone with a sub-40 approval rating."

Trump is traveling to Missouri Wednesday to try and turn salesman for the tax plan. But he's already overshadowing his own pitch with a barrage of early morning tweets suggesting NBC News executives and host Joe Scarborough are hiding something nefarious, and a series of alarming anti-Muslim retweets from a far-right UK figure.
Some congressional Republicans and GOP donors have long taken a do-or-die view on tax reform. One Republican strategist told BuzzFeed News earlier this month that failing to pass the tax package "could be cataclysmic" for the party come next year's midterms. For Trump, a tax loss could result in Republicans souring on him more publicly than they already have.
But even if the package moves forward, White House allies basically agree Republicans don't know what's next on their agenda. They argue that it isn't that there is no plan, just that there isn't a consensus best option.
House Speaker Paul Ryan would like to tackle welfare reform and would find a willing partner in the White House, but that isn't some clear home run with Trump's base just ahead of midterm elections. And while a separate source told BuzzFeed News that White House officials have considered kicking up an infrastructure plan after taxes, that policy would be a tougher sell to congressional Republicans.
"The public at large supports the notion of infrastructure spending," the former White House official said. "But what do you do to pay for it? Or do you put it on the national credit card?"

The idea of making an infrastructure deal primarily with Democrats seems, at the moment, even more far-fetched.

Sitting between two empty chairs in the Roosevelt Room Tuesday, Trump predictably sought to get the final word in a public spat with Democratic leaders Sen. Chuck Schumer and Rep. Nancy Pelosi, after they responded to a campaign-style tweet of his by pulling out of a planned meeting to discuss the end of year budget negotiation. Trump, in the tweet, said he saw no prospect for a deal because the Democratic leaders support "illegal immigrants" pouring over the border and were "weak on crime."
Making no effort to change his tact and get them to the table, Trump repeated his charges in comments to the media, and said Democrats would be blamed if the government shuts down once funding runs out next week despite his party controlling the government.
Democrats have floated a possible shutdown if protections for young undocumented immigrants — who could again be vulnerable to deportation after Trump ended the Obama-era DACA program — aren't included in the spending bill. White House allies have long said Trump will be in a tough spot if he can't pass a health care bill repeal or tax reform but protects so-called DREAMers instead. There is strong bipartisan support to protect these hundreds of thousands of immigrants, but Trump's latest salvo shows how far apart both sides still are.
Trump — who frustrated Republican leadership by refusing to pressure Moore to pull out of the Alabama Senate race after allegations that he had conducted sexual relationships with minors and teens when he was in his thirties, including an incident of alleged assault — would only find it more difficult to pursue an agenda next year if Democrat Doug Jones pulls off an upset in the tightening race. Even if Moore wins, he could prove a tough vote for Senate Republicans to corral, if he manages to avoid being outright ostracized by Senate leadership.
"The risk is significant," said GOP strategist Matt Mackowiak of the prospect of Trump only having 51 Republican senators to work with come January. "Next year is already going to be very difficult, but if they lose Alabama and tax reform doesn't pass, all bets are off."
Republicans also think Congress might take another pass at repealing and replacing the Affordable Care Act, but only if the votes are there from Senate Republicans, another area where a Moore loss would sting.
"Whoever thought we would have to worry about Alabama?" said one White House adviser.

In response to a Politico report that multiple White House officials are eyeing the exits, Trump allies cautioned that it's natural for there to be turnover in any administration, but Mackowiak said he has heard there will be "a wave" of departures at the end of the year — especially among domestic policy staffers who were going to leave the White House whenever the tax push was over anyway.
Lower-level departures may not be a major issue for the administration, but there is also the more disruptive prospect of senior officials leaving.
There's been chatter among Trump allies and former White House officials that White House chief of staff John Kelly has suggested he can't take abuse from the president forever and won't last beyond the middle of next year, a possibility Steve Bannon, who left his senior White House role once Kelly arrived, suggested to Trump ally Roger Stone this fall, Stone told BuzzFeed News. There has also been rampant speculation over when top advisers and family members Jared Kushner and Ivanka Trump may take leave of the White House and head back to New York, as well as what economic adviser Gary Cohn will do after the tax reform push.

A Kelly departure or the specter of what special counsel Robert Mueller finds in his Russia investigation "has the potential to upset some of the balance and normalcy you've seen the last couple months," the former White House official said. Other Trump allies speculated that the president's mood would darken if Mueller's investigation gets close to Kushner or his son Donald Trump Jr.
Unless the president manages to prevail in his drive for a tax overhaul, Trump would be beset in 2018 by a Republican-led Congress that already had a bad taste in its mouth due to the health care flameouts, sources said, and Ryan and McConnell would ultimately spend the year focused on protecting their majorities in November's elections, rather than allowing the White House to enjoy any leverage on legislation going forward.
Republicans have become increasingly pessimistic about their chances in 2018 since Democrats' success in Virginia and elsewhere in early November, and they're now entertaining the possibility that Democrats could experience a wave of victories, wresting control of either chamber of Congress.
America First, a pro-Trump group that has polled on taxes since June, said they are in observation mode at the moment regarding next year's elections and declined to go into their agenda beyond taxes. Lumping in Virginia with "a handful of deep-blue states" where Democrats did well, an official for the group said they don't believe there will be a Democratic surge.
But one of the group's policy advisers, Juan Pablo Andrade, said beyond the challenge of Democratic obstruction, there is the problem of Republicans who are not consistently standing with Trump, which will be "a problem for them in 2018."
Sam Nunberg, an early Trump campaign adviser, said the onus for now is on Senate Republicans to pass something and make sure Trump's first year isn't wasted.
"When the president runs for reelection, the American people are not going to remember what happened in 2017. They're not going to blame him for the Senate Republican conference failure," Nunberg said. "When it comes to elections and legislation, the rules of political gravity haven't applied to him. But we'll find out."