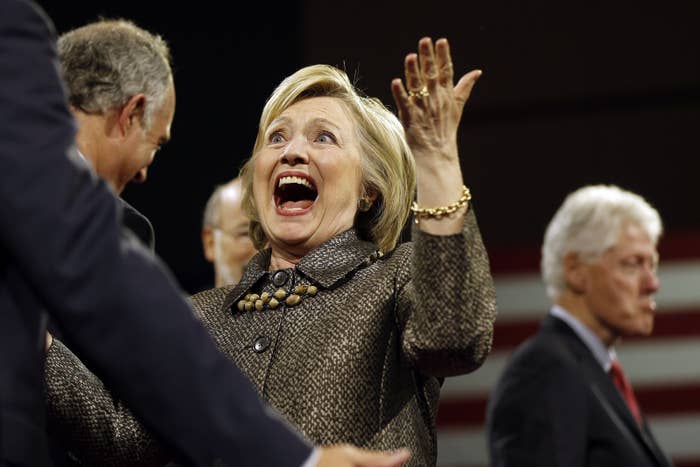 BuzzFeed News has learned that Jorge Neri will take the reins in Nevada for Hillary Clinton's campaign, the state where he served as organizing director during her momentum-shifting caucus win, according to two sources with knowledge of the campaign's plan.
Michelle White, who served as the Nevada political director, will be deputy state director. The Clinton campaign confirmed both moves.
The news comes on the heels of the announcement that former Nevada state director Emmy Ruiz will run Colorado for Clinton in the general election. Ruiz and Neri worked together to deliver Nevada for Obama in the general election in 2012, with 70% of the Latino vote, and used their early arrival and relationships in the Hispanic community in the state to win in February for Clinton.
"These are two political pros who happen to be Latino, who know the game — and are at the top of their game — who understand the critical nature of ensuring Latinos are part and parcel with the political program," said Maria Cardona, a Democratic strategist close to the Clinton campaign.
Neri is currently based in Nevada where he is preparing for the convention. And the campaign would be wise not to fall into a trap other Democrats are falling into, Cardona argued. Democrats, who believe a matchup with the Republican frontrunner Trump would be a "cakewalk" or that Clinton would "wipe the floor with him," she said.
"It's going to be tough slog no matter who the Republican nominee is," she said. "I'm happy to see they're not taking it for granted."
Ruiz will have her work cut out for her in Colorado, where Bernie Sanders had a big win with almost 60% of the caucus vote, said James Mejia, a Democratic strategist in Colorado, who has not endorsed in the primary.
"Sanders won resoundingly in Colorado which was a big surprise to a lot of people," he said.
Part of that successful strategy was an up-and-coming young Latina, who worked with the state's sizable Chicano population, running the state for him, Mejia said, of Sander's state director Dulce Saenz. He believes Ruiz can play a similar role.
"The Latino community in Colorado is going to be much less critical of a campaign when one of our own rising stars is at the helm working to make things happen," he said, also noting that Clinton's operation will have to work hard in the state, ignoring the conventional wisdom that a matchup with Trump would be easy for her.
That work will have to be guided by an understanding that Colorado's Hispanic voter profile is different than Nevada's. Where Nevada is much more heavily immigrant, Colorado has more second and third generation Latinos who are U.S. born. In the state, 60% of Hispanics speak only English at home.
Mejia pointed to Ken Salazar, one of Colorado's Latino leaders, whom he described as a "fifth or sixth generation Coloradan."
"We're Latinos who are fighting to maintain the culture as opposed to those Latinos coming in fighting to enter the mainstream," he said.