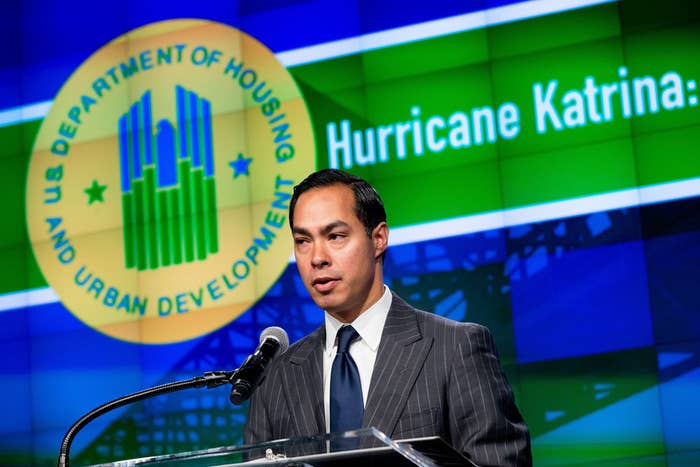 A black progressive group is disassociating itself with a larger progressive coalition critical of Secretary of Housing and Urban Development Julian Castro's handling of mortgages and foreclosures.
The executive director of ColorofChange, Rashad Robinson, told BuzzFeed News that his group was surprised by a Politico story in which representatives of the coalition questioned Castro's progressive bonafides and his viability as a potential vice presidential pick.
"Attacking his commitment to communities of color or his next steps politically was not the campaign that we wanted to be a part of," Robinson said.
Robinson stressed that his organization is not new to the effort to push HUD and Castro to lean less on selling distressed homes to big financial institutions rather than nonprofits. When news broke of the coalition — which included 11 other progressive groups and the Latino organization, Presente — ColorofChange had only emailed 12,000 of its 1.2 million members with information about its involvement.
Robinson said he did not receive one phone call of complaint with the group's involvement and did not see much blowback on their Facebook page, but concluded that the best way to keep the focus on the issue, as Elizabeth Warren and mayors around the country are doing, was to walk away from the coalition.
Behind the scenes, the Latino Victory Project, a group that helps elect Latino Democrats, worked with ColorofChange as it decided to leave the coalition while fallout from the Castro criticism grew.
LVP president Cristobal Alex thanked ColorofChange for its leadership and called the initial Castro comments a "direct, personal and political attack badly disguised as policy, and meant to sink one of our top Latino leaders as a potential Vice Presidential pick."
"These attacks are unacceptable and we're not going to take them any longer," he said.
On Thursday BuzzFeed News reported that Joe Velasquez, an experienced Democratic operative from Bill Clinton's administration, submitted his resignation letter to the board of American Family Voices, calling on the group to apologize for its part in ripping Castro.
Robinson also expressed frustration with American Family Voices head Mike Lux, who in an email to Velasquez, obtained by BuzzFeed News, apologized for not letting him know about the coming criticism of Castro, and said he was following the lead of black and Latino groups like ColorofChange and Presente who were part of the coalition.
"I haven't spoken to him, I haven't seen him in months," Robinson said. "So I'm quite disappointed that instead of standing on his own reasons he would choose to lean on us, when he has had no communication with us on this issue."
The leading national Latino coalition of 40 groups the National Hispanic Leadership Agenda (NHLA) also planned to kick out Presente, the only Latino group in the coalition — according to two sources with knowledge of the discussions — for attacking Castro when a stated goal of NHLA is to increase federal appointments of Latino officials.
While NHLA would not comment on internal deliberations, its chair Hector Sanchez sent an email to members Thursday, obtained by BuzzFeed News, disputing the plan to remove Presente from the coalition.
"One article that raised particular concern alleges that NHLA Board members have stated that NHLA "plans to kick out" one of our members. This statement is false and not an official position of the NHLA," the email read in part, while calling for unity from the groups.
But while NHLA has sought to avoid a public spat over the issue, privately it has told members the executive committee wants to deal with Presente "quietly and forcefully," a source within the organization said.
The anger has been that Presente "used the good office and good reputation of other NHLA members as cover to attack Latinos and attack other Latino organizations," the source said. "That they're going to put an end to."