A broad new effort meant to show bipartisan unity around a pivotal immigration issue betrays infighting behind the scenes, where even deeply committed Latino leaders could not come to an agreement on basic principles of how to prevent hundreds of thousands of young immigrants from being deported.

Top national progressive and conservative Latino groups came together Thursday in a rare show of unity to push for a legislative solution that would protect young undocumented immigrants brought to the US as children who could be in danger of deportation once the Obama-era Deferred Action for Childhood Arrivals program ends on March 5.
The message was that while negotiation and compromise will be necessary for an eventual bill out of Congress, they for now want to stand together and make the point that the most important thing is the 800,000 young immigrants whose lives have been thrown into flux by President Trump's decision to end the program and punt responsibility for a solution to Congress.
"This is historic, from progressives to conservatives. For once since I've been involved in politics, we want to work together to get something done. We're much more powerful when we work together," said Mario Rodriguez, one of the creators of the effort and chairman of the Hispanic 100, a group that works to elect Republicans and works closely with the White House. "We're not going to dig down into particulars today at all."

But what leaders did in public Thursday — showing unity while refraining from praising or criticizing Trump — is far different from what they discussed privately in the three weeks leading up to the press conference, according to a dozen sources involved or familiar with the process who spoke with BuzzFeed News.
A source familiar with the effort chided the broad unity message as not going nearly far enough in the current political climate.
"It's almost like we're saying, 'we like sunny days and ice cream.' Well, no shit," the source said. "I don't know of any responsible Latino leader of any ideological stripe who doesn't want DACA preserved. To me that's non-news, the news would be that at least in private that we agree."
Initially, the idea was to show that Latino leaders from different ideological backgrounds could come to a compromise, proving to Congress that broad parameters exist where the two parties can work together.
In phone calls in recent weeks, advocates from both sides argued for what should be included and what shouldn't, discussing everything from an effort to curb legal immigration known as the RAISE Act, to a path to citizenship for DREAMers, to sanctuary cities.
An early figure in those talks was Fox News contributor Steve Cortes, who has worked with the Trump administration. He's argued that Trump would only sign something that gave enough to conservatives and stuck close to the vision of immigration Trump espoused during his campaign.
But in a flurry of phone calls and emails this past weekend, with pressure from progressive groups, the conservative members of the coalition agreed to drop Cortes from the group and keep the focus on DACA recipients.
Javier Palomarez, the head of the US Hispanic Chamber of Commerce, who was initially removed from the group over his comments on cable networks blasting Trump for his decision to end DACA, was allowed back in for the public show of unity.
"The discussions we've been having are, 'let's not incorporate things that are going to derail things,'" said Daniel Garza, head of the Koch brother–funded LIBRE Initiative. "It's important to show that we've come together and that the Latino community is unified on this one."

Some of the conservative groups involved in the effort, besides Hispanic 100 and LIBRE Initiative, are the Latino Partnership for Conservative Principles, the evangelical National Hispanic Christian Leadership Conference, the Hispanic Leadership Fund, and the Texas Federation of Hispanic Republicans. The progressive groups include the Labor Council for Latin American Advancement (LCLAA), League of United Latin American Citizens (LULAC), Voto Latino, and UnidosUS, formerly known as the National Council of La Raza.
Many of the leaders declined to talk about Cortes and Palomarez on the record, keeping the focus on Thursday's event. Rodriguez disputed that Cortes was ever really removed, because he serves as his spokesperson for the Hispanic 100.
"Steve was not pushed out, he's my spokesperson. But his schedule was conflicting," Rodriguez said. "We only wanted one person from each organization and Steve has been very helpful as a national spokesperson on TV, that's where he can be the best help."

Cortes, who has advocated hardline views in line with administration policy on immigration, declined to discuss his ouster but said he is in favor of DACA protections.
"Although I am not part of this recent Latino coalition, I have close friends participating and wish them well and hope progressive Latinos will negotiate in good faith with the Congress to achieve the common goal we share of protecting DACA young adults," he said in a statement to BuzzFeed News.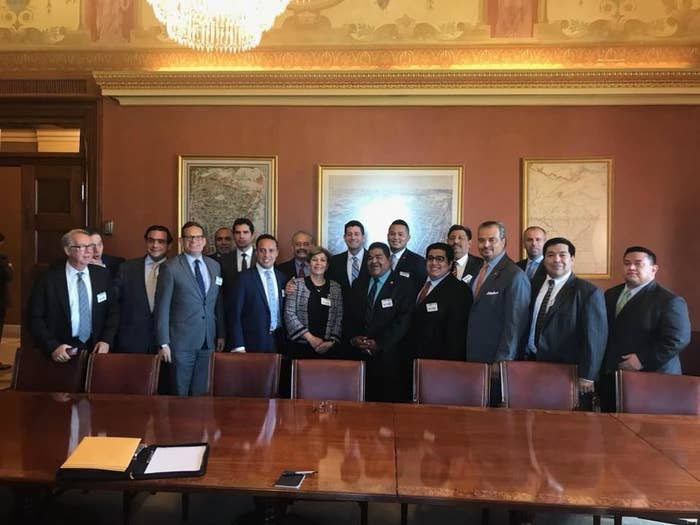 Members of the conservative side of the coalition held meetings with Republican leaders on the Capitol Hill Wednesday to push for a solution for DACA, posting photos with House Speaker Paul Ryan and meeting with Chairman of the House Judiciary Committee Bob Goodlatte, and Reps. Raul Labrador, Jim Johnson, and Mario Diaz-Balart, among others.

One conservative Latino said Goodlatte mentioned that two concerns of the conservative base that need to be addressed are chain migration and a strong enforcement mechanism that would discourage future illegal immigration into the US. "Congressmen who were against DACA are on board with jumping on this legislation if you address those concerns," the source said.
A source who spoke to the Trump administration said they want "a ring around DACA," ensuring that no additional young undocumented immigrants could come to the US and be eligible for legal status, as well as that eligible DREAMers are "not entitled to sponsor people, so there is no chain migration off of this million or so people."
The unity message was still seen as an important step to create space to get a deal done, with Latinos increasingly feeling pressured by Trump senior adviser Stephen Miller's work to undermine a broadly sketched deal between the president and Democratic leaders. Politico reported Thursday that Miller's plan is to release principles that would curb legal immigration, "including measures that would give state and local law enforcement power to enforce immigration laws, allow states to write their own immigration laws and expand criminal penalties for entering the US illegally."
Mario Lopez, head of the conservative Hispanic Leadership Fund, said the best thing Congress can do at this point is keep DACA legislation simple, or else Republicans could fall down a path of complication that has already doomed their efforts on health care.
"As we found out in the past, the more you pile on, the more complicated it gets," he said. "The tradeoffs become unmanageable, and I think it would be a shame if after four years of Republicans saying we can't do comprehensive, we have to do piecemeal, for them to go back on their own recommendations. It stands a chance to backfire."

The progressive groups in the coalition understand that their position advocating for compromise on the same day immigration advocacy organizations led by United We Dream called for a "clean DREAM Act" is not completely accepted on the left, but feel it is important because of the perilous position DREAMers find themselves in after Trump's decision.
Clarissa Martinez of UnidosUS said, "We're not going to negotiate at a press conference [but] the basic thing here is there is overwhelming support for this issue across the political spectrum and our coming together is an embodiment of that. We know negotiations are taking place and we want to pressure people to get to a just solution and also stand up to those derailing progress."

"There are five months until the program is over," said LULAC's Roger Rocha, one of the co-chairs of the bipartisan effort. "Everybody wants to do something for these DREAMers, and to us it doesn't matter who claims the win. What matters to us is that we do something to protect these kids."

But the inability of the group of Latino leaders to come to consensus is also emblematic of the fights likely to come if each side retreats to its respective partisan corner. The message now is unity, but there are still major issues of disagreement within the coalition, let alone in Congress.
"Right now, we're focused on the lives of these 800,000 young people," said Maria Teresa Kumar of Voto Latino. "The individual life is more important than petty partisanship, but it's going to be difficult to say they can stay but without a pathway to citizenship. That will harm everyday Americans, and we don't want that for our national security. We want someone that pledges to the flag."