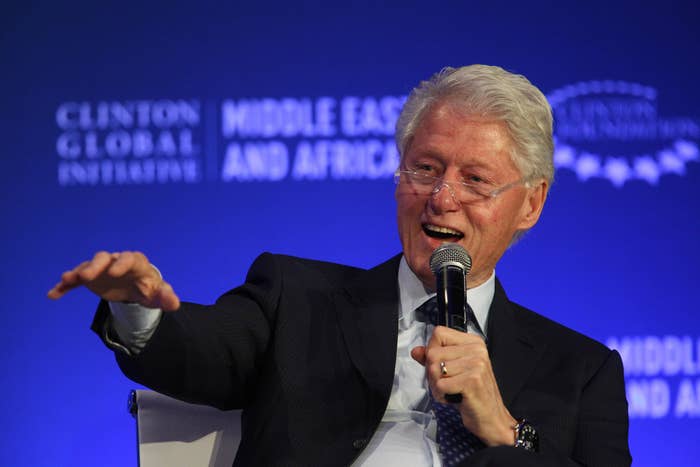 Bill Clinton made the case for ultimately granting undocumented immigrants citizenship Tuesday — at the biggest Hispanic media organization's advertising presentation in New York.
A path to citizenship, he said, is the best way to appeal to Latino voters.
"If I were advising candidates, you have to have a credible position on immigration reform, the only thing that makes sense is a path to citizenship," he said in an interview with Fusion's Alicia Menendez at Univision's upfronts presentation.
The stance, unsurprisingly, mirrors the one taken last week by Hillary Clinton in an unusually detailed campaign event in Las Vegas. There, she tacked strongly to the left on immigration, saying she supports a path to citizenship for undocumented immigrants and said she were open to expanding upon President Obama's executive actions she could do if Congress does not pass an immigration overhaul.
On Tuesday, Bill Clinton said that while children must be taken care of and enforcement should be smarter, a path to citizenship would raise the wages of undocumented immigrants and ultimately be good for the American economy. He also praised Nevada's governor, the centrist Republican Brian Sandoval, saying it's "no mistake" that he is well-liked because he took the Medicaid expansion in Obama's health care law.
The appearance was the first time a former president spoke at a media company's upfront presentation. George W. Bush was also invited but was unable to attend.
Clinton, who was paid for his appearance, and Hillary, have worked closely with Univision often. The network partnered with the Clinton Foundation for the "Too Small To Fail" early education initiative in 2014. Haim Saban, part-owner of Univision has also been a major supporter, and financial backer, of the Clintons.
At the event, Clinton also brought up the case of Eric Garner, without using his name, saying the reason there was raw anger when he was killed by New York police after Ferguson was because there wasn't "dispute resolution" by "diverse community decision makers."
"We need inclusive economics and an inclusive society where people don't feel degraded," he said.
The popular former president occupies an interesting space in the campaign — he is one of the most effective messengers the Democratic Party has and a skilled campaigner — but there are also questions over whether the campaign will be able to control him. The Washington Post reported this week that Bill Clinton is, for now, expected to have little role in his wife's campaign.
In a testy interview on Today last week, he defended the Clinton Foundation over questions of whether there were ever improprieties when it accepted money from foreign entities.
"There is no doubt in my mind that we have never done anything knowingly inappropriate in terms of taking money to influence any kind of American government policy," he said. "That just hasn't happened."
Clinton's focus on speaking to Latinos comes as no surprise. Hillary Clinton's campaign has made early efforts to court Hispanic voters strongly, especially in the face of possible challenges to the Democratic Party's strength with this group from Jeb Bush or Marco Rubio, potential opponents.
Hillary Clinton actually beat Obama among Latino voters in the 2008 primary, but attention to Latino issues is already being given early and often by some candidates. After her immigration comments, Bush followed in an interview with Fox News afterwards, clarifying his immigration stance as well, indicating that while he would get rid of Obama's executive actions, he would seek to do so only after an immigration legislative overhaul.