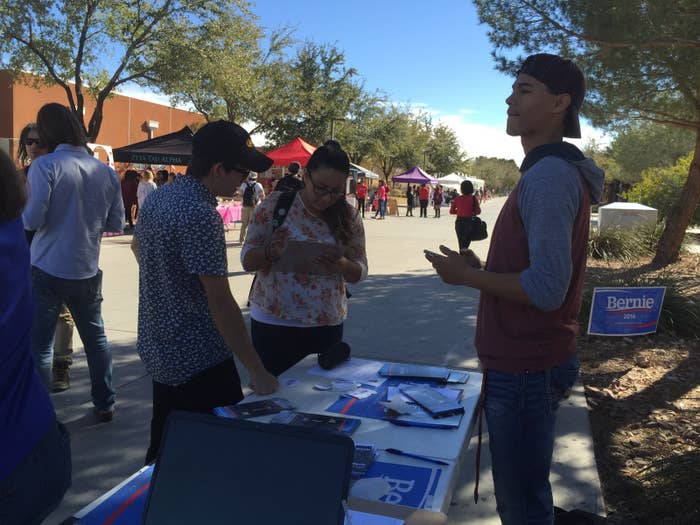 LAS VEGAS — The day after Bernie Sanders dominated the New Hampshire primary, two Bernie volunteers set up a table — with a speaker — in what's known as the free speech zone on the UNLV campus.
"Still D.R.E." blared as student after student walked up and grabbed a signup form for this Saturday's caucuses in the state, where Sanders and Hillary Clinton are locked in another battle.
The speaker was the work of Kyle Lozier, a Chicagoan who hails from a black and Hispanic family. After learning his political views aligned most with Sanders from an ISideWith quiz, the 20-year-old Lozier was hooked, and started volunteering for the campaign.
They'd already collected 100 names by the time Tim Clyne, 18, walked up. Clyne comes from a family of Republicans, and the family position is that Clinton is "sketchy" — but Sanders' call to legalize marijuana made him start paying attention, and he's liked what he's heard since. So he signed up. Zack Pinion, 20, came up on skateboard and announced that he wanted to give the campaign all of his family members' contact information.
Free tuition, a pathway to citizenship for immigrants, demilitarizing the police force, not shooting unarmed people — these are the reasons young minority voters are into Sanders, Lozier, whose brother works for Sanders in Austin, Texas, said.
"The Democratic Party is freaking out thinking 'Our girl Hillary is probably not going to be president,'" he said.
This kind of enthusiasm among young people has powered Sanders to 84% of voters 17-to-29 in Iowa and 83% in New Hampshire, two mostly white states. For a campaign looking to establish itself as a serious threat to win the Democratic nomination, minority voters were always going to the necessary next step, and Nevada — and its large Latino population — serves as its first challenge.
These voters have repeatedly been described as a "firewall" for Clinton, but a January Pew report offered an important opening for Sanders: 44% of Hispanics across the country are millennials, defined as those who are 18-to-35 years old. In Nevada, the number is half of all Latinos. UNLV's campus is 55% nonwhite.
But while it's easy to make parallels between Barack Obama's successful 2008 campaign against Clinton and Sanders's insurgent 2016 go, Obama didn't have to rely solely on youth turnout to beat her. Once Obama was viable, he was able to count on black support across all ages. Sanders path to victory is narrower: He will have to turn out young people, including minorities, to win.
Whether the enthusiasm on display the next day — down the road at the College of Southern Nevada (CSN) in Henderson, at a Voto Latino event — for instance, turns into votes is unclear.
Laura Sida, 21, supported Clinton before she learned about Sanders, but now feels he better relates to the concerns of working-class people. Her friend, Ivonne Garcia, 21, learned about him on Tumblr and likes that he's against big corporations. But asked if they knew where their caucus site is and whether they planned to caucus for him, they grew quiet.
"I'll try to," Sida said. "I need to find out where it is."
"I have to do student teaching, I don't know if I can," Garcia added.
Tick Segerblom, the first Nevada elected official to support Sanders, counts it as a good sign that when he sees the young crowds at rallies he doesn't recognize anyone, but said the question is "whether that core can become the 50,000 we need."
But here, the Clinton campaign has significant organizational advantages — and people working to earn the votes of the young, minority voters that Sanders needs. The Clinton campaign isn't just rolling over and ceding the support of young people in Nevada.
The campaign touched down in April whereas the Sanders campaign didn't make hires until the fall. As a result, the Clinton campaign has programs it might not have in other early states; they're counting, for instance, on a group of 30 high school volunteers to help it win in the predominantly Latino and black East Las Vegas area.
Those young students are led by two bilingual top field organizers, Vanessa Valdivia and Natalie Montelongo, themselves in their late 20s. In addition to working with the students, and calling local Nevadans to support Clinton, the pair started a group within the campaign for women who want to discuss the issues that matter to them called, Mujeres in Politics.
The connection that has been forged with the students — Valdivia helps them with their chemistry homework and Montelongo said she had one of the high school kids' scooters in her car — is a personal one. It started with a barbecue last summer and the young staffers met the high school students' parents, who want to see their kids involved civically. They went to high schools early on and met with teachers, before recruiting students. But now, months later, it's all for the campaign.
"We're going to win the East side because of the students," Montelongo said. "They're the ones who have been helping with the phones and in the streets. East side people are working-class and the youth is turning out the vote there."
The Clinton campaign can point to its own youth enthusiasm too, like a University of Nevada, Reno student and super volunteer named Courtney McKimmey, who has completed the most volunteer shifts in the state. At CSN, there was Gabriela Torres, 19, who attended the Voto Latino event in a bright pink t-shirt and jeans. She's ready to caucus for Clinton and explained that her mother is a big supporter of the Clinton family. (Torres is admittedly a rarity, a politically engaged teenager who has worked for local elected Latino Democrats and The Ramirez Group, which is run by a veteran Democratic strategist.)
Dave Damore, a political scientist at UNLV, who has studied Nevada's growing Latino community, said this younger generation of Hispanics is much more politically engaged — they aren't the ones being socialized by grandparents or parents into becoming involved in politics, as has traditionally been the case.
"In the Latino and Asian community, you're seeing it work the other way around," he said. "The DREAM Act and immigration have become a unifying issue for that generation."
Latinos nationally routinely list the economy and education as issues more important to them than immigration, but Nevada's Hispanic community is unique. According to Pew Hispanic, 7.6% of the Nevadan population is undocumented, the highest rate in the nation. The state has highest share of undocumented immigrants in its labor force — 10.2%.
That means that Nevada also has something else important: One of the highest rates of mixed-status families. A young voter might be a U.S. citizen, for example, with an undocumented parent and a sibling benefitting from Obama's DACA program, which allowed them to remain in the country and obtain work authorization for two years. Immigration policy matters in Nevada: Of those who are undocumented in the state, 52% would be eligible for Obama's programs, according to Pew.
Erika Andiola, Sanders's Latino press secretary, said the campaign has caught up in Nevada. "We have the most offices of any presidential candidate, we're covering tons of ground now," she said. "It's a very different approach. For us it's important to mobilize the grassroots and get young people to work with us."
But the Clinton campaign believes the work it started early on and has continued over the last 11 months will help it win with Hispanic voters in the state. And if Clinton wins the nomination, she may find a silver lining with young voters, or at least young pro-Bernie Latinos — the political engagement doesn't end here.
"I don't want to tie my hands and say I would support her," said Kyle Lozier, the Sanders volunteer. "But having a Democratic president would be much better than a Republican one."
His fellow volunteer, Antonio Mila, cited both candidates' support for "LGBT rights, immigration reform, and raising the minimum wage." He would "support Hillary 100%" if Sanders doesn't win.
"Even though it wouldn't be a revolution, we would be better off than with any Republican candidate," he said.