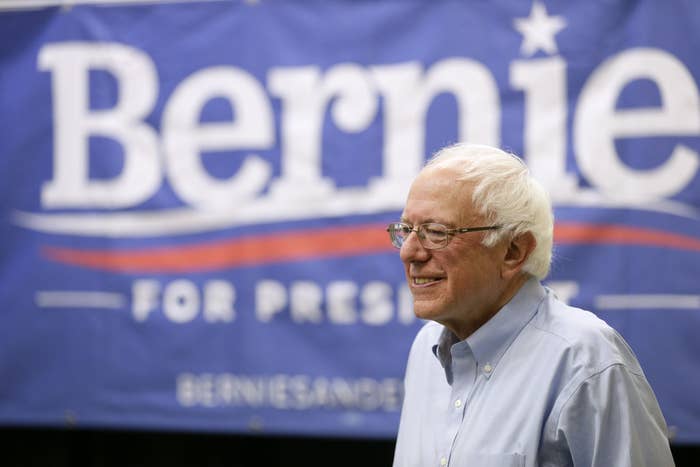 In the latest sign that Bernie Sanders is looking to expand his solid base of support beyond white voters and bring minority voters into the fold, the Vermont senator is bringing on longtime immigration activist Arturo Carmona to be his national Latino outreach director and southwest political director.
Carmona, who has served as the executive director of Presente.org, a 300,000 member strong advocacy organization, said he believes Latinos need to be part of the political revolution Sanders is calling for. The challenge, Carmona acknowledges, is that Sanders repeatedly scores low in name ID in polls of Hispanics. But he sees it as an opportunity.
"We're going to do it by connecting with everyday families on issues like immigration reform and economic inequality," he said.
Carmona is the second high-profile immigration activist to join a campaign, after Lorella Praeli left United We Dream for a Latino outreach role with Hillary Clinton's campaign. But where Praeli was advised by Democrats that her role now is not to be an activist, but to help Clinton get elected, Carmona said he sees it differently.
"I am absolutely not going to stop being an activist," Carmona said. "What the senator is calling for is a political revolution, inclusive of all Americans and Latinos will disproportionally benefit from that movement. So I will be continuing to provide the same type of leadership, being a vocal activist representing our community."
Carmona has certainly been vocal.
When President Obama delayed his executive actions on immigration, Carmona called it a "betrayal" and "one of the single biggest attacks on Latino families by the Democratic Party in recent memory." He has also repeatedly criticized Clinton for her reaction to the surge of unaccompanied minors at the border.
But Carmona courted controversy among Democrats as well, when after Obama's delay he said Latinos should vote against four vulnerable Democratic senators who were a factor in delaying the announcement until after the midterm election.
Carmona said Presente was one of the first organizations to hold Obama accountable on immigration, all the way back in 2009, and that the criticism has been about the country realizing and understanding "the value of Latinos and our families."
"We are seeing that the Democratic Party is coming to Latinos and coming to our political interests and values," he said. "That sophistication is evolving but the party is coming to its senses."
National immigration activist Erika Andiola, who has been informally advising the Sanders campaign and Senate office was heartened by the hire, particularly because she believes it is a sign the campaign won't hesitate to take on the establishment. But she echoed that the challenge for Sanders is that Latinos largely don't know him yet.
"With Hillary all they have to do is sell her to Latinos, her new ideas, her developed thinking," she said. "With Sanders you have to introduce him to the Latino community."
Sanders is upping his outreach to Hispanics. He took part in Iowa's Latino Heritage Festival on Saturday and this week held a Q&A session with Univision on Facebook. But he has also been criticized for comments he made about immigrants lowering wages in the country. To that end, Carmona said one of his central tasks will be to ensure the campaign is communicating effectively to the Hispanic community.
Carmona is also the southwest political director, where Nevada will serve as an early challenge of Sanders' organization in the caucus state as well as his Latino support. He said the state has gone through dramatic changes in the last 10 years, with the Latino population exploding.
"Nevada is definitely a top priority," he said. "You saw the most devastation, wealth extraction, and the results of the housing bubble happen to Latinos." He said the campaign's message on income and wealth inequality will resonate in the state with the community. But the campaign will be going against a Clinton operation in Nevada that has had experienced operatives on the ground since April.
When Andiola speaks to immigrants in her community and in other states, she says many think Clinton is the only Democrat running, and she wants Hispanics to know there are multiple choices in the field.
"I've been vocal with the Sanders camp, they have to make sure the Latino community knows there is more than one candidate," she said. "We want them to know what the choice is between those two."