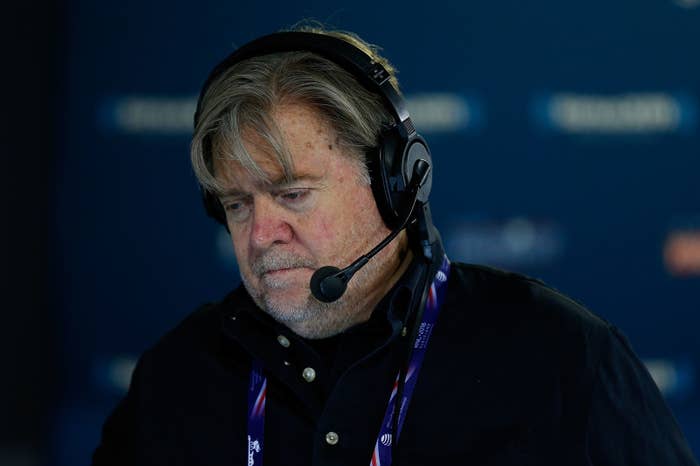 Steve Bannon is only just out of the White House, but he's already got plans for his next phase.
By Friday evening, Bannon had officially returned to his old news site Breitbart as executive chairman, the website announced. And one person close to nationalist firebrand says he has his eye on who he believes helped accelerate his ouster: Matt Drudge.
"Matt Drudge worked to remove Steve Bannon, that is the reality," said former Trump campaign adviser Sam Nunberg, who regularly talks with Bannon. "And I hope Matt is happy because his work helped Bannon not be in the West Wing, but it helped Democrats and people that didn't vote for Trump be in the West Wing."
Nunberg is specifically frustrated with the continued presence and influence of chief economic adviser Gary Cohn, National Security Adviser H.R. McMaster, and the duo he derisively calls Javanka, Jared Kushner and Ivanka Trump. Bannon has openly feuded with Cohn, and Breitbart has for weeks been waging a battle against McMaster.
Kushner developed a relationship with Drudge dating back to the campaign, and Bannon allies also blame the son-in-law for his ouster. People close to Bannon say Bannon privately hoped Kushner would "go down" over the intensifying Russia investigation.
But sources with knowledge of the Kushner–Drudge relationship said influence over Drudge doesn't work that way.
Media relationships are important in the White House, Nunberg said, and the fact that Drudge hasn't given Breitbart a hyperlink in months and didn't like Bannon hurt him.
"It's not lost on Steve or Breitbart staff that Drudge was out for Steve," Nunberg said.
"Drudge has been relentless against him," another Bannon ally said.
Among the first to break the news Friday that Bannon was out, the influential Drudge Report was conciliatory and laudatory, with a topline bolded headline blaring "Senior adviser moving on after impressive run, the Drudge Report has learned...populist hero may return to Breitbart."
Frustrated Bannon supporters nonetheless say Bannon will wield tremendous influence outside of the White House among Trump's base and could nudge aside more established right-wing talk radio players.

"I can't even imagine — he would be right up there with Rush Limbaugh numbers," said one Bannon ally. "He has a huge following, as big if not bigger."

"I told Bannon I want to be his agent," Nunberg joked.
As word got out that Bannon was leaving the White House, Breitbart writer and editor Joel Pollak tweeted "#WAR," a well-worn line made famous by the site's founder. The sentiment was echoed by former Breitbart staffer Ben Shapiro, who wrote that Bannon's "preparing for the possibility of war with Trump," calling his old boss, who he has frequently criticized, "deeply vengeful, and supremely ambitious."
"Bannon's play for Trump's populist and alt-right bases will be partially successful," Shapiro wrote. "Outside the White House, Bannon can be more powerful than he was inside: if Trump doesn't do what Bannon likes, Bannon will declare that he was ousted because the globalist insiders have taken over, and Trump has sold out the base. Bannon will attempt to claim the leadership of the movement he believes he built."

Asked about the possibility of a coming war with Drudge, longtime Trump adviser Roger Stone, who in recent months turned on Bannon, said "Bring it on!"
"Both Drudge and Infowars dwarf Breitbart," he said.
Stone, who has taken shots at how Bannon looks and dresses, took another shot Friday.
"Overall sartorial quality of the White House staff just improved dramatically," he said.
But pointing to journalist Joshua Green's tweet Thursday, Nunberg said Bannon is free to take on any and all enemies.
"Matt Drudge is not 10 feet tall — he bleeds too," he said. "What does it really matter if you say that Drudge is an asshole publicly? If you have a hyperlink, he'll put it up."
UPDATE
This post has been updated with the news that Bannon officially was returning to Breitbart.