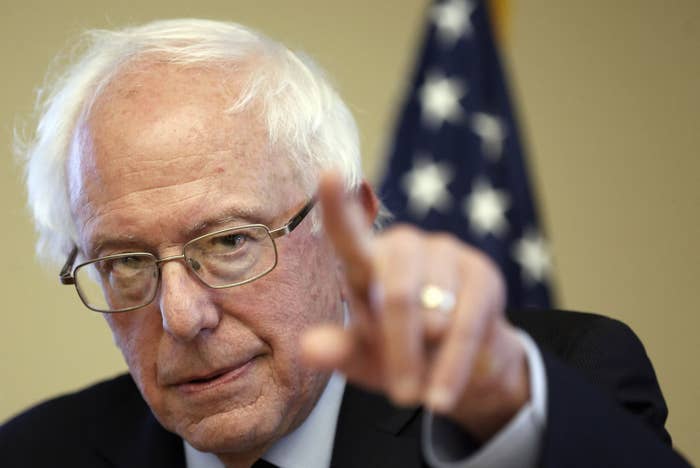 At a winter retreat in Maryland in early January 2013, the Senate Democratic caucus met to plot the way forward on the large immigration bill that would include a path to citizenship for millions of undocumented immigrants, a guest-worker program, and major changes to U.S. immigration policy.
Senator after senator stood up to speak, discussing how to frame immigration positively to constituents, according to a source in the room. Even Sen. Joe Manchin, the moderate Democrat who often disagrees with his colleagues, offered that in his experience talking about immigration through the stories of undocumented youth, known as DREAMers, was helpful.
Then it was Sen. Bernie Sanders's turn.
He was tired of guest workers in Vermont taking jobs from locals during ski season, and said there needed to be protections for them, the source recalls him saying.
It wasn't new or different for Sanders, the socialist senator, whose driving policy agenda is improving wages for American workers.
Though he ultimately voted for the 2013 Senate bill, Sanders voted against a similar effort in 2007. At the time, he told Lou Dobbs that he didn't know why "we need millions of people to be coming into this country as guest workers who will work for lower wages than American workers and drive wages down even lower than they are right now," he said. This year, he called open borders a right-wing idea, promoted by people like the Koch brothers, that would hurt the American poor, and was roundly criticized by Mark Zuckerberg's FWD.us, United We Dream, and the U.S. Hispanic Chamber of Commerce.
The positions put Sanders squarely in the tradition of economic populism — but at odds with the Democratic Party's progressive shift on immigration.
And as the campaign enters a more combative new phase, Sanders has cast himself as the true progressive in the race — someone who's been consistent on the issues for decades, from trade to gay rights to intervention abroad. And though the stance requires Sanders to smooth over these past positions (he spent roughly half of an October speech to the Congressional Hispanic Caucus Institute explaining his 2007 and 2013 votes), he clearly wants to be seen as an ally to progressives on immigration, too.
Sanders has hired some of the best known, most successful young immigration activists in the country to focus on Nevada's early caucus and the southwest. The campaign will also roll out details on something all Democratic candidates support: executive actions on immigration that go further than President Obama did.
According to sources with knowledge of the plans, in addition to Sanders current plan to expand deferred action to shield parents of DREAMers from deportation, the proposed administrative actions would include increased labor protections through deferred action to incentivize undocumented workers to report labor violations, and closing detention centers.
Arturo Carmona, the campaign's national Latino outreach director and southwest political director, declined to address the coming immigration announcement, but said that Latino and immigration outreach is "inspired by our platform."
"We're continuing to unveil important policy positions that directly impact Latinos," he said. "With the economy and economic justice, a big piece of that is immigration policy."
There are those who argue that Sanders past positions have been miscast as not progressive enough on immigration. Sanders has framed his 2007 vote, for instance, as against guest worker programs that he argues amount to slavery.
"His position has been unfairly twisted as anti-immigrant," said Daniel Costa of the nonpartisan Economic Policy Institute, whose board features labor figures like the AFL-CIO's Richard Trumka. "Pointing out the abuses and exploitation that happens in guest-worker programs is pretty progressive."
"Clinton's been silent on it," he continued. "Bernie Sanders has been talking about it. The way the programs are set up it's bad for the U.S. workers that are here as well as for the foreign workers that come from abroad. If they get fired they become deportable."
Carmona, likewise, argued that Clinton's position that many of the unaccompanied minors who entered the United States last year, largely from Central America, would ultimately need to be sent back wasn't as progressive as Sanders's position. "When it came to unaccompanied minors he was clear that we need to treat these people as refugees," Carmona said.
The policy realm poses challenges beyond the immigration statements of the past, though. Although immigration policy is a passion point for Latino voters, many bristle at the way some campaigns make it their only outreach issue. Some activists feel Sanders, ironically, has now focused too much on immigration.
According to a source among the 15 national Hispanic leaders and operatives who attended Carmona's first Latino event in Los Angeles on Oct. 14, the conversation was almost entirely dominated by immigration. The source was annoyed that Latino youth education, a fast growing part of the country's education calculus as a whole, wasn't mentioned.
"If we're talking about issues that affect our community, we have to have the conversation about education, it's the number one issue Latinos care about," the source said. "It's tone deaf to not be addressing it."
(Clinton has talked early childhood education for Latino children at events ranging from the NALEO gathering of Latino elected officials to the National Council of La Raza conference.)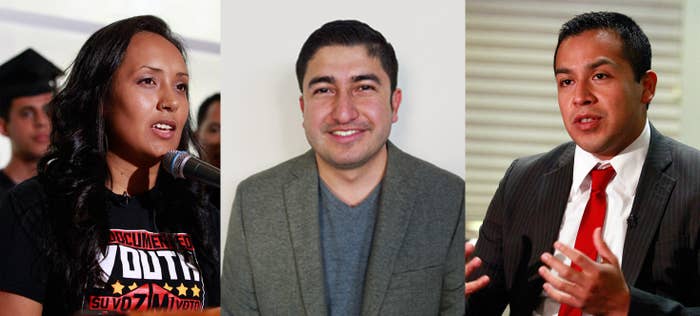 Cristina Jimenez, the managing director of United We Dream said she has had conversations with Carmona about policies that she said would improve the "holistic livelihood" of undocumented immigrants.
Calling it "encouraging" to see Sanders working on policies that UWD has listed as critical for the immigrant community, Jimenez said her organization's early criticism has given way to keeping him and the other candidate's accountable for their promises.
"We've seen this movie before," she said.
In September, when Sanders cued up legislation to end private corporations running prisons, he included private detention facilities too, and said he wanted to end the bed quota mandated by Congress that calls for 34,000 beds to be filled every night.
Chris Newman, an immigration lawyer for the National Day Laborer Organizing Network (NDLON), said what makes this election different is that the Democratic candidates are competing to come up with the best "administrative reform agenda" as well as a legislative fix.
Sanders has been careless in his rhetoric about immigrants in the past, Newman argued, but said he has an opportunity to turn the corner now.
"Democrats are undergoing an evolution on their words and actions on immigrant rights," he said. "It's going to be interesting to see how far he's evolved."
Campaign officials acknowledge Sanders has his work cut out for him, particularly when it comes to name recognition with Hispanics. But they believe the excitement for Sanders will help them overcome organizational hurdles in, for instance, Nevada, where Clinton has had experienced operatives working since April. (Sanders will be in Las Vegas Nov. 8 and 9 to meet with union members and attend a presidential forum at the Fair Immigration Reform Movement 2016 summit in Las Vegas along with Martin O'Malley.) Clinton will not attend.
And in Carmona, Andiola, and Vargas, the campaign has uncompromising activists who were loud, influential voices during the fight for executive actions on immigration last year — and who mirror the insurgent, anti-establishment quality of Sanders's candidacy.
Still, while Vargas went to the same high school in Brooklyn as Sanders, his support wasn't immediate. He said he wanted to see the first woman president, like many others. But last year when he and Andiola confronted Clinton and Sanders in Iowa, Vargas began to change his mind. Asked if she supported Obama delaying the executive action announcement, Clinton replied, "We have to keep working" and "Elect more Democrats," which annoyed the activists. Sanders responded that the president was wrong to delay.
In Nevada where Vargas and Andiola will team up, Vargas said he has already seen an influx of high school and college-aged Hispanics in his first two weeks who have come into the office energized to volunteer for Sanders.
But the activists-turned-staffers also acknowledge that language and messaging on immigration has been a challenge for the senator.
Before joining Sanders, Andiola herself openly wondered on Facebook what he meant by his remarks on guest workers. She also repeatedly has explained that the reason she gave advice on immigration to the Clinton campaign, then O'Malley, and finally Sanders before officially joining, was to push the Democratic frontrunner Clinton to the left on immigration. By joining Clinton's most competitive opponent, Andiola is able to do that most effectively.
Andres Ramirez, a 20-year Nevada veteran Democratic strategist, said the challenge in the state is that it's much easier to get 100,000 people to go to an immigration rally than it is to get them to turn out to caucus for a candidate.
"There's a tactical difference between hiring Latino activists who don't have campaign experience versus Latino activists who do have campaign experience, which is what Hillary's campaign has been focused on," he said.
Sanders' campaign stresses that it isn't just hiring immigration activists — Javier Gonzalez formerly of SEIU and Emilia Pablo, the state director of Mi Familia Vota, have come on in recent weeks.
And the enthusiasm is real. Vargas said as DREAMers, he and Andiola aren't doing this looking to the future, but as the logical continuation of their advocacy.
"This is it for us. We cannot work in the White House, we're not doing this to have a career as a White House staffer," he said. "Bernie Sanders is why we're getting our excitement. Clinton vs. Sanders is a brand vs. a movement."