19 People Could Be Deported From Austin During SXSW This Week
Travis County, which shares a jail with Austin, averaged 19 deportations a week from 2009 to 2013, of people it sent to ICE. Activists are pushing back on the sheriff saying he doesn't have to comply with immigration detainers as other cities have done.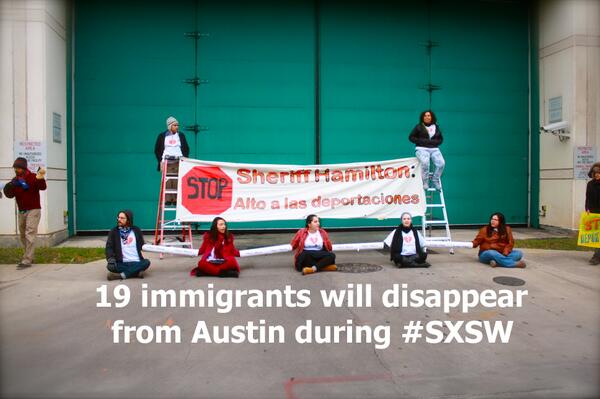 If a partygoer at South by Southwest (SXSW), the huge national conference that brings together leaders in tech, film, and music in Austin, Texas, goes too far and finds themselves arrested during the festivities, they will end up in the same jail that often serves as a link between arrests of undocumented immigrants and deportations by U.S. Immigration and Customs Enforcement.
That's the message from activists waging a campaign to let people know about Travis County -- where Austin is located -- and it's rate of deporting 19 people a week, or 4,280 people between June 2009 and September 2013, according to ICE statistics.
"There's a little Arizona tucked away in Texas," Cristina Parker, an activist with Grassroots Leadership, a nonprofit advocacy organization, told BuzzFeed.
Parker cites 2011 data that showed Travis County was second in the state and fourth in the country in the rate at which people it sent to ICE were eventually deported. She noted that an Austin American-Statesman article said, "Immigrants are more likely to be deported from Travis County than almost any other major population center."
This might come as a surprise to people who think of Austin as the epitome of a liberal city, and particularly visitors to SXSW, said Alejandro Caceres, the executive director of the Austin Immigrant's Rights Coalition, who has been fighting high deportation numbers for five years.
"When folks come from different places to Austin, they think it's a liberal city, a Democratic oasis in a red state," he said. "Those in town for SXSW should know this isn't a safe city for immigrants. Our undocumented community doesn't see this is as a liberal city, they know they're being targeted."
At issue are "immigration detainers," documents that advise other law enforcement agencies that ICE seeks custody of an individual for removal proceedings.
"Although many state and local law enforcement agencies comply with immigration detainers there are serious questions as to whether federal law requires them to do so," said David Leopold, former president of the American Immigration Lawyer's Association. "ICE itself amended the detainer form, Form I-247, to request rather than require compliance."
The Travis County Sheriff's office, has taken to Twitter to engage critics on its immigration practices.
Reached for comment by BuzzFeed, public information officer Roger Wade said Travis County sheriff Greg Hamilton would be unavailable this week during SXSW because he is in training. However, Wade did answer questions about the practices and beliefs of the sheriff's office.
"We understand that some courts have ruled and ICE has said they're not mandatory, but we're still going to honor those requests simply because we think it's the right thing to do," Wade said.
He also disputed activist accusations that immigrants may end up being deported after first being taken in for something as minor as a traffic violation. "We have a policy that we don't ask anybody's immigration status unless they're involved in human trafficking. We don't ask and don't care what your immigration status is," he said.
But Caceres said he and Parker have personally experienced that this is not true after being arrested for civil disobedience on the issue.
"They ask what state you were born in, it's the same as the country," he said. "If you refuse to tell them, they say they will put you in solitary confinement and put you on suicide watch. This happened to us and to every single person I've worked with."
Wade said he's heard the arguments from activists on why what law enforcement officials are doing is wrong, but they have their own reasons for choosing to continue the practices.
"We've heard the stories that we're disrupting families, but we've also heard stories of agencies that don't honor detainers and let people go and then those folks go on and commit heinous crimes," he said.
Caceres said therein lies a big problem.
"First of all, that's a xenophobic mindset that immigrants are going to go out and commit heinous crimes; no numbers show that," he fired back when told of what Wade had said. "Immigrants commit less crimes than anyone else in the U.S., but it shows that to them undocumented families don't have the same value as citizen families."
The Secure Communities program that the sheriff has worked closely with ICE on is largely pinpointed as the problem by activists. The only entity that could stop the sheriff is the county commissioners court, which controls his budget. Candidates for county judge were recently bombarded with questions about the sheriff.
How much the county spends on immigration detainers is a point activists siege. They said an analysis of data from 2011 showed that the county spent at least $1.8 million, a figure they say is conservative. Wade disputed the figure.
Raul Reyes, an immigration attorney, said the way the Secure Communities program is written, an undocumented immigrant is only supposed to be held for 48 hours, but in practice sometimes it can be more like a week. He said that's just one of the concerns, including the fact that most of the people fingerprinted for the program are Latino.
"So there's a racial profiling component and the question of who pays for it," Reyes said. "Many local communities don't want to pay for it and police think it's a waste of their time."
Meanwhile, the Mark Zuckerberg-led FWD.us, which exists at the intersection of tech and immigration, and advocates for comprehensive immigration reform, was present at SXSW. The organization held a #BuiltByImmigrants event where one of two winners was an undocumented young woman who shared the stage with AOL co-founder Steve Case. FWD.us said its event and the potential of the immigrant community, stand in stark contrast to what is going on with deportations just outside of SXSW.
"Whether it's the young girl who will no longer get tucked in by her father at night or the computer engineer at SXSW worried about getting kicked out of the country when his visa expires, we know there are too many families being separated every day while we wait for House Republicans to take action on immigration reform," FWD.us president and friend of Zuckerberg, Joe Green told BuzzFeed.
"We strongly urge them to take up and pass legislation, because we know we need a fundamental legislative fix to reform our broken immigration system."