13 Pregnant Women Detained By ICE In Texas During Four-Month Period In 2013
ICE confirmed the number to BuzzFeed, and said the women were an enforcement priority, having recently crossed the border or been issued orders of final removal.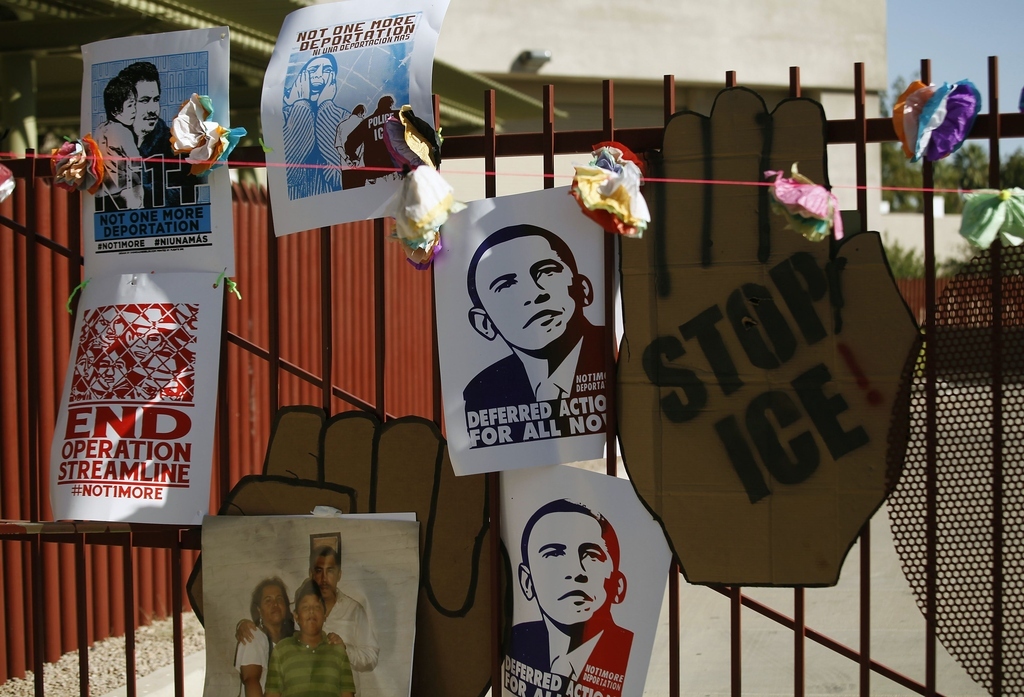 Immigrations and Customs Enforcement (ICE) officials in El Paso, Texas, detained 13 pregnant women from August to November 2013, according to an investigation by Fusion.
ICE confirmed the number to BuzzFeed and said the undocumented immigrant women were an enforcement priority because they had either recently entered the country or had been issued final orders of removal.
Fusion's investigation was in part launched after Sergio Garcia-Leco, an undocumented activist, infiltrated the El Paso Processing Center in December.
The report describes 13 pregnant women who were detained during a four-month stretch after attempted border crossings; the time each woman was detained varied — some were released the same day, while others were kept days or even weeks, ICE told Fusion.
ICE told BuzzFeed they are unable to name all of the women because of medical privacy issues but did identify two.
"Fatima Del Carmen Chavez-Guevara was apprehended Aug. 27, 2013, after she illegally entered the United States near Rio Grande City, Texas," Leticia Zamarripa, an ICE spokeswoman, said in a statement.
"Carmen Guadalupe Rivas-Torres was apprehended after illegally re-entering the United States at Sunland Park, N.M., after being formally deported just two months prior. As a recent border crosser and an illegal re-entrant, both of these women fall in line with ICE's priorities."
David Leopold, former president of the American Immigration Lawyer's Association, said he is "shocked" that 13 pregnant women were detained in such a short period at just one detention center.
"It's an astounding number," he said.
"If you're going to detain a pregnant woman there ought to be a damn good reason for it," he continued. "Maybe if they're violent, a national security risk, or someone who is going to abscond. But even in the case of someone who is a flight risk there are less restrictive means, like ankle bracelets and home monitoring, which are used all the time in the federal criminal system."
The agency's guidelines state pregnant women should not be detained absent extraordinary circumstances or the requirements of mandatory detention.
A spokeswoman for ICE said the agency takes care to identify and properly care for pregnant women, by asking women if they suspect they may be pregnant, through screenings when they enter and pregnancy tests.
"U.S. Immigration and Customs Enforcement (ICE) takes the health, safety, and welfare of those in our care very seriously, and the agency is committed to ensuring that all ICE detainees receive timely and appropriate medical treatment," Zamarripa said.
According to ICE, because its population mirrors society, they care for detainees with heart conditions, hypertension, cancer, and pregnant women. But ICE said detainees are given medicine to take with them and continuing care is set up through coordination with consulates.
Leopold says that isn't enough.
"You have to look at each case individually, but the notion that they get better care in ICE detention, than outside of ice detention, is not backed up by the facts," he said, noting that substandard medical treatment during detention has been a recurring issue since 2007 and under former ICE director John Morton, there was an effort to make detention more civil.
In one case, a detainee from Nigeria named Mariamo Ajagbe said she miscarried in mid-August in the detention center while three-months pregnant, Fusion reported.
But ICE denied that a miscarriage occurred during the specified time frame, but again cited the medical privacy of the woman in question as the reason they could not be more specific about her case.
Leopold said that the agency is a bureaucracy and sometimes decisions come down that don't always make sense. "One arm doesn't necessarily know what the other is doing, there can be a lack of coordination," he said.
"But we have to ask ourselves a couple questions -- are these people really priorities? And, if not, why are these women being locked up?"