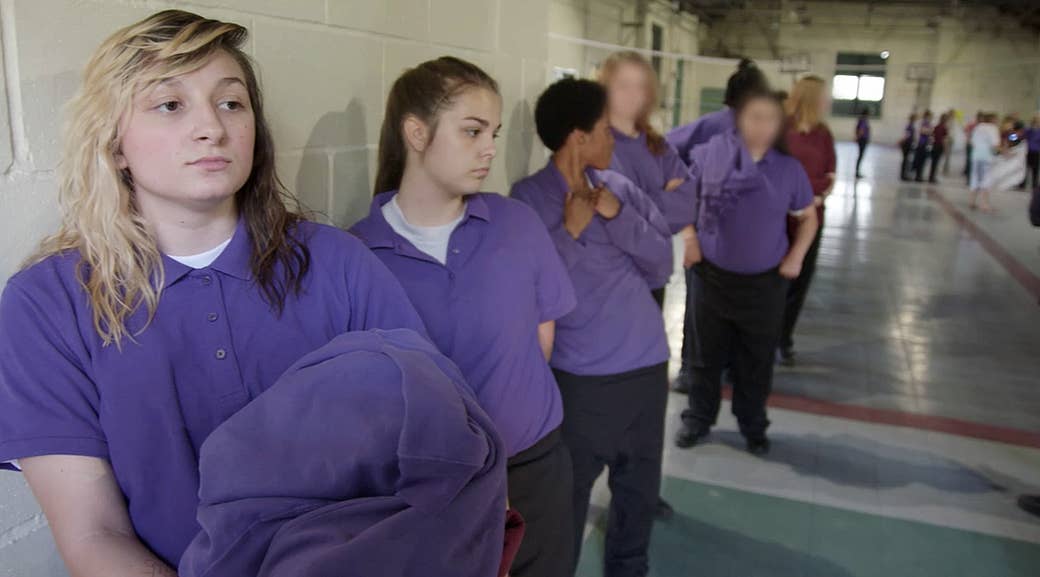 "She don't care who you are, how big you are, she'll fight you if she needs to and it cracks me up." That's the introduction given by 16-year-old Sarah Maxwell when we first meet fellow inmate Alexis Miller, an otherwise soft-spoken 15-year-old with dimples and cascading brunette locks, in Episode 5 of Girls Incarcerated: Young and Locked Up, an eight-episode docuseries released on Netflix in March. It would work equally well as a tagline for the whole series, which delves into the lives of teen girls serving time in Indiana's Madison Juvenile Correctional Facility for a range of mostly petty offenses like repeated runaways and drug and alcohol consumption, but in a few cases assault and vehicular manslaughter.
Executive producer Nick Rigg has described the show — which follows the emotional and behavioral growth of roughly 15 inmates (referred to as "students") along with empathetic commentary from their correction officers, counselors, teachers, and occasional family members — as "Orange Is the New Black for a 13 Reasons Why generation." But unlike both of those series, Girls Incarcerated is not fiction. The series sits at a provocative nexus of popular unscripted programming, where a wave of documentary-style shows that spotlight the issue of incarceration in the US, such as MSNBC's Lockup and OWN's Released, intersects with the trope of the troubled teen seen in many reality programs, such as MTV's Teen Mom and A&E's Beyond Scared Straight. Rigg maintains that Girls Incarcerated is not a "reality" series in the way that we've come to understand the term, because, he says, "we weren't going to make TV stars of these girls." And yet the show highlights the girls' innate star quality. They are funny, and outrageously so, delivering an uncanny mix of outsized confidence and childish goofiness direct to your living room.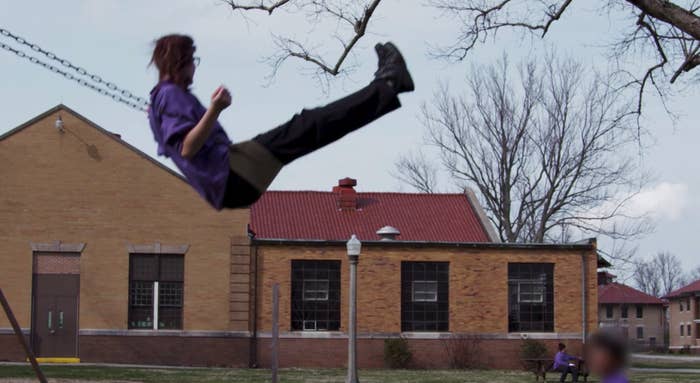 Asked about practicing Zumba during the prison's daily rec hour, Paige McAtee, a wide-eyed 17-year-old with a heart-shaped neck tattoo, explains matter-of-factly that she wants a body like Nicki Minaj, before smacking her hips for the camera and succumbing to a giggle fit about the "jiggle." In another scene, Miller gushes over a girl she's crushing on, an inmate named Armani Buckner, in her diary: "Let me find out she find another girl I'd be gettin' a murder charge lol no joke." (In reality, Miller is serving time because she started using drugs and running away after her mother became homeless and released her to foster care.)
"I'm too pretty to fight."
Later, when Buckner discovers her cat has died back home, Miller and a group of Madison inmates stand around the cat's makeshift funeral in the prison yard, reassuring Buckner that her cat is "probably eatin' hella tuna up there." And when 16-year-old Najwa Pollard, agitated, argues with correctional staff over a piece of her mail that's been returned to sender, Pollard threatens, "Do you really wanna go down this road? … It ain't gonna be pretty. It's not gonna be peaches 'n' cream. It's gonna be baked beans 'n' burritos 'cause I'm farting up a storm in here!" Pollard eventually cooled off, which reminds me of a common refrain when the girls at Madison decide to de-escalate a confrontation before it turns physical: "I'm too pretty to fight."
The cheeky and combative bravado of the show's teenage protagonists is, on the surface level, wildly amusing. (Believe me when I say that the girls of Girls Incarcerated are experts in throwing shade so brutal they make Khloé Kardashian's comebacks seem almost tactful.) And despite Rigg's stated intentions, it's not hard to imagine this as a selling point for the show's producers — one of whom, Jordana Hochman, formerly acted as vice president of Oxygen Media and might have recognized the bizarre appeal of something like a state-sanctioned version of Bad Girls Club. It would be easy to dismiss Girls Incarcerated as yet another example of questionable reality television, one that uses entertainment value as an excuse to capitalize on the real-life circumstances of some of the nation's most vulnerable populations: girls of color; girls who live in poverty; girls who run away from home; girls whose parents are imprisoned; girls who have been molested, raped, and abused.

But Girls Incarcerated (thankfully) isn't Bad Girls Club. Neither is it exactly like other popular television programs that gawk at out-of-control "bad" girls like the delinquent teen guests we've seen on Dr. Phil or the criminally self-obsessed aspiring reality stars of the 2010 E! series Pretty Wild. The inmates of Girls Incarcerated could only be cast on the show because they'd already been assigned their roles by the criminal justice system and trained to play those roles by the failure of the institutions around them, like public education and the foster care system. To some extent they're performing for the show's cameras, but there was no need for the producers to manufacture drama: These girls are already living it.
Instead, the show's awkward balance between tragically adult situations and the final vestiges of childhood enables us to view the "bad" girls of Madison as, surprisingly, just what they are: living, breathing human teen girls — not yet fully formed. While the criminal behavior of young girls is typically flattened by the media into two-dimensional spectacles that humiliate these girls and serve them up as cautionary tales, the show's (sometimes sad, sometimes banal) contextualizing of the complex histories of a girl's race, class, and childhood feels like a considerable shift in how our culture turns its gaze on "bad" girls.
Yet for all the empathetic reframing it does, the hopeful optimism offered by Girls Incarcerated still positions the detention center as a site of redemption for its teenage protagonists, none of whom are rich, and many of whom are girls of color. The question is why, when other, more privileged "bad" girls enjoy lower stakes for the same behavior — think about the troubled teen celebrities of the mid-aughts — are the girls of Girls Incarcerated still only afforded redemption stories on television if they are funneled through traditional punitive measures of the state?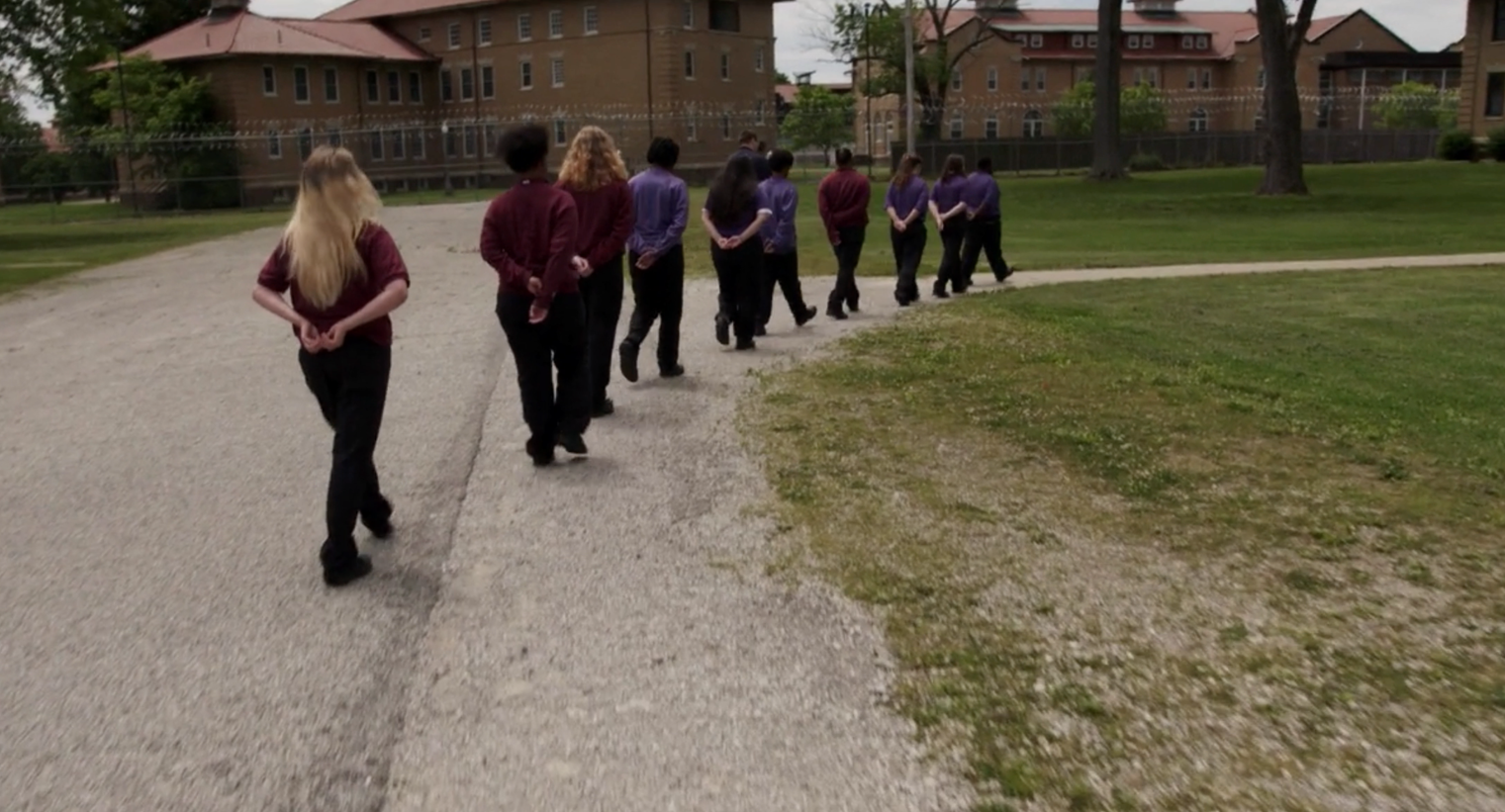 "What are we to do with the ambition of young Midwestern girls?" critic Jessa Crispin asks in her introduction to the 2013 edition of I Await the Devil's Coming, the forceful and unapologetic autobiography of Mary MacLane, the "Wild Woman of Butte," who published her diary in 1902, when she was just 19. The book, in which MacLane proudly proclaims herself an amoral genius devoted to the devil, scandalized the US for its surprisingly self-assured teen girl ego, so uncommon for girls of MacLane's time, or any time for that matter.
MacLane's memoir was, needless to say, a hit, selling 100,000 copies in its first month of publication alone and jettisoning the defiant teen out of Butte, Montana, and into the decadent life of fame, fortune, and devilish pleasures she so desired. MacLane became a household name, but after she was found dead in a Chicago hotel room at the age of 48, her books fell out of print and the legacy of her youthful rebellion was largely forgotten. Still, there is something timeless about MacLane. Crispin describes her as "a feminine, Midwestern Napoleon" — the "teenager who, born in another place with a slight change of disposition, the government would have to send for with its gunboats."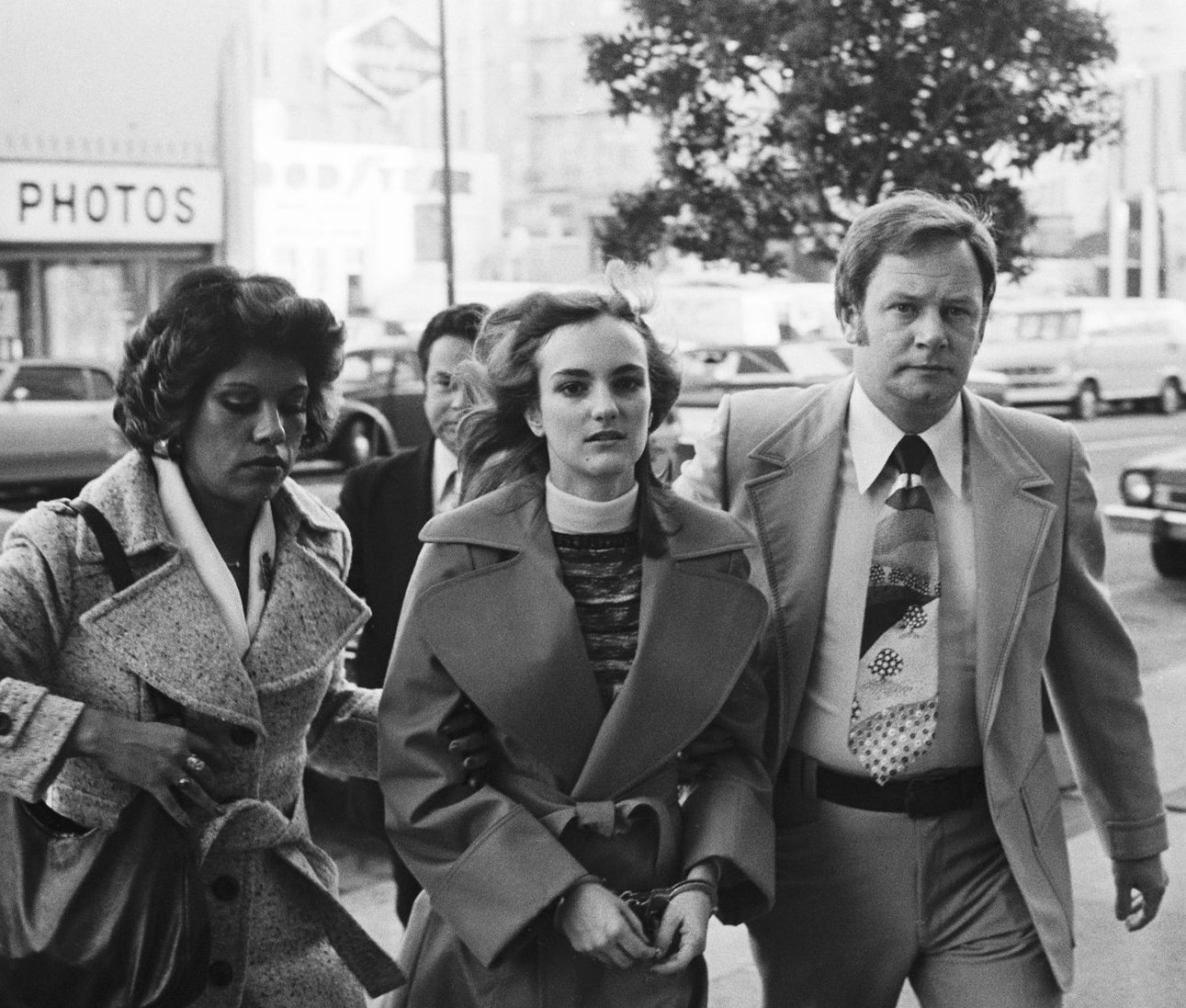 In other words, the United States has always been invested in the surveillance and governance of "bad" girls, though their construction in the media has shape-shifted considerably throughout the last several decades. In 1974, 19-year-old Patty Hearst, who was famously recorded wielding a semiautomatic rifle while robbing a bank with the Symbionese Liberation Army, symbolized the wayward female revolutionary of the 1960s and '70s. By the 1990s, it was the flashy urban girl gang — armed with box cutters, beer bottles, screwdrivers, and knives — who lined their lips and coated their faces in Vaseline before flocking to the streets in defense of the "hood."
While Hearst — a rich, white heiress — was framed in the media as a lost girl suffering from Stockholm syndrome whose loving parents (and the rest of the nation) wanted her home, broadcast news reports on the '90s girl gangsters serve as examples of race- and class-based fearmongering that paint girls of color as violent detriments to US society. Despite being found guilty of armed robbery after her story of brainwashing and coercion was deemed unbelievable by a jury, Hearst was released from prison after only two years when her original seven-year sentence was commuted by President Jimmy Carter. She then enjoyed a brief acting career and quiet family life before being granted a full pardon by President Clinton in 2001. Talk about a redemptive arc.
In 2018, the girls of Girls Incarcerated are those teens sent for with gunboats, only the gunboats have now been replaced with a less metaphorical form of control: the juvenile justice system. They are angry, assertive, and loud, poised for a fight behind Madison's barbed wire and cinder blocks — an entire squadron of "mouthy little girl[s]," which is the most common description given of any one of the teens featured on the show, both by the inmates themselves and their correction officers. The girls have all got mouths: Of course they know how to use them.
Take, for example, Madison's young Heidi Lakin, who is locked up on violent assault charges (she beat up a kid and stole the keys to his car while drunk). Lakin is 16 years old, a wisecracking, bespectacled white girl with a soft spot for conspiracy theories and fart humor. "I like to fight," says Lakin during an interview in the first episode, twisting her lips into a smirk for the camera before allowing: "But it's a bad habit." Anticipating an afternoon volleyball tournament between Unit 5 and Unit 6 later on in the series, she boasts, "5 is better than 6, of course, 'cause 6 is trash. Trash-ass females, trash-ass day room, trash-ass bedrooms — look at us."
Or take Chrissy Hutchinson, whom we also meet in Episode 1, just a few weeks prior to her release from Madison. Hutchinson is 17, black, gay, and a bit of a heartthrob, sentenced to two years for a litany of charges, including selling drugs, stealing cars, and robbing homes. Proud of the change and emotional growth she's accomplished inside, Hutchison, when interviewed about romantic relationships between the girls at Madison, smiles and says simply, "I'm a stud."
It's a sort of larger-than-life self-posturing we can't seem to get enough of when it comes to young girls, especially as entertainment on TV. And it's no more on view than with "mean girl" Brianna "Princess Thug" Guerra, the queen bee of Madison Juvenile, who, at 17, has been in and out of lockup for going on four years. When we first meet Guerra, her arrival on scene is precipitated by a series of strained commentary from fellow inmates and correctional staff alike. We learn from those around her that the popular and perennially lip-glossed teen is "blunt and honest," a confident "alpha personality" who "tells people exactly how she feels," with an added dramatic flair from the sparkle of her dermal face piercing. Regarding Lakin, for example, Guerra doesn't beat around the bush. "She spit in my best friend's lotion," she says, disgusted, followed by the obvious: "I don't like her."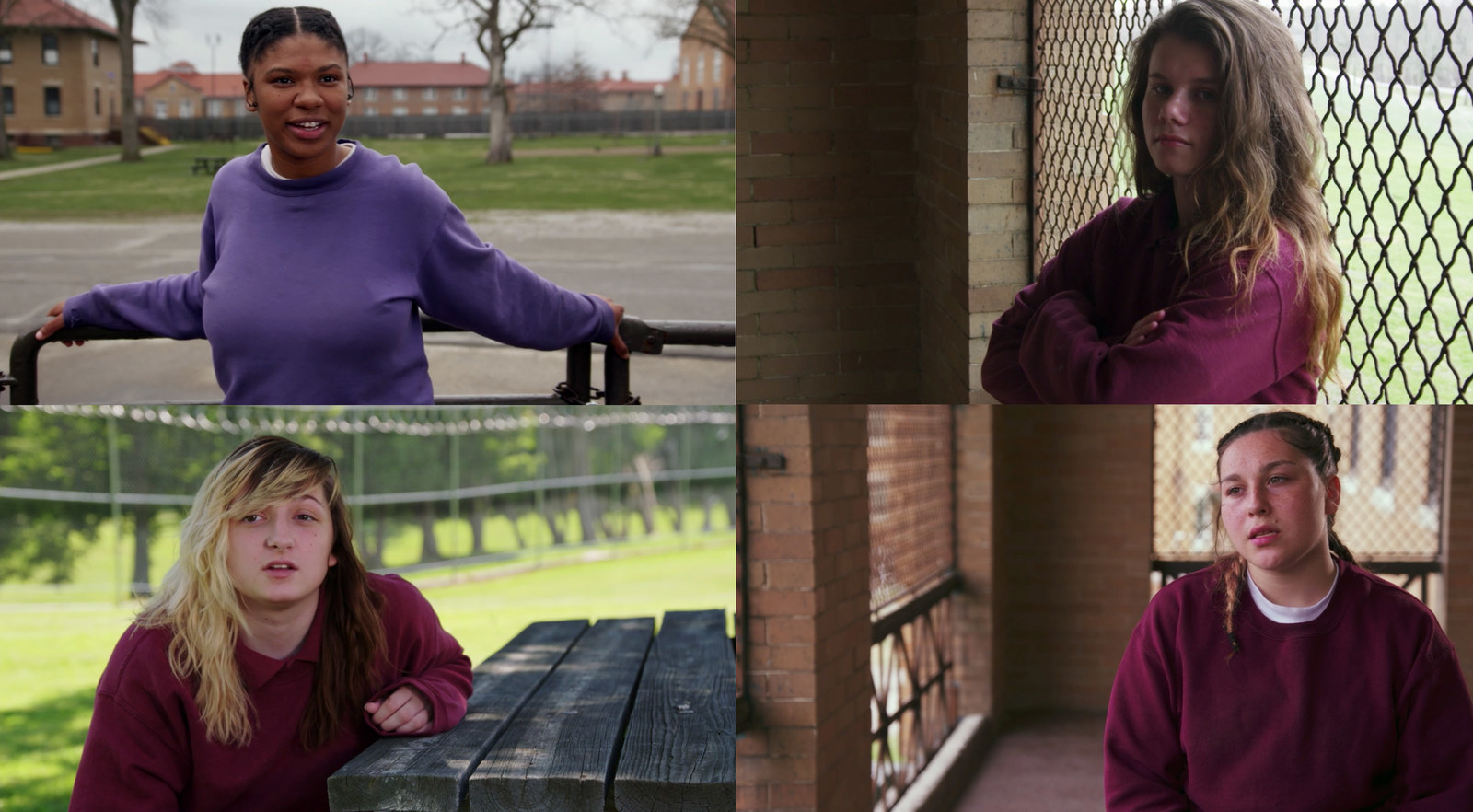 Since the '80s and '90s we've seen this bravado on reality or talk show programs in the form of the out-of-control white girl, whose crimes are ultimately redeemed through the kind of short-lived celebrity that brings a payday. Consider Danielle Bregoli's rise to internet stardom after appearing on the 2016 Dr. Phil episode "I Want to Give Up My Car-Stealing, Knife-Wielding, Twerking 13-Year-Old Daughter Who Tried to Frame Me for a Crime," which somehow led the teen to a record deal and later a Billboard nom for Top Rap Female Artist in 2018.
The obvious problem with all representations of "bad" girls in the media is that, no matter what, there is a flattening of the truth.
There was also 16 and Pregnant and Teen Mom star Farrah Abraham's DUI and near collision with a police cruiser in 2013 (when Abraham was 21), to which she responded to press by tweeting "#I'mSuccessful & I don't care about drama!" Abraham was sentenced to six months' probation and a $500 fine, after which gossip blogs like TMZ continued to report about the "hard partying" mom who "knows how to get down," allowing adequate wiggle room for Abraham to pass as "just a young girl having fun." And in 2010, "Bling Ring" felon Alexis Neiers, an 18-year-old aspiring celebrity from a well-off part of the San Fernando Valley who was arrested for her involvement in the burglaries of several celebrities' homes, secured an entire season of her own reality show, Pretty Wild, on E!.
Pretty Wild continued to film while Neiers was out on bail and negotiated the circumstances of her highly publicized court case, about which Vanity Fair's Nancy Jo Sales reported that Neiers wore conspicuous "six-inch Louboutins" to her arraignment. The Vanity Fair article prompted this unforgettable voicemail scene in which a hysterical Neiers simultaneously prayed to God, swore at her mother, and shrieked through tears at Sales for misrepresenting her as a shallow, fame-obsessed brat, instead of the "great, amazing, talented, strong healthy girl" that she was — err, "not even a girl, a young woman."
Pretty Wild is unbearable to watch, and yet the voicemail episode is a must-see. Unlike girls of color, who are not permitted to slip in and out of their fabricated media caricatures so easily, we laugh at the criminal behavior of privileged white girls like Neiers — we mock them and gawk at them — because their privilege comes along with a supposed blankness of history, one which gives us a pass from having to consider their antics within larger paradigms of sex, race, and class-based discrimination. We also still consider the "bad" behavior of white girls to be anomalous to their race and gender, based on the old fantasy that they — unlike girls of color — are inherently law-abiding; if they're not, they will "grow out of it."
The obvious problem with all representations of "bad" girls in the media is that, no matter what, there is a flattening of the truth. And yes, this is even the case for Neiers, whose opiate addiction and dysfunctional upbringing certainly preceded her criminal behavior, however unlikeable she may be. But the difference between Neiers and any of the teen criminals of Girls Incarcerated is that Neiers' privilege meant she could exert some control over her narrative through glossy magazine interviews (and a Hollywood film directed by Sofia Coppola). Girls like Neiers, Bregoli, and Abraham are able to shape their own redemption arcs, whereas those shown in Girls Incarcerated aren't given the same freedom to control how they're seen, let alone profit from it, even when they do complete their prison sentences.
Rigg told Realscreen that he hopes viewers will root for the inmates as they struggle to change their behavior inside Madison. And as their personal stories are unpacked throughout the series, we do root for them. But in this storytelling, there's also an intimate sorrow to the show, one that builds with each episode and is hard to turn off. While watching Madison's stern yet nurturing correctional staff steer inmates toward rehabilitation through drug counseling, anger management, and high school education courses, we learn that Lakin was raped when she was 12, McAtee's boyfriend was murdered right in front of her, Maxwell's biological mother kidnapped her and forcibly addicted her to heroin when she was 15. We learn that Pollard remains incarcerated for the dreary, indefinite future simply because she has no parents to claim her, and that's the way the juvenile justice system works in the US.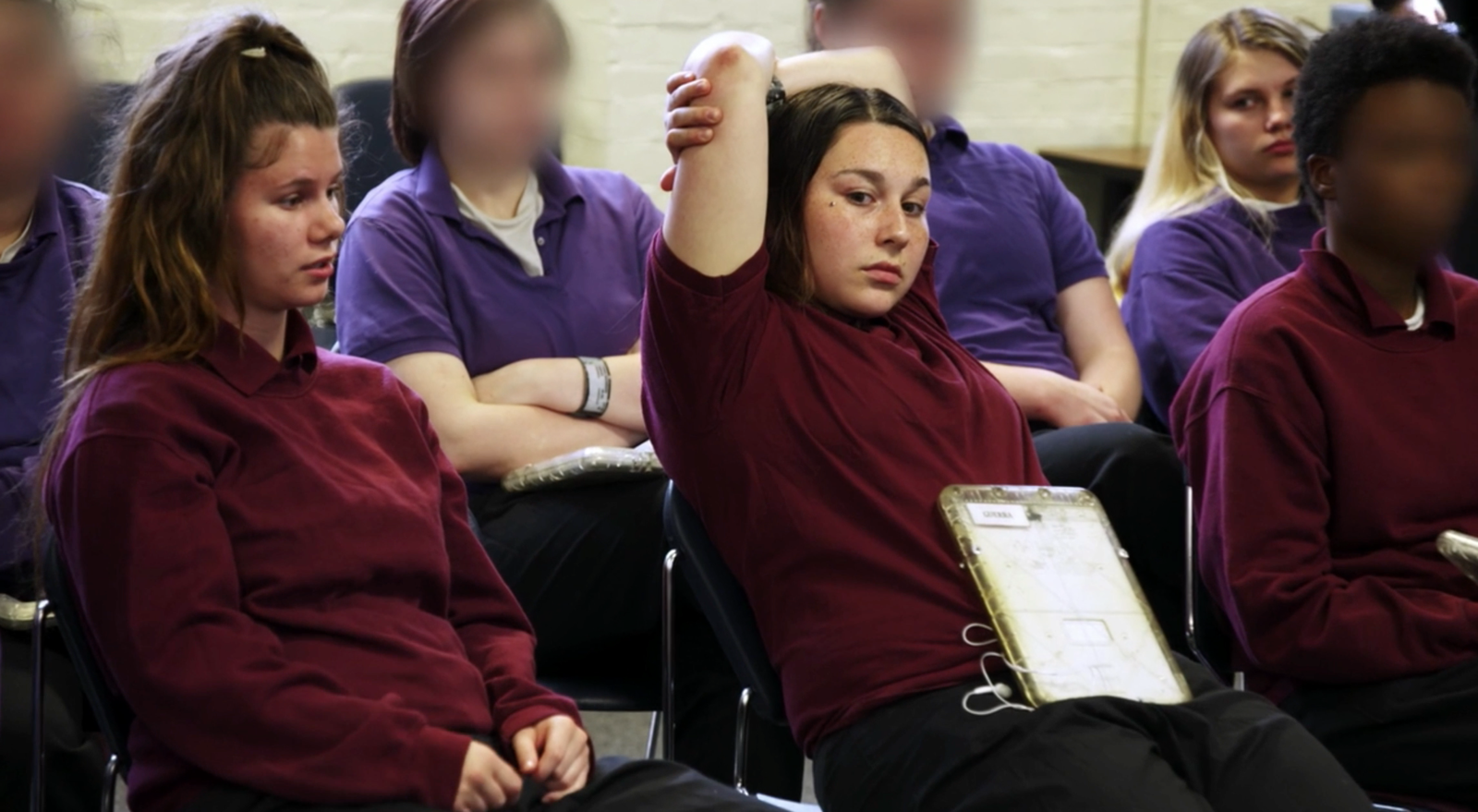 These stories continue to unfold throughout — all of them equally tragic in the ways they uncloak the insidious cycles of violence, abuse, and neglect in the lives of young girls trapped in the justice system. The glaring truth of these girls is that they were victims before they were offenders. (One recent study reported that 31% of girls detained in the juvenile justice system in the US have been sexually abused, compared with only 7% of boys.) And as the New Yorker's Doreen St. Félix points out in her review, despite Madison being held up as the rehabilitative ideal in the show, the juvenile justice system is not equipped to address this victimization in the lasting, structural ways that are needed. To believe so would be yet another flattening of the truth.
What's fresh and exciting about Girls Incarcerated is that it does give these "bad" girls an opportunity to tell their own stories, in their own words. But the frustration left at the end is how little agency they actually have over their lives and futures. Not surprisingly, it's one of the inmates, Guerra, who first suspects the limitations of Madison's promise of hope. When her release date finally arrives in Episode 6, Guerra confesses that she's not as excited to leave Madison as she thought she would be. "Everybody's like, 'Do you have a plan, Brianna? Do you have a plan?' And I don't want to lie to them. Like, I don't have a plan," she cries during her final sit-down. "But I do wanna do right." ●