U.S. Border Agent Pleads Not Guilty To Fatally Shooting Teen In Mexico
Lonnie Ray Swartz, accused of shooting and killing a teen in Mexico from the U.S. side of the border, pleaded not guilty to second-degree murder in federal court Friday.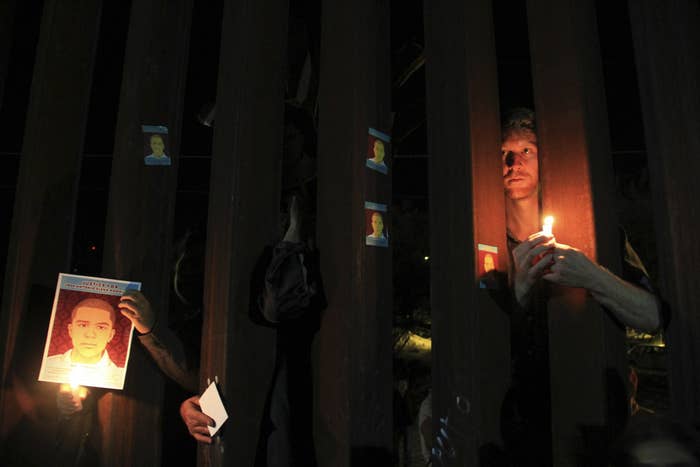 A U.S. Customs and Border Protection agent pleaded not guilty Friday in federal court to second-degree murder in the 2012 shooting death of a teenager who was on the Mexico side of the border.
Lonnie Ray Swartz was charged in September by the U.S. Attorney's Office with unlawfully shooting Jose Antonio Elena Rodriguez in 2012.
Lee Gelernt, an attorney with the ACLU who filed the civil lawsuit alleging Rodriguez's Fourth and Fifth Amendments rights were violated, told BuzzFeed News that Swartz was allowed to remain free pending the conclusion of the trial. Swartz also can't travel outside Arizona and Nevada.
Rodriguez was shot on Oct. 10, 2012, as he walked on a street that runs parallel to the U.S. border fence in Nogales, Mexico. The federal complaint alleges that Border Patrol agents on the U.S. side fired between 14 to 30 shots into Mexico, striking Rodriguez at least 10 times.
The Border Patrol said its agents were chasing a group of people they believed were trying to enter the U.S. illegally and fired across the border after rocks were thrown at them.
Rodriguez's family said Jose was walking home from playing basketball when he was shot and did not throw rocks.
After Swartz was indicted, the National Border Patrol Council, a union representing agents, said they believed he was innocent until proven guilty and would be providing him with "excellent" legal counsel.
"Sadly, our agents and all law enforcement officers operate in a world of political agendas and armchair quarterbacking," the union said. "But our jobs are dangerous and the decisions we make every day determine if we will return home safely to our families. We ask the public to withhold judgment about Agent Swartz while the legal process unfolds."