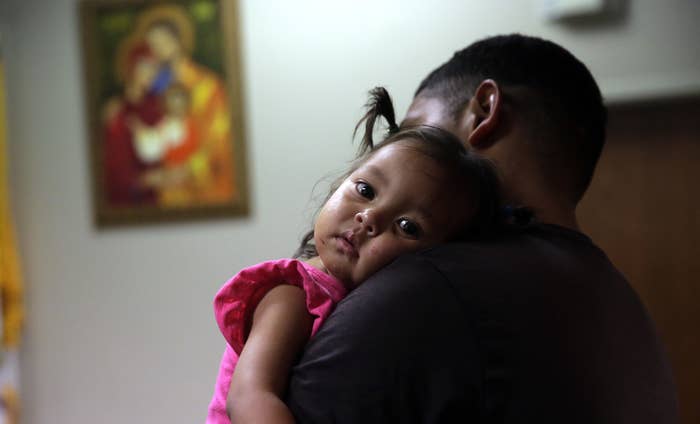 Despite the Trump administration's assertion that immigrant families must be detained because they don't show up for court hearings, research shows that the vast majority of families released from detention attend all their scheduled court appearances.
Overall, 86% of families released from immigration detention attended all of their court hearings, according to a study by the American Immigration Council that reviewed more than 18,000 immigration court hearings initiated between 2001 and 2016. That percentage exceeded 90% when only families who'd filed asylum applications were considered.
The findings contradict the Trump administration's assertion in a recent proposal to revise a court agreement that limits how long children can be held in detention. "In many cases, families do not appear for immigration court hearings after being released," the proposal said.
But that claim is contradicted by a review of actual cases, said Ingrid Eagly, a law professor at UCLA and one of the authors of the immigration council's report "Detaining Families: A Study of Asylum Adjudication in Family Detention."
"These high rates of reporting to court are inconsistent with government claims that families placed in detention will not report to court after release," Eagly told BuzzFeed News.
Family detention has been a major issue for the Trump administration, which during the summer faced backlash for separating parents from their children at the border. Anger over family separation forced President Trump to rescind the policy in June after weeks of controversy.
Since then, family separation has been a quieter issue as immigration authorities work to keep families together, releasing hundreds when the country's three family detention centers can hold no more detainees.
But that calm is likely to be broken by the Trump administration's effort to overturn a 1997 court agreement known as the Flores settlement that regulates how immigrant children are to be treated while in custody. The agreement says that unaccompanied kids and children who arrive in the US with their parents should be released from detention generally within 20 days.

On Friday, the Trump administration published in the Federal Register a proposed regulation that would supersede the Flores settlement agreement, and allow immigration authorities to detain entire families indefinitely. The publication opened a 60-day period for comment.

Key to the government's efforts to revise the agreement is the claim that families released into the United States drop from sight.
Thomas Homan, the former acting director of Immigration and Customs Enforcement, told a congressional committee in May that "many" undocumented families they are forced to release never make it to court.
"And even when they do, many more fail to comply with the lawfully issued removal orders from the immigration courts," Homan said.
In June, President Trump said immigration authorities simply release immigrants caught at the border with instructions to show up in court in a year.
"But here's the thing: That in itself is ridiculous. Like 3% come back," Trump said.
White House legislative director Marc Short told CNN's Wolf Blitzer in June that "Eighty percent of those that are coming here illegally never show up for court and are never deported."
In an October 2017 speech, Attorney General Jeff Sessions echoed what Homan and others in the administration said about asylum-seeking families who passed interviews with immigration officers stating they have a credible fear of returning to their home countries.
"Not surprisingly, many of those who are released into the United States after their credible fear determination from DHS simply disappear and never show up at their immigration hearings," Sessions said.
But the study shows that a vast majority of families who are not in detention do attend their immigration court hearings.
Of 13,037 families released from detention, 11,212, or 86%, showed up to all of their hearings; the 1,825 who didn't were ordered to be deported, according to the American Immigration Council study.
When researchers looked at only cases where a judge had issued a decision, 6,587 families, they found that the court appearance rate was 72%, overall, but went up to 92% for asylum applicants. That percentage rose to 94% if the family had filed an asylum application and had an attorney.

Other studies of families who've been released under various ICE programs, which include ankle monitors, cash bonds, and caseworkers, also show a high rate of attendance at court hearings.
An analysis from the Cato Institute, a DC-based libertarian think tank, found that for people being monitored electronically, appearance rates at immigration courts were 99.6% in 2012, the last year with reliable data. The Family Case Management Program, though expensive at $18,000 per immigrant, had a 100% court appearance rate. The Trump administration killed the program in mid-2017.
During his October 2017 speech, Sessions said that in 2016 there were 700% more deportation orders issued to people who didn't show up in court in cases that started with a credible fear claim, a crucial first step in an asylum case, compared with 2009. However, Sessions didn't say what the actual numbers of deportation orders were in those cases.
A Department of Justice report shows that asylum applicants who were ordered deported when they were not in court had dropped when you compare 2009's 3,313 to 2016's 2,926. Overall, deportation orders issued for all immigrants who didn't show up to court increased from 16,491 in 2012 to 40,579 in 2017.
In justifying the administration's statements that many immigrants don't keep their court dates, the Department of Homeland Security provided figures for fiscal year 2017 that show the agency arrested 104,950 family units along the southwest border and encountered another 76,157 — usually people who presented themselves at ports of entry seeking lawful admission into the US who were later found to be "inadmissible."
About 95% of them are still in the country, the agency said, but that most likely is due to their cases being undecided. The immigration court backlog has reached an all-time high of 697,777.
DHS said that of the families issued a final deportation order, 76% of them did not show up to their required court hearings, but the actual numbers that make up that percentage are small when you look at the overall number of families arrested at the border in 2017. Of the family units apprehended, 7,080 were issued deportation orders, of which 5,339, or 76%, were issued to someone not present in court.
Eagly cast doubt on the significance of those figures, however, accusing the Trump administration of looking only at one year of data or a few months, rather than statistics spanning several years.
"There's been a wide variety of stats that the administration has put forward in the past month without putting forward any clear methodology as to how they actually measured," Eagly said.
An analysis by the Justice Department found that between fiscal year 2012 and 2016, a majority of immigrants who were not detained attended their court. Those percentages ranged from 57 to 76%. This included immigrants who were never held in immigration jails and those who were released from detention.
In 2015, of the 88,267 immigration decisions, about 38,260 were issued without the person being in court. It was the highest in absentia rate, which refers to cases where immigrants do not appear in court court, 43%, of the years provided.
According to the Justice Department, 2012 had the lowest in absentia rate, at 24% for immigrants not in detention. That year, of the 81,593 immigration decisions, 19,365 people did not show up to court for the final hearing.
A total of 139,231 nondetained immigrants were ordered to be deported without showing up to their court proceedings from 2012 to 2016. It's unknown whether these people remained in the country or left or how many of those were families.
Eagly said the reason why families seeking asylum have high rates of showing up for their court hearings is because of the emphasis legal advocates have put on providing information to that specific group.

"With a lawyer explaining the immigration court process, I think people are more likely to understand what the process is and where and when they need to go," Eagly said. "A lot of the reason why people don't appear is because they don't have the proper information regarding the court process, and having a lawyer can make a big difference in whether or not people appear."
Casey Miller, a legal assistant with the Refugee and Immigrant Center for Education and Legal Services, who works with mostly asylum-seeking families at the Karnes County Residential Center, in Karnes City, Texas, said legal services make a difference when it comes to court appearances.
"Especially when we give them exact information about what they need to do in order to go to their court appointments and ICE check-ins," Miller told BuzzFeed News.
Because some families who are not in detention may have been at some point, legal aid providers often reach out to them there and continue to work with them after they're released.

Many adult detention centers don't offer legal services, Miller said, leaving thousands of immigrants without attorneys on their own to sort through mountains of English-language court documents, find transportation to courthouses, especially if they don't live in a major city, and keep tabs on changing court dates.
"There are many reasons why families don't show up to their court dates, but I would say that the primary reason is that the American legal system is difficult to navigate, even as an educated English speaker," Miller said.