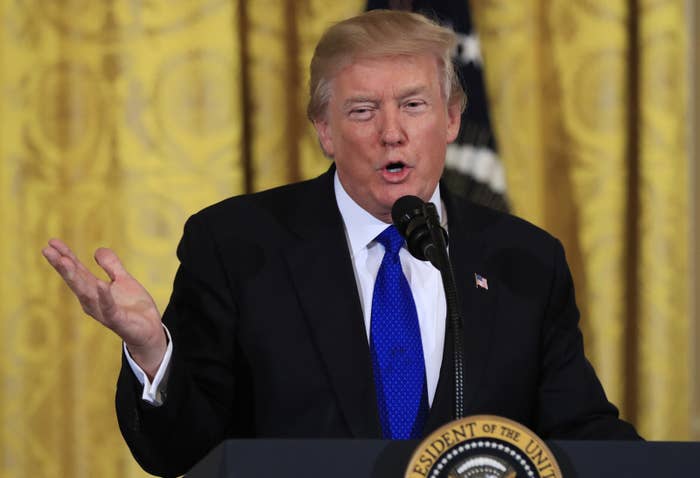 President Trump said Wednesday that he is open to a pathway to citizenship for a group of younger immigrants who were brought to the US illegally as children.
In impromptu remarks to reporters at the White House, Trump said that protections for recipients of the Deferred Action for Childhood Arrivals (DACA) program could "morph into" citizenship over a decade.
"We are going to morph into it and it will happen over a period of 10 to 12 years. Gives incentive to do a great job, but they've worked hard, and done terrifically," Trump said. "I think it's a nice thing to have an incentive of, after a period of years, being able to become a citizen…we're looking at 10 or 12 years."
The comments suggested Trump would be open to offering more than just legal status to DACA beneficiaries as part of an immigration deal, provided it also includes $25 billion for a wall along the US-Mexico border.
In September, the administration announced it would end the Obama-era DACA program, which gave nearly 800,000 immigrants work permits and protection from deportation. According to court documents, as of September 2017, there were 689,800 active DACA recipients across the country.
A deal on DACA became a major sticking point of negotiations to fund the federal government, which led to a three-day government shutdown over the weekend. The shutdown was only ended after a promise from Senate Majority Leader Mitch McConnell to allow a vote on an immigration bill that Democrats hope will include a DACA fix.
Minutes after Trump's remarks Wednesday, Republican Senator Lindsay Graham released a statement applauding the president's position, saying that he had "never felt better about our chances of finding a solution on immigration."

"President Trump's support for a pathway to citizenship will help us get strong border security measures as we work to modernize a broken immigration system," Graham said on Twitter. "Finally with this statement we are on track to solving the immigration problem which is the political key to rebuilding our military!"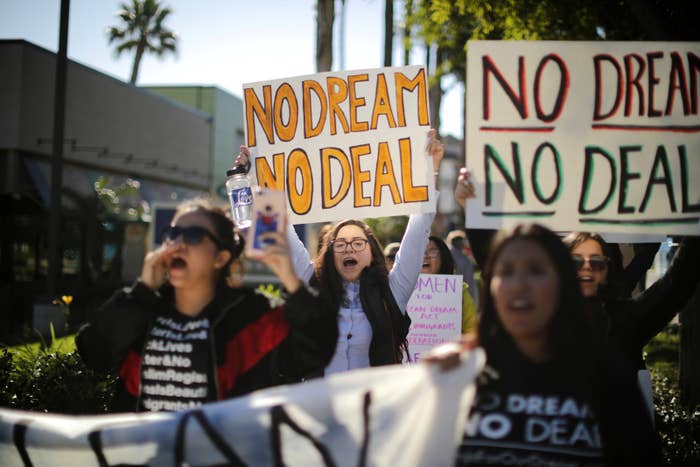 When Attorney General Jeff Sessions announced the end of DACA on Sept. 5, Trump gave a March deadline for lawmakers, telling them they had six months to come up with a permanent solution while the program phased out.
The Trump administration gave about 154,000 DACA recipients, whose protections were set to expire between then and March 5, 2018, 30 days to apply and pay for a renewal. The US Department of Homeland Security (DHS) said 22,000 DACA recipients did not meet the deadline and immigrant advocates have highlighted that figure when pointing out that undocumented immigrants are losing protections daily.
An analysis from the Center for American Progress found that on average 122 people who used to have protection from deportation are losing their status every day after the Trump administration canceled the program.
However, earlier this month a federal judge partially revived the DACA program after ordering the government to continue taking renewal applications while a lawsuit played out.
The Department of Justice announced that it would be asking the Supreme Court to hear the case immediately — an effort to skip review by the US Court of Appeals for the 9th Circuit, which has sided against the Trump administration multiple times.
In the meantime, the government said it would take renewal applications, causing hundreds to rush to submit their paperwork should the window of opportunity close quickly.