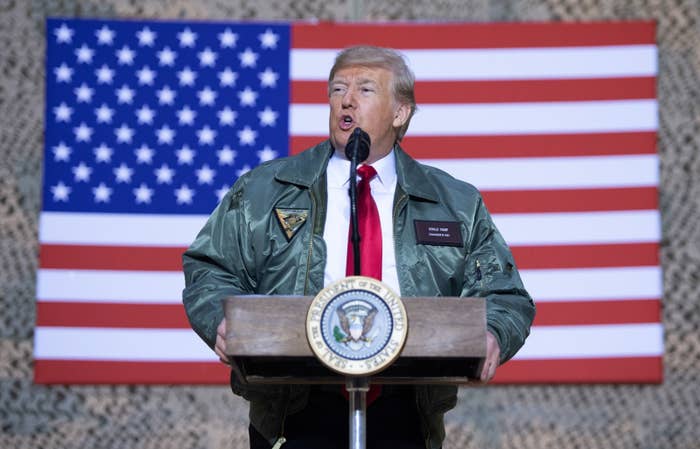 The Trump administration approved a policy Tuesday requiring most transgender troops and military recruits serve in the sex they were assigned at birth and barring them from transitioning to another gender.

The directive from the Defense Department falls short of a total ban on trans people serving in the military, but says new and existing service members will have only 30 days to qualify for gender transition, after which transgender people will not be allowed to enlist or receive medical treatment, unless they're exempt.
Under the rules, transgender troops and recruits who enlist prior to April 12, 2019, and were either qualified for military service in their preferred gender or as a service member received a diagnosis of "gender dysphoria" can go forward with medical treatments for their transition. Military secretaries can also grant waivers to transgender people in whole or in part to the new requirements on a case-by-case basis.
Harper Jean Tobin, director of policy for the National Center for Transgender Equality, said the implementation of the rules represented an unprecedented step backward in the social and civil progress for the US and its military.

"Throughout our nation's history, we have seen arbitrary barriers in our military replaced with inclusion and equal standards," Tobin said in a statement. "This is the first time in American history such a step forward has been reversed, and it is a severe blow to the military and to the nation's values."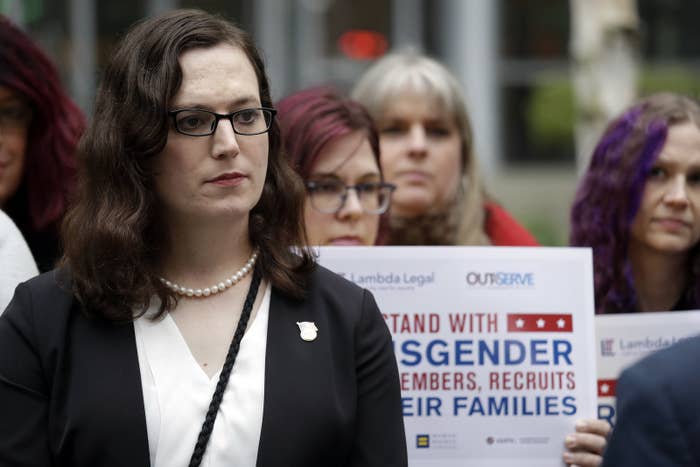 The Obama administration lifted a ban on transgender troops in 2016, but President Trump reversed the decision in 2017 saying that transgender people would render the military "burdened with medical costs and disruption," setting off a series of legal battles.
Last week, a federal court in Baltimore lifted a preliminary injunction that had prevented Trump from enacting the ban, which followed a Supreme Court order in January that lifted similar injunctions in two other courts.
Service members who are diagnosed with gender dysphoria can be discharged from the military if they're "unable or unwilling to adhere to all applicable standards, including the standards associated with their biological sex."
The memo issued Tuesday was signed by David L. Norquist, who is currently performing the duties of the deputy secretary of defense.
The directive said transgender people are disqualified from serving in the military unless a mental health provider says the applicant demonstrated 36 consecutive months of stability in the gender they were assigned at birth immediately before submitting their application. The transgender applicant must also demonstrate they have not transitioned and that a licensed medical provider has determined that gender transition is not medically necessary. The troop or recruit must also adhere to the standards associated with the gender they were assigned at birth.
"A history of cross-sex hormone therapy or a history of sex reassignment or genital reconstruction surgery is disqualifying," the directive said.
Nearly 15,000 transgender troops currently serve in the US military, said the National Center for Transgender Equality.
Aaron Belkin, director of the Palm Center, a nonprofit institute that's examined the issue of transgender people serving in the military, said the Trump administration has chosen prejudice and politics over the testimony of medical and military leaders.
"In almost three years of open service these troops built a strong record of achievement and earned the support of every service chief," Belkin said in a statement. "The Trump administration is determined to bring back 'don't ask, don't tell,' a policy that forced service members to choose between serving their country and telling the truth about who they were."