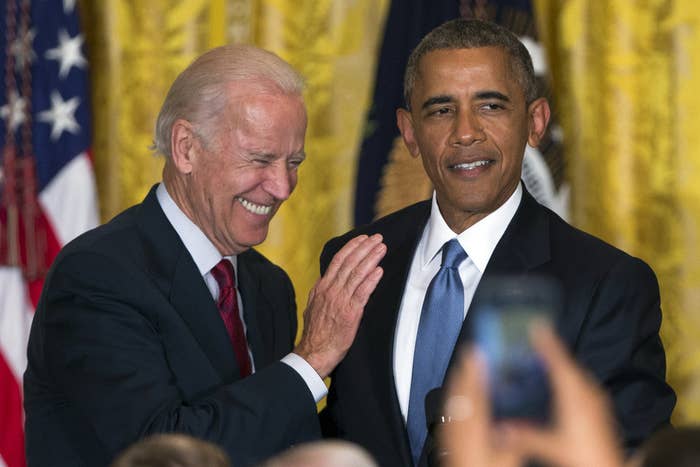 An undocumented transgender woman who interrupted President Obama during the Pride Month Reception at the White House Wednesday called on the administration to release LGBT immigrants from detention, before being escorted out.
Jennicet Gutiérrez, who works with LGBT advocacy organizations Familia: TQLM and GetEqual, was removed shortly after she interrupted Obama's speech.
"President Obama, release all LGBTQ in detention centers," Gutiérrez said during the reception. "President Obama, stop the torture and abuse of trans women in detention centers."
Obama responded by saying, "No, no, no, no. Hey, listen, you're in my house," to cheers and applause of some in attendance.
"You are not going to get a good response from me by interrupting me like this. Shame on you, you shouldn't be doing this," Obama said.
Transgender immigrants and human rights groups have expressed concerns about the conditions trans detainees are kept in. Some report being sexually assaulted, lack of medical care, and being placed in solitary confinement.
A 2013 investigation by the Government Accountability Office found that of 15 substantiated reports of sexual abuse and assault, one fifth involved transgender detainees.
After the incident Jennicet Gutiérrez said she could not celebrate while some 75 trans detainees remained in ICE custody.
"The White House gets to make the decision whether it keeps us safe," Gutiérrez said in a statement. "If the President wants to celebrate with us, he should release the LGBTQ immigrants locked up in detention centers immediately."
Here is the White House transcript of the heckling:
Over the years, we've gathered to celebrate Pride Month, and I've told you that I'm so hopeful about what we can accomplish. I've told you that the civil rights of LGBT Americans is --



AUDIENCE MEMBER: President Obama!



THE PRESIDENT: Yes, hold on a second.



AUDIENCE MEMBER: (Inaudible), President Obama!



THE PRESIDENT: Okay, you know what -- no, no, no, no, no,

no, no. No, no, no, no, no.



AUDIENCE MEMBER: President Obama --



THE PRESIDENT: Hey --



AUDIENCE MEMBER: (Inaudible.)



THE PRESIDENT: Listen, you're in my house. (Laughter and

applause.) You don't -- come on. It's not -- you know what, it's not respectful when you get invited to somebody --



AUDIENCE MEMBER: President Obama (inaudible).



THE PRESIDENT: You're not going to -- you're not going to

get a good response from me by interrupting me like this.



AUDIENCE MEMBER: President Obama --



THE PRESIDENT: I'm sorry. I'm sorry.



AUDIENCE: Booo --



THE PRESIDENT: No, no, no, no. No, no. No. Shame on

you. You shouldn't be doing this.



AUDIENCE: Obama! Obama! Obama!



THE PRESIDENT: Can we escort this person out? Come on.

You can either stay and be quiet, or we'll have to take you out. All right, can we have this person removed, please?



THE PRESIDENT: Come on.



AUDIENCE MEMBER: President Obama --



THE PRESIDENT: Come on. Come on. Nope. No. Come on. Come on, guys. I'm just going to wait until we get this done.



AUDIENCE MEMBER: (Inaudible) deportations! No more deportations!



THE PRESIDENT: Okay, where was I? (Laughter and applause.) So as a general rule, I am just fine with a few hecklers -- (laughter) -- but not when I'm up in the house. (Applause.) You know what I mean? You know, my attitude is if you're eating the hors d'oeuvres -- (laughter) -- you know what I'm saying?



THE VICE PRESIDENT: I do.



THE PRESIDENT: Okay. And drinking the booze. I know that's right.



Anyway, where was I?



AUDIENCE MEMBER: We love you!



THE PRESIDENT: I love you back. (Applause.)