On Sunday evening, about 50 asylum-seekers who have made their way through Mexico as part of a caravan of Central Americans walked into the San Ysidro Port of Entry, just south of San Diego, but US border authorities have not allowed them to ask for asylum.
The caravan started with about 1,200 to 1,500 people and on Sunday about 40 presented themselves at San Ysidro in the United States to ask for asylum, citing violence and political oppression. As of Sunday evening, the US border authorities had still not allowed them to apply for asylum.
Alex Mensing, of Pueblos Sin Fronteras, the group that helped organize the caravan, told BuzzFeed News that the first group to approach the entryway to the US were told by US Customs and Border Patrol (CBP) that they were at capacity.
"CBP officials said, 'We are at capacity — at this time we cannot accept any more asylum-seekers; you can wait on one side,'" Mensing said. "So the asylum-seekers are next to the door waiting for whenever it is CBP is capable of receiving asylum-seekers."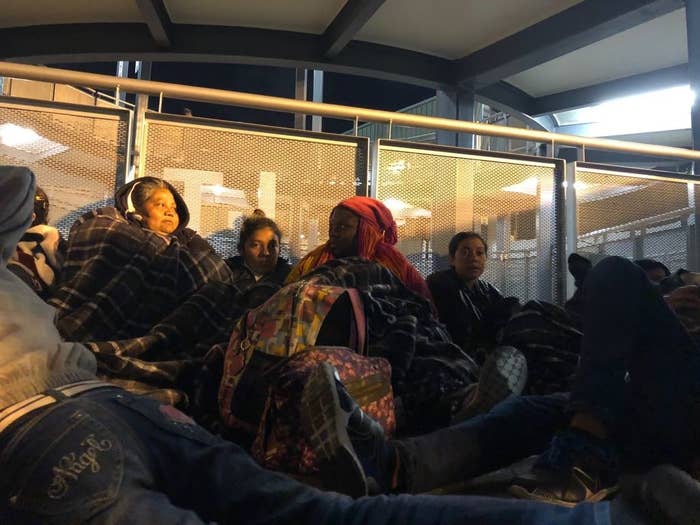 It is still not clear what will happen to them in the long run, because the US president, attorney general, and leaders of the Department of Homeland Security have called the caravan a threat to national security.
US law does require that asylum-seekers be given a fair hearing. If migrants tell border officials that they are afraid to return to their country of origin, they have to be processed and held until an asylum officer can determine if their claims are credible. Still, that process often takes months.
"We wish the United States government was capable of accepting more than a few hundred asylum-seekers at any given time since we can certainly pick up more than a thousand people in an ICE raid on any given day and deport them," Mensing said. "But unfortunately that is not the case. Hopefully one day that is the case."
In terms of CBP capacity at the San Ysidro Port of Entry, Nicole Ramos, an attorney with Al Otro Lado, told BuzzFeed News that the US immigration agency has room to take in 316 asylum-seekers at any given time.
CBP spokesperson Ralph DeSio told BuzzFeed News that the agency is "not providing numbers."
The asylum-seekers from Central America gathered in Tijuana Sunday morning near the US–Mexico border fence.
Misael, a migrant who has been with the caravan since it started on March 25 in Tapachula, Chiapas, in the far southwest of Mexico, said he's happy to finally be in Tijuana. "We're so close, we're one step away from our dream," he said to BuzzFeed News.
About half of the asylum-seekers are children.
However, on Sunday afternoon, CBP said it was already at capacity. This may mean that some of the asylum-seekers will have to remain in Tijuana before they can be processed by the US government.
"I'm nervous because we don't know how things are going to be on the other side," one 16-year-old asylum-seeker, Katrina, told BuzzFeed News as she walked into the port of entry.
Gaby from Honduras is also waiting in the port to ask for asylum. She told BuzzFeed News that she is fleeing gang violence and threats. She left with two of her sons. The gang threats started because of a dispute between the gang and her former partner. He left the country but she didn't want to go with him because he drank, did drugs, and beat her.
She said she felt trapped and left for Tapachula in early March with no money. She was worried Mexican immigration authorities would deport her and her kids, so she linked up with the caravan.
"I don't know what would happen to us if we were deported back to Honduras," she said.
She has big eyes and a black leather jacket. She was sitting on the beach looking at the fast-moving waves in Tijuana. She said in Honduras the waves aren't very strong.