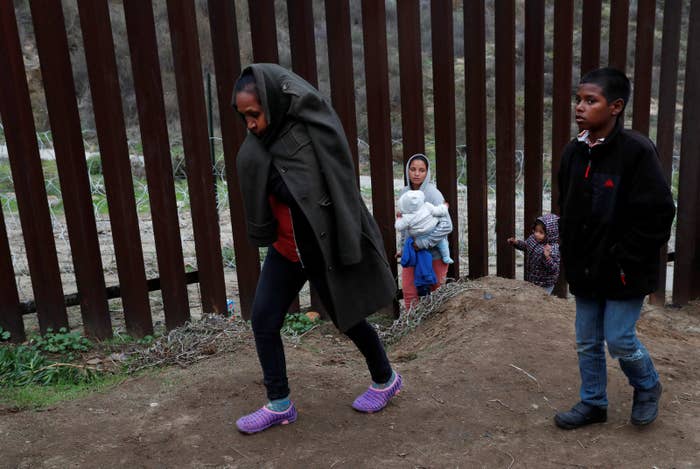 The Supreme Court on Friday rejected the Trump administration's request to let it enforce its new asylum ban while the case makes its way through the courts.
In a 5–4 ruling, Chief Justice John Roberts joined his more liberal colleagues in denying the Justice Department's stay request to implement the ban, which would bar migrants who enter the US without authorization from requesting asylum.
The move from the four conservative justices who would've granted the stay means they believe there is a strong likelihood that the Trump administration will succeed in its appeal attempt to enforce the new policy.
The ruling comes two days after US District Judge Jon Tigar in San Francisco issued a ruling preventing the administration from enforcing the policy as the case moves forward. The Justice Department has not yet appealed Wednesday's ruling.
In a separate order in November, Tigar issued a temporary restraining order preventing the government from carrying out the policy through Wednesday. The Trump administration asked the Supreme Court to put the order on hold after unsuccessfully appealing it to the 9th Circuit Court of Appeals.
The Supreme Court's decision on Friday means the administration's asylum policy will remain on hold pending a merits appeal of that ruling from earlier this week.

"We are disappointed that the Court did not stay one of the unprecedented 25 nationwide injunctions against the Trump administration, but the Court has not yet fully considered the merits of this case," said Steven Stafford, spokesperson for the Justice Department. "We will continue to defend the Executive Branch's lawful authority over the discretionary benefit of asylum."
On Nov. 9, President Trump signed a proclamation limiting granting asylum only to people who present themselves at a port of entry. Those who were caught in between official border crossings would be prevented from requesting asylum from immigration authorities.
The ACLU sued and Judge Tigar, who was nominated to the court by former president Barack Obama, blocked the Trump administration's policy saying it "irreconcilably conflicts with" the Immigration and Nationality Act, which states that anyone in the US can apply for asylum, regardless of whether they arrived at a port of entry, and the "expressed intent" of Congress.
"The Supreme Court's decision to leave the asylum ban blocked will save lives and keep vulnerable families and children from persecution," said ACLU attorney Lee Gelernt in a statement. "We are pleased the court refused to allow the administration to short-circuit the usual appellate process."

Zoe Tillman and Hamed Aleaziz contributed reporting.
This is a developing story. Check back for updates or follow BuzzFeed News on Twitter.