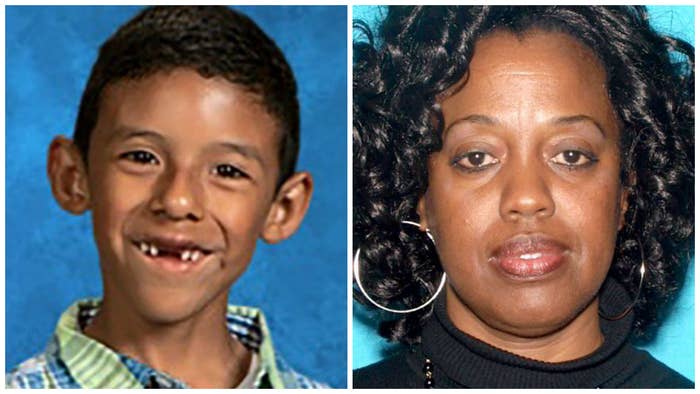 A man opened fire Monday inside his wife's classroom in San Bernardino, California, killing her and an 8-year-old boy before turning the gun on himself, police said.
A second student, identified as a 9-year-old boy, was also injured inside the North Park Elementary classroom, but in stable condition. The class was for students with learning disabilities, officials said.
Police said 53-year-old Cedric Anderson quickly opened fire, fatally hitting his estranged wife, Karen Smith.
Jonathan Martinez, the student who died in the attack, and the other, injured student were standing behind Smith when they were struck by gunfire, police added. A GoFundMe page has been set up to help Jonathan's family.
"He came in in a very, very quick manner and quickly, upon entering the classroom, started shooting," San Bernardino Police Chief Jarrod Burguan said.
Anderson reloaded his .357 revolver, which was found next to his body, once during the attack, Burguan said. The firearm was last sold in 1979 in Michigan, police Lt. Mike Madden told BuzzFeed News. Investigators are working to track how Anderson obtained the weapon.

"We don't know how he came to own or have it," Madden said, adding that Anderson was legally allowed to own a firearm because he had not been convicted of a felony.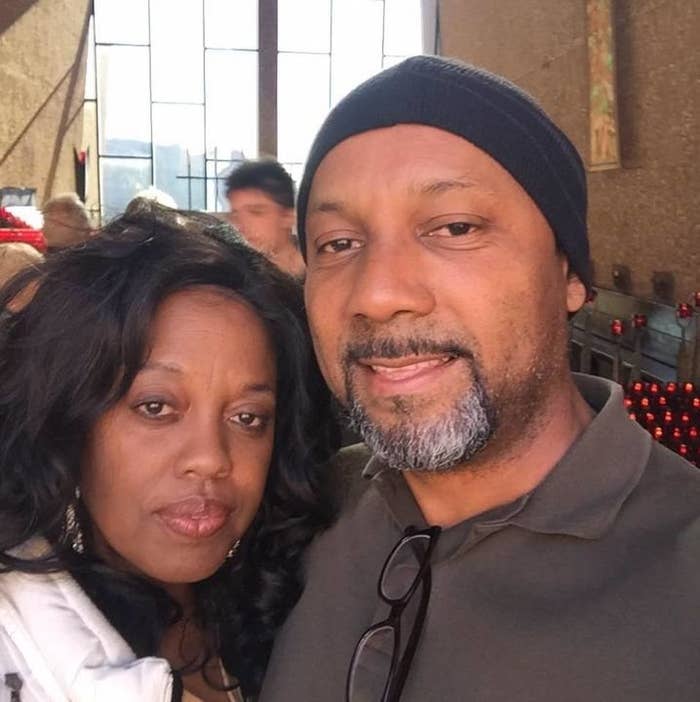 Anderson had a criminal history that included weapons charges, domestic violence, and possible gun violations. He was also charged with battery, but not convicted. The domestic violence incidents in Anderson's criminal record preceded their marriage, Burguan said.
Smith, also 53, and Anderson were estranged after a short marriage that lasted a few months, police said. The couple separated over a month ago and Anderson had threatened his wife when she moved out, police said Tuesday.

"It appears that he had been making efforts to contact her and to have her come back home and she was resistant to that," the police chief told reporters Tuesday. "And I don't know if that just reached a boiling point, or what that was. Nor do we know exactly why he chose to do this at the school."
Police do not know what provoked Anderson to attack or why he chose the elementary school, Madden said.
"She was extremely private and never shared anything with her coworkers," he added. "No one really knew there was a problem until after she left."
Smith had recently moved in with one of her adult children in March after Anderson accused her of cheating, just three months after the two married, Madden said. Her daughter told police that she and her siblings were just starting to learn there were issues.
"He had made indications that he would want to cause her harm, but she didn't take them seriously and thought it was him trying to get attention," Madden said. "He had not previously threatened to shoot her."
A 9-year-old girl who was in the classroom said she saw her friend and teacher get shot.

"He just shot everywhere," she said. "I went under the table and then I just saw my teacher ran out so I just ran out...my friend and my teacher they got shot."
Maria Garcia, a spokeswoman for the San Bernardino City Unified School District, said they received a report of an active shooter at about 10:28 a.m. About 500 students attend North Park Elementary.

Police arrived minutes later as officials locked down the campus. A total of about 150 police officers responded to the shooting.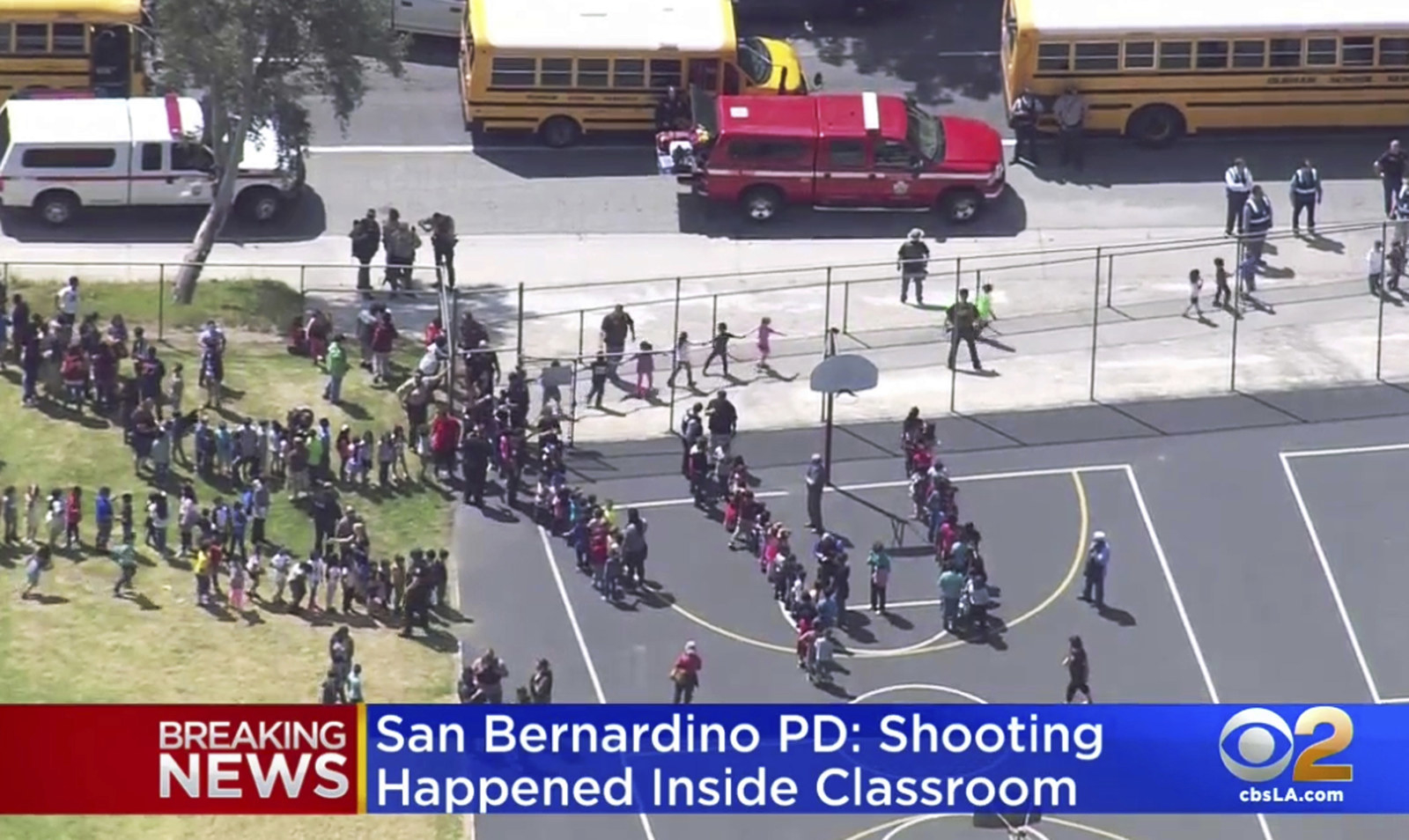 Garcia said there are no campus police at the district's elementary schools. They do have unarmed security at the middle schools and uniformed police at high schools.

Garcia told BuzzFeed News Anderson followed the "exact protocols" anyone would have to go through in order to get into the school. He signed in with the front desk and provided a photo ID.
"I believe what he said is he was bringing something to his wife...Nothing from this morning set off any alarms," Garcia said. "Stuff like this doesn't happen. The city of San Bernardino has issues with crime, but the majority of the crime doesn't touch the inside of our schools."
In response to the mass shooting that left 14 people dead and 22 injured on Dec. 2, 2015, in San Bernardino, the school district underwent mandatory emergency response training to teach employees how to respond to incidents like a shooting, Garcia said.
"Of course, incidents like this are going to force us to go back to the drawing board to look at practices and processes," Garcia said. "We are going to make sure that our students and staff are taken care of beyond this week, beyond this month."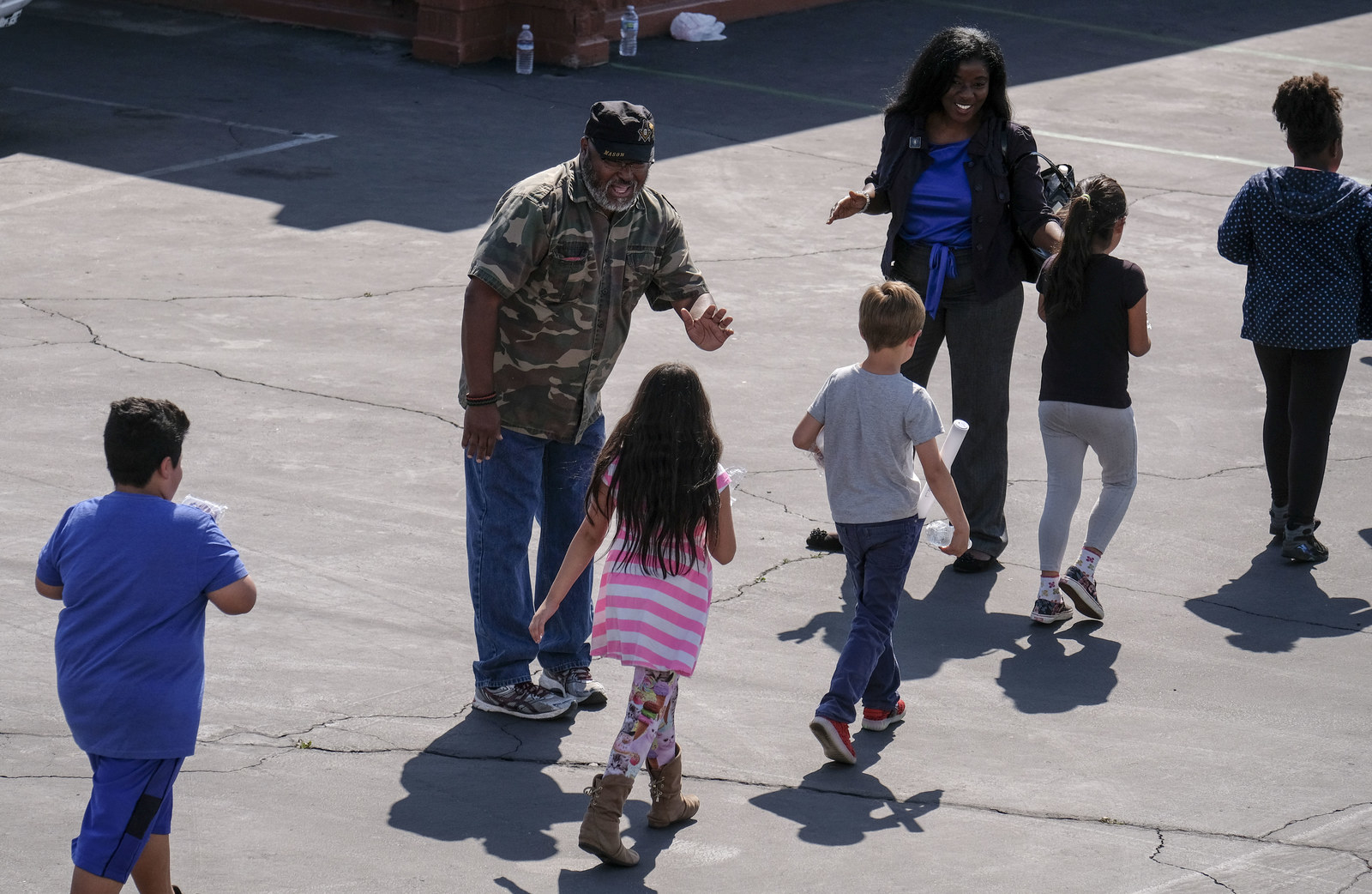 The mother of a fifth-grader told ABC7 she was shopping when news broke about the shooting and frantically called police to get information. She was later notified through an app that her son was safe.

"I just want to hold him," she said.