Report: Federal Mexican Authorities Were Involved In Disappearance, Killing Of 43 Students
An explosive investigative report out of Mexico says federal authorities were involved in the disappearance and killing of 43 students, which contradicts Mexican government claims that they were unaware of what happened.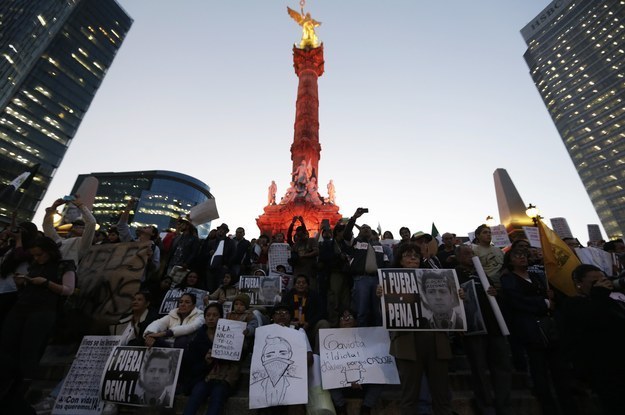 An investigative report published by a Mexican magazine Sunday said federal authorities conspired with local police in an attack on 43 students whose disappearance and killings sparked a wave of uproar and protests.
The article by Proceso magazine said that according to an unpublished government report they obtained, state and federal agents monitored the students the moment they left their school in the southern state of Guerrero.
The investigation disputes the account of federal authorities who said they weren't aware of the attack on the students. The Mexican government's handling of the investigation into the missing Ayotzinapa Normal School students has already fueled a number of national and international protests, with some calling for the president's resignation.
Mexican Attorney General Jesus Murillo Karam said the 43 all-male students were kidnapped and likely killed by members of a drug cartel after being corralled by local police on the order of Jose Luis Abarca, mayor of Iguala, Guerrero.
Abarca allegedly had the students rounded up to prevent them from protesting a speech by his wife, Maria de los Angeles Pineda. He and his wife were arrested in the Mexico City area days after fleeing authorities.
According to the leaked report, written by Guerrero authorities and delivered to Mexico's Secretary of the Interior, state and federal agents reported the students left their campus shortly before 6 p.m. on Sept. 26 to Mexico's Control, Command, Communications and Computer Center (C4) in Chilpancingo.
C4 is a communications system used by state, federal, and military forces.
At 8 p.m. federal and state authorities arrived at a highway where the students were asking for donations to fund a protest, the report said. At 9:22 p.m. federal agents were told the students entered a bus station.
At 9:40 p.m. the first shots were fired.
Reporters Anabel Hernandez and Steve Fisher reviewed hundreds of government documents they obtained for their story, including photos and depositions that indicate federal police were in Iguala on Sept. 26 and shot at the students.
"It was surprising to see how much information was available to the government and yet they chose to directly put the blame on the municipal police and the mayor," Fisher told BuzzFeed News. "There are people within the federal government and within the military that should be investigated."
"We have information that proves the federal government knew what was happening in the moment it was happening, and participated in it," Hernández, the lead reporter for the Proceso piece, told the Huffington Post. "The government has tried to hide this information."
The article ran in Proceso, an investigative liberal magazine published in Mexico City, in conjunction with UC Berkeley's investigative reporting program.
BuzzFeed News reached out to the Mexican embassy in D.C. for comment, which said it was forwarding along the request to their spokesperson, but did not receive a response before publication.
Proceso's report was done in conjunction with UC Berkeley's investigative reporting program and includes video allegedly recorded by the students while they were being shot at.
In one clip a voice can be heard saying that federal police were present.
"The police are leaving," a student can be heard saying. "The federal police is staying, they're going to harass us."
The Ayotzinapa students can be heard calling for an ambulance for a student that was shot and another one who had trouble breathing. At one point the shooters are picking up shell casings.
"Why are you picking up the casings?" a student yells. "You know what you did."