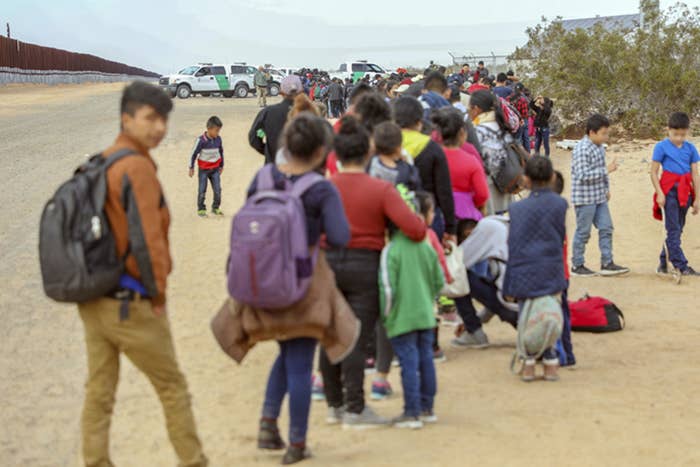 US Border Patrol agents apprehended more than 36,000 families in February at the southern border, a new monthly record for the agency grappling with a surging number of parents and children arriving in remote areas.
More than 76,000 migrants crossed the US–Mexico border without authorization in February, according to US Customs and Border Protection, more than double the number encountered last February. That number includes people who entered the US through an official border crossing without proper documentation and those who entered in between ports of entry.
In addition to the record number of family units arriving at the border, a figure the US started tracking in 2012, agents also apprehended nearly 7,000 unaccompanied children, a number that has been steadily increasing for the last five months.
"We are facing alarming trends in the rising volume of people illegally crossing our southwest border or arriving at our ports of entry without documents," Kevin K. McAleenan, commissioner of US Customs and Border Protection, told reporters. "This increased flow presents, currently at our highest levels in over a decade, both a border security and humanitarian crisis."

The last time southwest border apprehensions were near these levels in February was in 2008 when Border Patrol arrested 73,483. Still, these numbers are at historic lows when you compare it to the 211,328 people apprehended in February 2000.
Border Patrol agents are encountering an increasing number of families in remote areas of the border, a shift from the single adult Mexicans they used to apprehend historically. So far this fiscal year, agents have seen 70 groups of 100 or more people that totaled more than 12,000 apprehensions.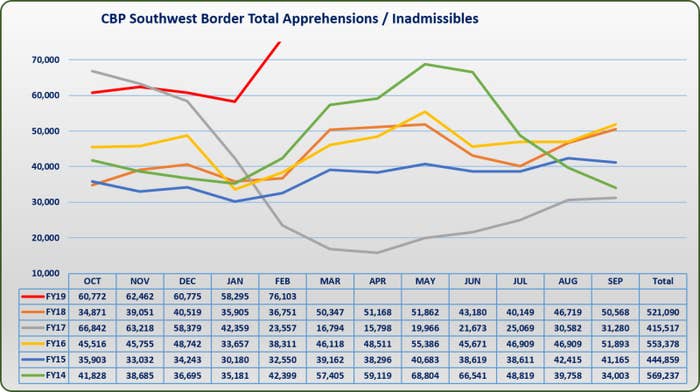 By comparison, Border Patrol agents encountered 13 large groups last year and just two in fiscal year 2017.

Researchers and advocates believe the increase in migrant families in remote areas of the border is fueled by the US limiting how many asylum-seekers it can process daily. Facing a weeks- or months-long wait in Mexico for the chance to request asylum, some families are opting to cross in between official border crossings.
Andrew Free, an immigration and civil rights lawyer who has worked with asylum seekers at the border, said CBP has closed "America's doors" to asylum-seeking families.
"From illegal metering to deadly Remain in Mexico policies, the US regime has systematically driven refugee families and children away from ports of entry and into dangerous, irregular surrenders at points between them," Free told BuzzFeed News.
In addition to limiting the number of asylum seekers at ports of entry, the Trump administration has rolled out policies that advocates say makes it difficult for migrants to ask the US for refuge. In November, the administration attempted to deny asylum to migrants who crossed the border between ports of entry, but was stopped by a judge.
More recently the administration said it was planning to expand a policy that forces asylum seekers to wait in Mexico while their immigration cases in the US are completed.
Free said the US is seeing an escalating flow of refugees fleeing violence in the Northern Triangle — Guatemala, Honduras, and El Salvador — as well as Nicaragua and Mexico. Instead of deterring asylum seekers, Free said the US should attempt to help address the root causes of persecution and insecurity that force people to leave their countries.
A government report made public in October found that the practice of turning away asylum-seekers and making them wait in Mexico has likely prompted people to cross illegally.
The remote and rugged areas migrant groups are crossing through present a problem for agents because they're the farthest away from processing centers, medical services, and transportation. These families and unaccompanied children are not trying to evade capture, McAleenan said, and instead seek out Border Patrol agents.
McAleenan said the migrants, the majority from Central America, are taking "express bus routes" to the US border that's resulting in more children showing up with illnesses and medical conditions in "unprecedented" numbers.
Following the deaths of two children from Guatemala who died in CBP custody, McAleenan said the agency has required health screenings for migrant kids. He also announced a new processing center in El Paso, Texas, where families and children can be processed and receive medical attention in one location.
McAleenan blamed immigration laws and court rulings that don't allow the US to quickly deport Central Americans and forbids authorities from detaining families with children for more than 20 days.
"The message from smuggling organizations to parents in Guatemala, Honduras, and El Salvador is clear," McAleenan said. "If you bring a child you will gain entry to the United States and you will be allowed to stay."