Rachel Dolezal Told Police Repeatedly She Was Targeted Because Of Her Race
Records show that the president of the Spokane chapter of the NAACP told authorities someone hung a noose at her residence and she received threatening letters and intimidating phone calls.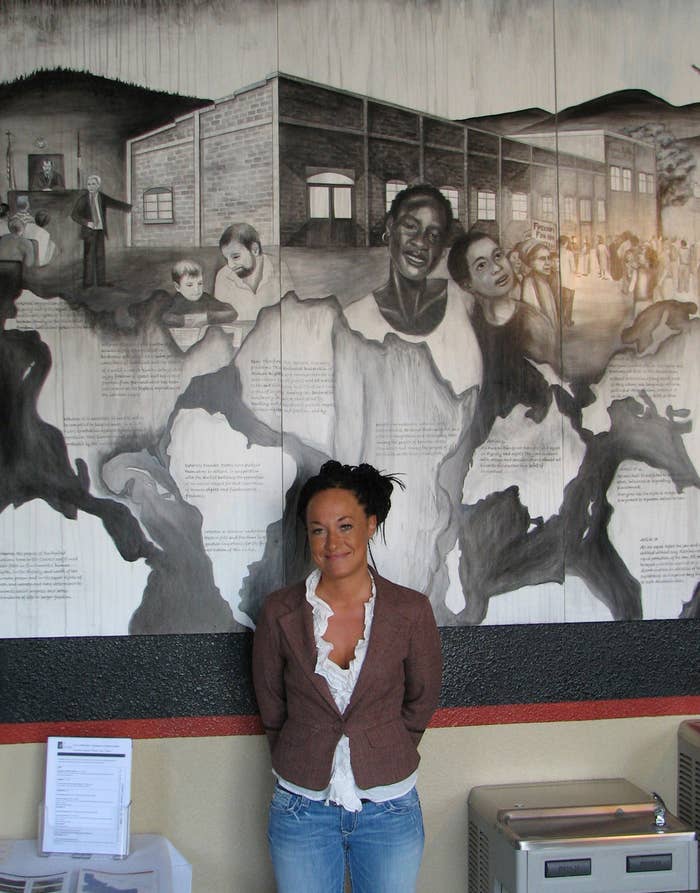 Rachel Dolezal, a civil rights advocate in Washington state who has come under national scrutiny after her parents said she was a white woman who had been misrepresenting herself as black for years, told police she was targeted because of her work and biracial heritage.
Records show Dolezal filed police reports going as far back as 2007 for threatening letters, intimidating calls, and nooses left on her front porch. In January she became president of the Spokane NAACP, is chair of the city's Office of Police Ombudsman Commission, and was education director for the Human Rights Education Institute in Coeur d'Alene in Idaho. Dolezal is also an adjunct professor of Africana studies at Eastern Washington University.
The latest incident occurred in February. Dolezal told police she received a threatening package mailed to the P.O. box of the Spokane NAACP with her name on the front. Inside were photos of black people being hanged, an image of a man and woman pointing guns at the viewer with the text "no more hesitation" next to them, and political news articles.
Dolezal told police she believed the person had attended one of her presentations on the history of racism because some of the pictures appeared to be the same ones she used, according to a police report.
The package was missing a date stamp and bar codes. Postal employees told detectives it unusual and said they wouldn't put an item into a P.O. box without at least a bar code. Police were able to pull male DNA from a piece of tape on the package, the report said.
The letters appeared to have been written by someone using the alias "War Pig." In May "War Pig" sent letters to the Spokesman-Review, the local chapter of the NAACP, and the police department apologizing to Dolezal "for the worry, concerns and grief I had caused her."
In 2007 one of her car's windows was smashed in, according to police records, with the assailants making off with a camera, her registration, and a pair of sunglasses. In July 2009 Dolezal called police after she discovered a palm-sized dent on the front of her car.
Dolezal's boyfriend, Dexter Green, called police in September 2009 to report a rope fashioned into a noose on his front porch days after someone broke into their home. The burglars, the police report said, took a two-inch-barrel pistol she owned and a semiautomatic pistol that Green owned, as well as a flatscreen, an electric guitar, and a laptop.
When officers arrived Green wasn't home, but they spoke with Dolezal.
"[Dolezal] has had numerous problems with the Aryan Nations and other hate groups due to her employment and her bi-racial heritage both at work and at various places where she has lived," wrote officer D. Strosahl in the police report of the incident.
A few months prior, Green had called police to report that someone had written a misspelled version of the n-word on the street with an arrow pointed at the house with chalk. Dolezal wasn't living with Green at the time.
In November 2009 Dolezal called the police to report that someone had placed a swastika sticker on the front door of the Human Rights Education Institute.
Dolezal called police in April 2010, saying she had received a threatening message on her phone. She was a multicultural faculty adviser for the Human Rights branch of North Idaho College at the time.
In the message, a female caller accused her of getting high and having sex with black students in her class. The caller also said she favored her darker-skinned students, discriminated against white students, and that Dolezal should be "very scared."
The Spokane County Prosecuting Attorney's office told the police department there wasn't enough evidence of phone harassment to prosecute the case.
In June 2010, Dolezal told police someone hung a noose on the rafter of a storage shed on her property. She told authorities that it had occurred at other places she lived.
"Rachel said this all started a while when she was threatened at her work because of what she does with human rights and her ethnicity," the report said, noting she was a mix of white and black.
A neighbor later told investigators that he was "90% sure" it was the same rope he put up about a year ago to hang a deer. He told Dolezal about it around the same time she filed the report. The case was closed after Dolezal did not return calls from police.
The threatening letters were sent to the Spokesman-Review. An earlier version of this post misstated the name of the newspaper.