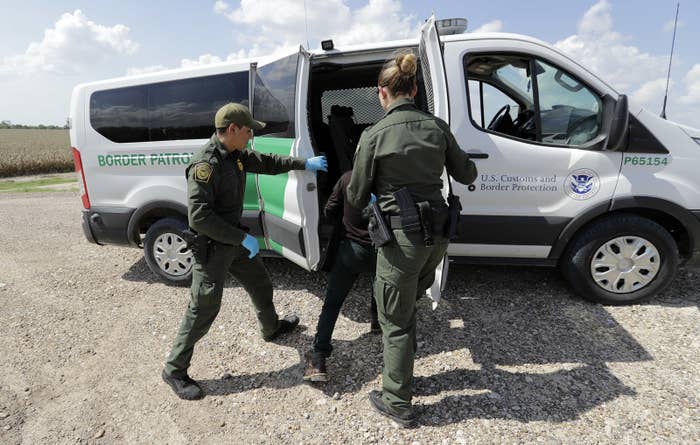 The Trump administration chose to prosecute parents with children over adults without kids, according to a new analysis of immigration data, in another sign that the "zero tolerance" policy was manipulated to target families at the border.

When Attorney General Jeff Sessions announced the "zero tolerance" policy, he said everyone who was caught crossing the border illegally would be prosecuted. Family separations, the administration said, were simply a consequence of prosecuting all immigrants who were caught trying to enter the US illegally.
But an analysis of prosecutions during the weeks after Sessions announced the policy found that during May, US border authorities chose to prosecute adults with kids over adults crossing the border by themselves. That same analysis — by the Transactional Records Access Clearinghouse at Syracuse University — found that only 32% of all adult immigrants caught crossing the border were charged with entering the US illegally that month — an indication that it wasn't a blanket policy but a targeted effort directed at parents with kids.
In May, weeks after the formal announcement of the policy, US border authorities apprehended 4,458 adults with children, the analysis found, while it arrested 24,465 adults without children. Yet only 9,216 adults were referred for prosecution, far fewer than the number of adults who in theory should have been referred under "zero tolerance."
Since fewer than one out of three adults detained at the southwest border in May were referred for prosecution, US Customs and Border Protection clearly was choosing to prosecute parents while electing not to prosecute adults without kids, the analysis concluded.

"The Administration has not explained its rationale for prosecuting parents with children when that left so many other adults without children who were not being referred for prosecution," the report said.

Susan B. Long, codirector of TRAC and an associate professor of managerial statistics at the Martin J. Whitman School of Management at Syracuse University, said researchers don't yet have data on how many adults with kids were prosecuted or how many single adults faced charges in May.
Still, she said, it's clear the administration made the decision to prosecute some parents over single adults.
"It wasn't like [the prosecutions] were automatic; this was a conscious choice," Long said. "We have yet to know the number of separations due to them being criminally prosecuted."
The data in another TRAC report showed that only one adult with children was referred for criminal prosecution in April, Long said. That surprised researchers because the "zero tolerance" policy that the administration said forced it to prosecute parents and separate them from their kids was announced April 6.
"We looked really hard for things to suggest data is unreliable or make you doubt it," Long told BuzzFeed News. "We were so shocked. The Border Patrol data indicated they referred only one parent, and there were lots of separations."
A separate TRAC report found that 1,060 out of 4,537 adults arrested by border authorities in April were deported. At the same time, only 851 children out of the 5,144 arrested as part of family units were deported — meaning hundreds of parents appear to have been deported without their kids, the report said.
Overall, criminal prosecutions of adults referred by CBP increased by 918 from April to May, from 8,298 to 9,216.
Nearly 3,000 immigrant children ended up being separated from their parents as a result of the administration's policy. More than a quarter of those kids remain separated from their parents, despite a court's order to the administration that they be reunited by last week.
In a statement, CBP said it "strongly" disagreed with the TRAC analysis because no one was exempt from being referred for prosecution for illegal entry, including adults with kids who cross the US border.
"The number of referrals and types of referrals made are based on a variety of issues, none of which includes the choice to refer solely based on the fact an adult has a child," the CBP statement said.
About 85% of people prosecuted for illegal entry between May 5 and June 20 were single adults, the CBP statement said.
But the "zero tolerance" policy was announced on April 6 and separations were occurring weeks before the May 5 date CBP pointed to. Even though the "zero tolerance" policy ramped up in May, there were still family separations occurring in April. The Department of Homeland Security originally told reporters that from April 19 to May 31 some 1,995 minors were separated from 1,940 adults.
President Donald Trump signed an executive order in June suspending prosecution referrals of adults traveling with their children. Still, the "zero tolerance" policy remains in place, and there are other reasons why parents could be separated from kids at the border, such as criminal history, presenting a danger to the child, or fraudulent claims of guardianship.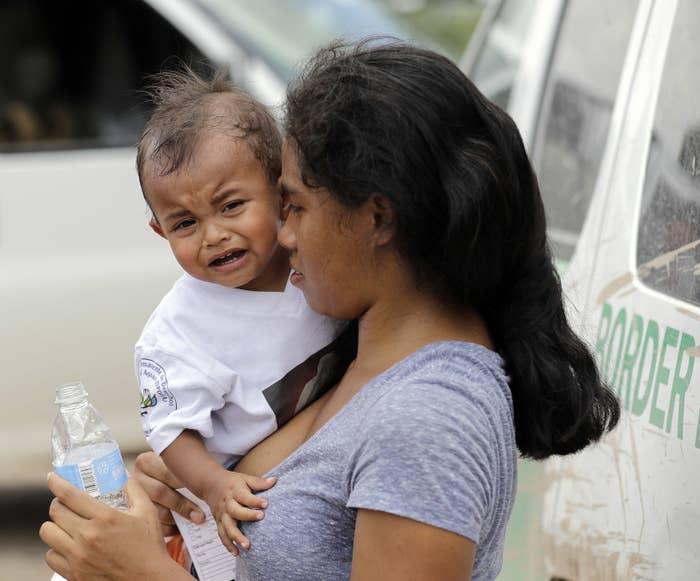 The separations came, even though officials knew such separations were likely to prove traumatic to the children. During a Senate Judiciary hearing on Tuesday, Jonathan White, commander of the Public Health Service Commissioned Corps, said that he had raised that issue with other Trump administration officials on a number of occasions as family separations were being discussed during the previous year.

"Separation of parents from their children entrails significant risk of harm to children," White said. "There's no question that separation of child from parents entails significant potential for traumatic psychological injury to the child."
David Leopold, chair of immigration at Ulmer & Berne and past president of the American Immigration Lawyers Association, said it was not only shocking that the administration knew what would happen but that they chose to target these families anyway.

"They knew this would cause severe psychological trauma," Leopold told BuzzFeed News. "They recognized what they were doing, they had it planned out and the most foul thing about it is they did it intentionally to scare people from applying for asylum in the US."
Taking children from parents as a way to get parents to do something or not do something, such as deterring them from crossing the border, is an old habit of despots and authoritarian governments, Leopold said.
"The wanton disregard for child welfare was done intentionally and knowingly by the US government, the Trump administration," Leopold said. "There's going to be hell to pay for whoever put this policy together, for whoever targeted these children."
That makes the TRAC findings doubly damning, said Jennifer Falcon, a spokesperson for RAICES: the Refugee and Immigrant Center for Education and Legal Services, which advocates for the separated families.
"As we confirm the inhumane treatment of asylum seekers at our southern borders was intentional, it's worth noting the same treatment is not given to asylum seekers at our northern borders," Falcon told BuzzFeed News. "This administration is discriminating toward asylum seekers based on the color of their skin and using their racist rhetoric and lies to torture families. This is what Trump's America looks like."
The TRAC report also found that the areas where prosecutions were concentrated changed dramatically after the "zero tolerance" policy was implemented.
Prosecutions in the Southern District of Texas nearly doubled — from 1,959 in April to 3,996 in May. That district had the most prosecutions in May.
The Southern District of Texas is where most Central American families, and for that matter, most immigrant families, are apprehended by border authorities. The Rio Grande Valley sector of the Border Patrol saw 42,194 family unit apprehensions so far in the fiscal year 2018, which runs from Oct. 1, 2017, to Sept. 30, 2018. The arrests in that sector make up 61% of all family arrests along the southwest border.
In contrast, prosecutions in West Texas fell in May compared to the previous month. In April the district had the highest number of prosecutions among five border districts, 2,767; the number dropped to 2,308 in May.
May prosecutions were also lower in Arizona and New Mexico compared to April. McAllen, Texas, saw the most prosecutions from CBP agents in May — 2,079 up from 841 the previous month.