Latino Law Student Says He Was Attacked By Two Florida Men For Commenting On Confederate Flag
"I've been on the job a couple of months and I've seen similar cases," a state trooper told Phillip Arroyo. "Thank god he didn't have a gun or you'd be dead." Orlando police said they were filing charges with the state against one of the men.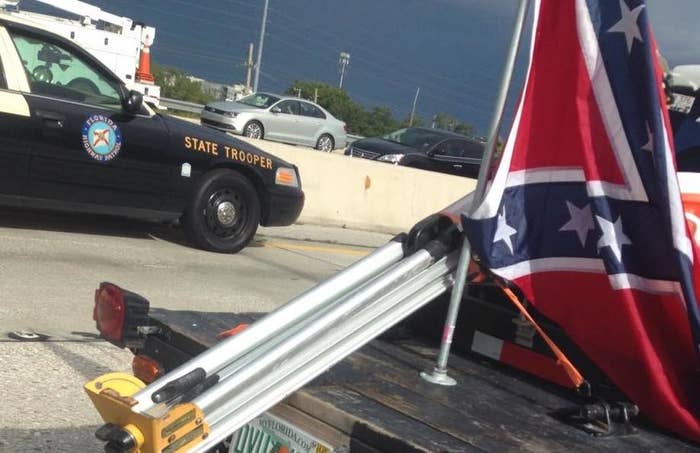 A Florida A&M law school student said Orlando police dismissed his report that two men attacked him on an interstate after he commented on a Confederate flag on the back of their truck.
Phillip Arroyo said he was driving near Florida A&M University College of Law, when he saw a Confederate flag on the back of a truck. The truck pulled up next to him, asked him to roll down the window, and one of the men said, "What the fuck are you looking at?"
"I told them, 'I don't appreciate the language and now that you mention it I don't appreciate the flag as well,'" Arroyo told BuzzFeed News.
Arroyo said he had a Puerto Rican flag on his front window that the men likely saw when they pulled up. He's a former intern in Vice President Biden's office and a vocal activist on statehood for Puerto Rico.
Moments later the driver pulled up in front of Arroyo on Interstate 4 and slammed the brakes, forcing Arroyo to stop. They both got out and one of the men came at Arroyo and started to punch him on his upper arm before he rolled up his window.
The man proceeded to punch the window until state troopers pulled up behind them and ran to the truck.
Two state troopers who witnessed the incident, Arroyo said, got out and spoke with both parties. One of the state troopers said Orlando police would be taking over.
When officers from the Orlando Police Department pulled up to the scene, the state troopers left. Before they left one of the state troopers told Arroyo, "I've been on the job a couple of months and I've seen similar cases. Thank god he didn't have a gun or you'd be dead."
Officer Imburgio, with the Orlando Police Department, took down statements from Arroyo and the men in the truck. He asked Arroyo if he had any bruises; he said he didn't know but would check.
"Then he said, 'It's his First Amendment right to wave the flag,'" Arroyo said. "I told him it was also my First Amendment right to let him know I don't appreciate the flag."
The Confederate flag has re-emerged as a flashpoint after the senseless murders of nine black parishioners by a white man at a historically black church in South Carolina, weeks ago.
Afterward, Imburgio left the scene when news vans arrived because of the traffic jam the incident caused, Arroyo said, but not before shaking the other men's hands and telling them, "Everything is going to be all right."
Another officer told Arroyo they would get back to him and possibly file charges.
On Tuesday Sgt. Wanda Ford, spokesperson for the Orlando Police Department, told BuzzFeed News they were filing simple battery charges with the state attorney's office against the man who allegedly struck Arroyo.
She said there were disputing accounts of what happened and that Florida Highway Patrol didn't witness the alleged battery.
"In a case of disputing stories without independent witnesses in a misdemeanor, we elect to file charges with the state instead of making a custodial arrest," Ford said.
Ford said they would not release the suspect's information until the report is finalized.
Sgt. Kim Montes, spokesperson with Florida Highway Patrol, told BuzzFeed News state troopers didn't see any physical contact between the passenger of the pickup truck and the driver of the car, presumed to be Arroyo.
The troopers stopped because they saw two cars stopped in the center lane of Interstate 4, Montes said, and told them to pull over to the side. It appeared the passenger of the truck was having an argument with Arroyo through the car's window, which was rolled up two-thirds of the way.
"No verbal communication between both parties was witnessed by the troopers," Montes said.
Arroyo believes Orlando police should've arrested the man he says attacked him.
"OPD didn't think there was enough to arrest him," Arroyo said. "People have been arrested for less, and quite frankly most would've been African American or Hispanic."