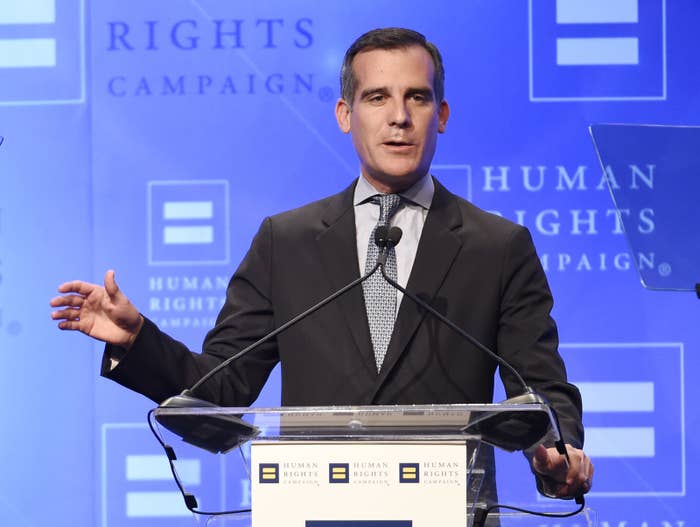 RANCHO PALOS VERDES, California — Los Angeles Mayor Eric Garcetti on Wednesday said he would not bend to President Trump's threat to withhold federal funds from cities that don't help the federal government take a harder line with undocumented immigrants.
"We will not change what we are doing and our values are not for sale," Garcetti said during an interview with BuzzFeed Editor-in-Chief Ben Smith at an event in Rancho Palos Verdes. "This decision was more of the kind of ideological rhetoric that actually makes us less safe."
The comments came one day after Attorney General Jeff Sessions said cities must notify the Department of Homeland Security at least 48 hours before releasing immigrant detainees when asked. and give federal officials access to jails or risk losing millions in crime-fighting aid grants.
Garcetti said he doesn't believe LA would lose any money by continuing with business as usual, even under the new threats from the Trump administration — pointing to multiple courts that have ruled that local police can't hold people longer than they normally would for immigration authorities.
"What they're asking the city to do is in violation of the Constitution," Garcetti said.
Garcetti issued an executive directive in March barring city employees from helping immigration authorities in all but serious cases, while expanding policies that protect undocumented immigrants.
Still, Los Angeles hasn't adopted an official "sanctuary city" ordinance like in San Francisco, which prohibits employees from collaborating with federal immigration officials. Instead, LA officials point to a long-standing policy, Special Order 40, which prohibits police from approaching people for the sole purpose of determining their immigration status.

At the same time, immigrant advocates complain that the LAPD conducts operations with Immigration and Customs Enforcement that focus on transnational gangs.
The justification for those operations is that they target criminal activity rather than immigration status. However, a BuzzFeed News investigation found that some people caught up in the operations — who are not charged with, convicted of, or suspected of committing any crime — were arrested by LAPD officers and transferred to the custody of ICE, which began deportation proceedings against them.