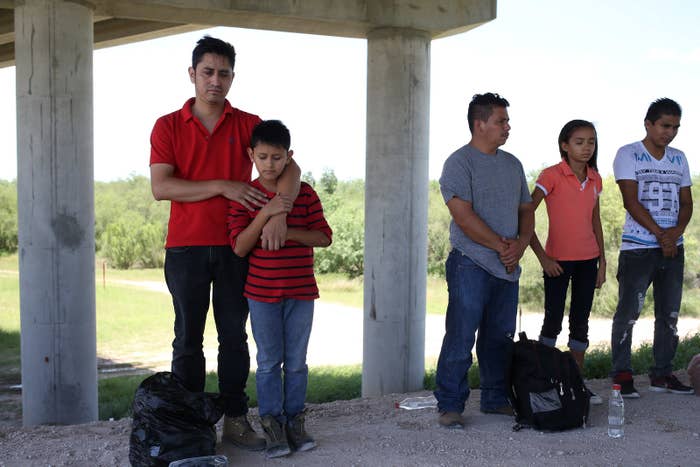 Nearly 2,000 children have been separated from their families following the Trump administration's decision to prosecute every adult caught crossing into the US illegally.
During a call with reporters, an official with the Department of Homeland Security said that from April 19 to May 31, border authorities had separated 1,995 kids from adults who face federal charges for crossing into the country illegally. The 1,940 adults the children were with were detained by Border Patrol and held for prosecution.
In April, Attorney General Jeff Sessions announced the administration's "zero tolerance" policy, which would charge all people caught at the border with illegal entry in an attempt to discourage people from entering the US without proper documentation.
Because parents traveling with children are now facing federal charges, the new policy ends up systematically separating them from their children.
US law does not allow for the jailing of children. The growing number of separations has increased the burden of housing them in a system that for years generally had seen the immigrant detainees released while they waited for hearings in immigration court.

The Trump administration has come under fire for the new policy, which affects people who don't cross into the US at a port of entry. It's a federal misdemeanor to cross the border illegally and in the past, those people wouldn't have been charged. But under the new zero tolerance policy, everyone caught by authorities will be prosecuted.
It was not uncommon for federal prosecutors to go after people for illegal re-entry —immigrants caught entering the US after previously being deported.
On Friday, President Donald Trump falsely claimed that his administration was separating immigrant children from their parents at the border because it's a "law" that was created by Democrats. The separation of these kids is a direct result of the zero tolerance policy that the administration has implemented.
Sessions pointed to the Bible to justify the policy and said that all laws are ordained by God and that having children does not protect people from prosecution.
"If you cross the Southwest border unlawfully, then the Department of Homeland Security will arrest you and the Department of Justice will prosecute you. Having children does not give you immunity from arrest and prosecution," Sessions said in a speech to law enforcement officers in Fort Wayne, Indiana.