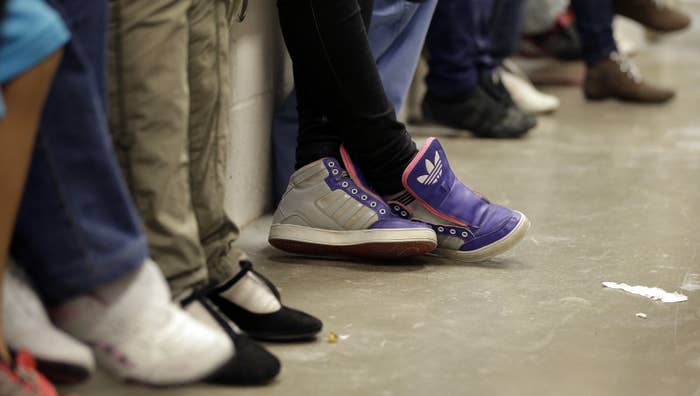 HARLINGEN, Texas — The Guatemalan teen sat across from the immigration judge in Harlingen, Texas, and made his request: He wanted to be sent back to the country he'd fled.
Judge Charlotte D. Brown, who has been an immigration judge for 11 months, asked the 16-year-old if he still had a fear of returning to Guatemala. Yes, he answered.
That was all Brown needed to hear. "Because you expressed a fear of returning, I'm not willing to return you to Guatemala," she said.
"I as well wish to never go back," the teen, who's being held in detention, conceded, eliciting a sympathetic gasp from someone in the audience.
On Thursday morning, despite the uncertainty and anger over the Trump administration's "zero tolerance" policy that resulted in the systematic separation of families, immigration court in this Texas border town appeared to be business as usual, down to the fact that almost none of the people whose fates were being considered had an attorney.
The teen was staying at Casa Padre, which has garnered intense media attention in recent weeks because it was one of the sites housing separated children. The detention center in Brownsville, Texas, used to be a Walmart and now houses about 1,500 boys ages 10 and up. About 10% of them were separated from a parent at the border.
That wasn't the case for the teenage boy, whose long hair was pulled back into a tiny bun. He'd come to the US as an unaccompanied minor. He didn't get into the details of why he was asking now to be deported to Guatemala, but he's clearly been in detention for months, waiting for his case to be decided. Judge Brown said his asylum request had been initiated in April 2017.
The teen said his mother had told him a month ago that his father had said it was okay for him to return home. But when he spoke with his father Sunday, the teen's father told him he didn't want him to return. For now, he'll remain in Casa Padre.
As the teen's case was being discussed, seven other unaccompanied boys sat on the courtroom's wooden benches. All were either 16 or 17 years old. Most wore polo shirts or long sleeves with jeans and sneakers.
One of them spoke K'iche', a Mayan language spoken in Guatemala's highlands, but declined an interpreter because he had been "learning more Spanish."
Through a Spanish-language interpreter, Judge Brown explained that the US government has to prove a legal basis for deporting them and that the court would also determine if there was any reason that they should be allowed to stay in the country. She explained they would have the right to appeal any ruling within 30 days to the Board of Immigration Appeals.
Brown also said they have the right to be represented by an attorney. But unlike the US criminal court, that attorney isn't provided free of charge in immigration hearings. Only one juvenile had an attorney representing them Thursday morning.
A study from the American Immigration Council found that immigrants who had an attorney were more likely to win their case. Among detained immigrants, those with representation were twice as likely as unrepresented immigrants to win their case, 49% versus 23%.
According to the Transactional Records Access Clearinghouse at Syracuse University, of the 1.4 million people detained in court, only about 18% are represented in immigration court.
That disparity in outcomes is at the heart of a
lawsuit
filed by the American Civil Liberties Union and immigrant rights groups against the Department of Justice (DOJ) during the Obama administration asking a judge to force the government to appoint legal counsel for hundreds of unaccompanied minors fighting their cases in federal immigration courts. Attorneys for the DOJ argued that undocumented immigrants in deportation proceedings aren't entitled to court-appointed attorneys under the law.
Brown tested the youth on what she had just explained to them. Sometimes the "yes" to her question of whether they had understood was a bit uncertain and she went over it again.

Sitting to the left of the boys was a 9-year-old girl with a pink bow on top of her brown hair. Next to her sat her stepfather, who is a US resident.
Jesus, 38, who asked that his last name not be used, asked the judge for more time so he could hire an attorney to represent the girl. He didn't have enough to cover the $5,000 retainer of the cheapest attorney he could find to represent her.
"I want to go to Illinois to work the corn crop," Jesus told the court. "When I come back I'll have enough money for the attorney."
Judge Brown pushed the girl's next hearing to November and said that with luck it would happen around Thanksgiving break and she wouldn't have to miss school. She later added that if they did hire an attorney, the 9-year-old wouldn't have to come to court.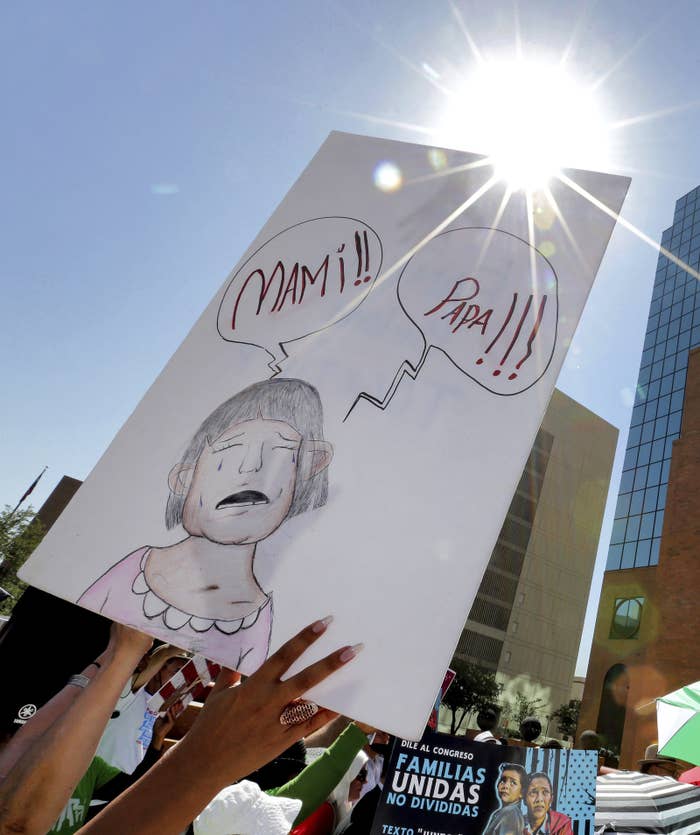 The girl had crossed into the United States alone last year and spent three months at a shelter for immigrant kids called Casa Hogar. Her father said she had been treated well there and that he had regular teleconferences with her until she was released to his custody.
Jesus said the girl had been living in Reynosa, a nearby border city in the Mexican state of Tamaulipas, but hadn't been going to school.
"There's too much violence," Jesus said outside the beige brick courthouse moments later. "There were shootings right outside her school."
He looked at his stepdaughter, who was sitting in the passenger seat of his beat-up truck playing with a cellphone.
"Unfortunately, they caught her," Jesus said of her effort to cross the border. "$5,000 was the cheapest [lawyer] I could find. Most charge $7,000 to $10,000."
Then he drove away in the over 90-degree heat, after getting help jumping his car because his truck's battery had died.