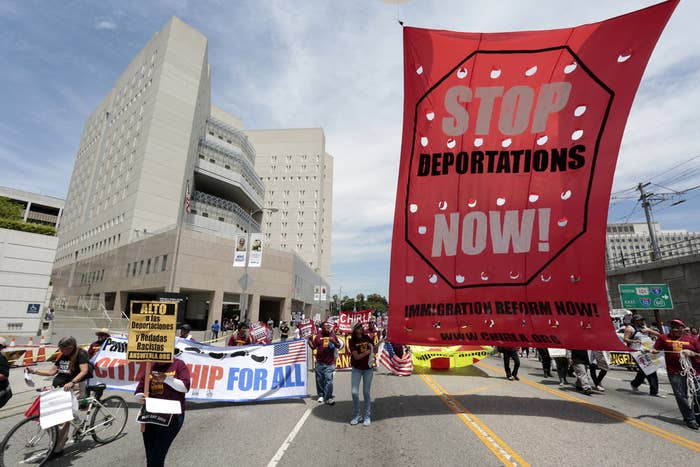 Three immigrant advocacy groups filed a lawsuit Tuesday against several federal agencies who failed to turn over information on a deportation program after the group filed repeated Freedom of Information Act requests.
The lawsuit centers around information regarding the Priority Enforcement Program (PEP), a new deportation program announced in 2014 meant to replace its predecessor the Secure Communities program. But the groups involved in the lawsuit allege that federal agencies have released next to nothing after they filed a FOIA request for information on how PEP is being implemented and the termination of Secure Communities.
After filing a request to 10 government agencies, including U.S. Immigration and Customs Enforcement, the Department of Homeland Security, and the Department of Justice, twice last year, the groups received "only 35 pages of records, which revealed only information that was publicly available," the complaint said.
The lawsuit follows a recent series of deportation raids targeting Central American women and children. It also comes on the same day that the Supreme Court agreed to hear a challenge to Obama's executive actions deferring deportations for an estimated 5 million undocumented immigrants.
Pablo Alvarado, director of the National Day Laborer Organizing Network (NDLON), said in a statement that the federal government has failed to be transparent and accountable in implementing PEP.
"ICE is, once again, operating in secrecy," Alvarado said. "It's time for the nation's largest police force to come clean."
Like its predecessor, PEP relies on the Department of Homeland Security screening fingerprints obtained at local jails. But in most cases, instead of police holding people under the new program, they notify ICE agents when someone is about to be released. In certain circumstances, agents can ask that police hold someone.
The new program is part of a broader initiative to deport people federal officials consider a priority. At the top of the list, outlined in a Department of Homeland Security memo in 2014, are immigrants detained at the border while attempting to enter the U.S. illegally. This includes some of the thousands of Central Americans who started showing up at the border in 2014 fleeing violence in their countries.
The complaint asks that the federal agencies expedite their FOIA request, conduct an "adequate" search, and release the requested records. The groups are also asking for their attorneys fees to be reimbursed.
The lawsuit was filed in federal court in New York City by NDLON, Asian Americans Advancing Justice-Asian Law Caucus (AAAJ-ALC), and the Immigration Justice Clinic at the Cardozo School of Law.