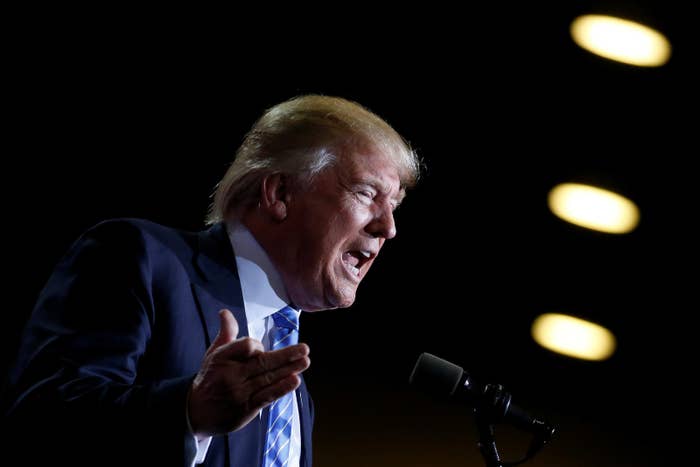 PHOENIX — Immigrant advocates watching Donald Trump double down on his immigration policy Wednesday in Phoenix after an apparent "softening" on the issue in the days leading up to his speech had only one thing to say — told you so.
For days, Trump's supporters and opponents had been waiting for the Republican candidate to clear up his stance on immigration after last week telling Fox News that he was open to "softening" his approach to undocumented immigrants.
That all went out the window when Trump went back to the statements that helped launch his campaign, including building a wall across the southern border, tripling the number of ICE deportation officers, and zero tolerance for "criminal aliens."
Thomas Saenz, a civil rights attorney and president of the Mexican American Legal Defense Fund (MALDEF), said Trump's remarks should come as no surprise to anyone who's paying attention.
"He built his campaign around a particular approach to the immigration issue so I don't think any of us were expecting a dramatic change," Saenz told BuzzFeed News. "That was just the soundbite of the week but ultimately he was going to go back to the enforcement attitude his campaign was built on."
Even in the days leading up to the speech, Marisa Franco, director of Mijente, an immigrant rights group in Arizona, knew Trump wouldn't shift at all.
Trump doesn't fill a convention center in Phoenix, have Maricopa County Sheriff Joe Apraio open for him, and then do a 180, Franco told BuzzFeed News.
"He went to play for his base," Franco said. "There's a saying 'Tell me who you know and I'll tell you who you are.' Donald Trump is turning politics into reality television and pulling it into his land of make believe where he could say anything."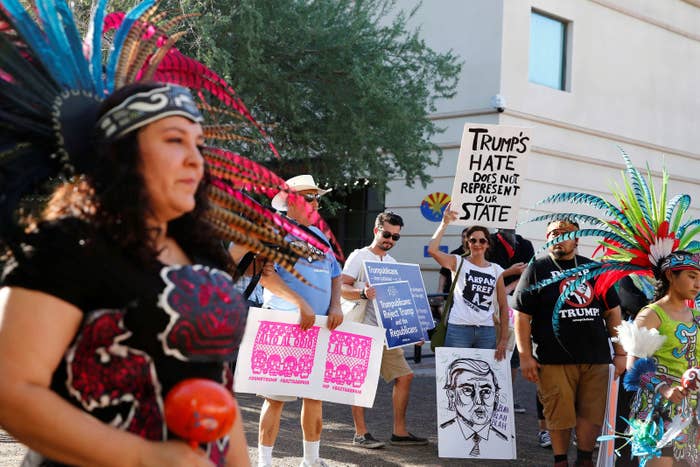 Carlos Garcia, the executive director of the Puente Human Rights Movement in Phoenix, was outside Trump's event Wednesday protesting the candidate with chants, posters, and music.

Trump came to Arizona, home to hardline immigration officials like Arpaio and former Gov. Jan Brewer, who signed a law making it a misdemeanor for an undocumented immigrant to be in the state without proper documentation, Garcia said.
"This is the place where his ideas were actually birthed," Garcia said. "Like every candidate he was testing the water to see how far center he could go and I think whoever his advisors are told him it was not the way to go."
But for his supporters, Trump's speech Wednesday night was welcomed. Tim Taylor, 31, of Gilbert, Arizona, said the candidate's comments would definitely help him in the upcoming general election and show he's not a flip-flopper.
"It proves that he's been consistent throughout what he's said in the beginning," said Taylor "We love everybody, we just want people to come here legally."
Jacinta Gonzalez, Mijente field director, said Trump appeared to tone down his language in recent days on immigration, but added that it didn't matter because his policy still criminalizes and dehumanizes immigrants.
"It was such a sharp contrast to the xenophobic message Trump was trying to spew but people are clever enough to see through it," Gonzalez told BuzzFeed News. "I think a growing movement and consciousness among the public will show that these racist policies have no place in our community."