US deportation officers are so overwhelmed with work that they cannot effectively fulfill their responsibilities, a problem that shows no sign of letting up as the Trump administration cracks down on illegal immigration, a new federal report has found.
The report by the Office of the Inspector General (OIG) on Thursday also found that US Immigration and Customs Enforcement (ICE) doesn't collect or analyze data on employee workloads and therefore can't allocate staff where they're needed.
"These management deficiencies and unresolved obstacles make it difficult for ICE to deport aliens expeditiously," the report states. "ICE is almost certainly not deporting all the aliens who could be deported and will likely not be able to keep up with growing numbers of deportable aliens."
The report, the second inspection related to ICE's management of undocumented immigrants under supervised release, also found that the agency doesn't clearly communicate Department of Homeland Security (DHS) deportation priorities to its officers.
In their response to the report, ICE said they are looking into fixing the staffing issues to help them decide how to hire future officers that will implement President Trump's executive orders, which make nearly all 11 million undocumented immigrants in the US a priority for deportation.
To better handle the crackdown, Trump has also called for 10,000 more ICE agents and 5,000 Border Patrol agents to be hired.
Jennifer Elzea, acting press secretary for ICE, said in a statement that those additional hires "will help alleviate many of the resource constraints ICE faces" since the US will no longer be exempting any class of undocumented immigrants from deportations, a shift from the Obama administration, which had focused on felons.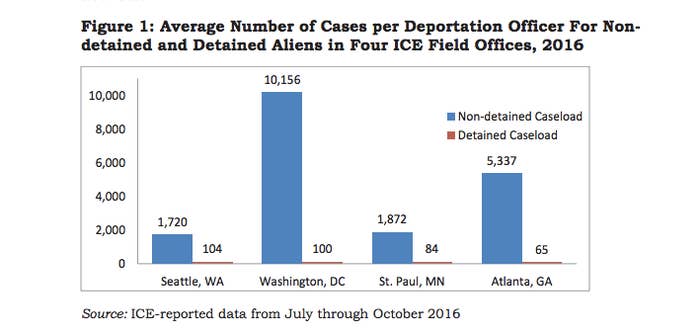 Meanwhile, ICE officers overseeing undocumented immigrants who are not in detention are supervising more people than those working with detainees, the report found. While the tasks differ, ICE couldn't explain the reasons for the discrepancy.

"You might work 18 hours a day, but you still won't get caught up," one deportation officer told the OIG.
Deportation officers obtain travel documents for undocumented immigrants set for transport and supervise those who are waiting for a final decision on their immigration case.
Their jobs can vary widely, according to the report, and sometimes they're asked to help coworkers working with detainees. In other instances, ICE has required some of them to work 45-day rotations on the southwest border.
ICE expects to implement the report's recommendations, including to revise and update deportation operations, as early as 2018, Elzea said.