Hillary Clinton Will Send Personal Email Server To Justice Department
On Tuesday, federal officials also said Clinton's email history included two emails with information classified "up to Top Secret." A State Department spokesperson said Tuesday night that the emails were forwarded to Clinton and "were not marked as classified."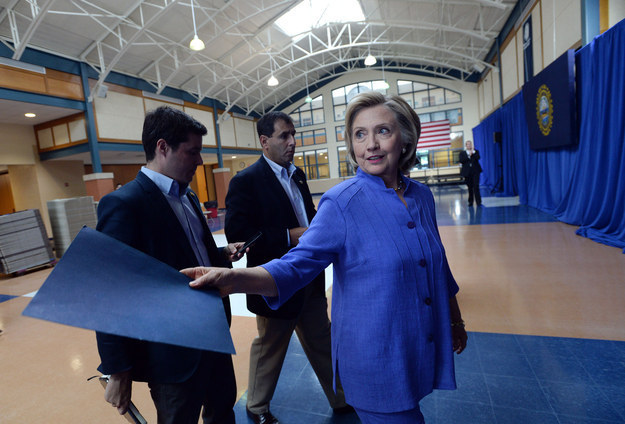 Hillary Clinton will send the personal email server she used to the Justice Department, a campaign official told media outlets on Tuesday.
While serving as secretary of state, Clinton exclusively used a personal email account. In December, she submitted approximately 55,000 pages of emails; those emails were the product of a review conducted by her own staff, after which all emails deemed to be non-work-related by her staff were deleted.
Clinton's lawyer, David Kendall, has also turned over at least two thumb drives containing those emails to the FBI, according to the campaign.
The FBI declined to comment.
On Tuesday, in response to congressional inquiries, the inspector general of the Intelligence Community wrote that Clinton's correspondence contained four emails with classified information, including two with information classified "up to Top Secret." That letter was released by Sen. Charles Grassley, the Republican from Iowa, on Tuesday.
On Tuesday evening, State Department spokesperson John Kirby released the following statement:
"The State Department takes seriously its obligations to protect sensitive information, holding its employees to a high standard of compliance with regulations and procedures.

"The Intelligence Community has recommended that portions of two of the four emails identified by the Intelligence Community's Inspector General should be upgraded to the Top Secret level. Department employees circulated these emails on unclassified systems in 2009 and 2011 and ultimately some were forwarded to Secretary Clinton. They were not marked as classified.

"These emails have not been released to the public. While we work with the Director of National Intelligence to resolve whether, in fact, this material is actually classified, we are taking steps to ensure the information is protected and stored appropriately."
On Saturday, Clinton signed a sworn statement that she directed all emails that were federal records to be submitted to the State Department and that "on information and belief, this has been done."

The presidential hopeful has been criticized for using her personal email account, which was housed on a personal server, while she was secretary of state. She maintained that she did not send classified information from the account.

In a statement, House Speaker John Boehner said it was "about time" Clinton handed over her private email server to authorities.
"Secretary Clinton's previous statements that she possessed no classified information were patently untrue," Boehner said. "Her mishandling of classified information must be fully investigated."