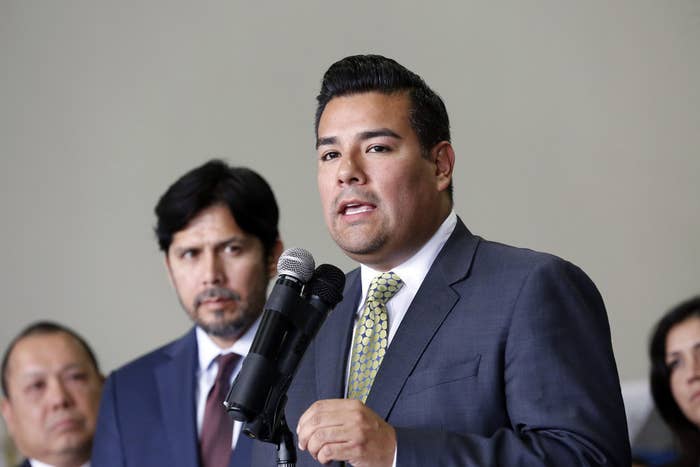 A proposal in California to extend healthcare coverage to thousands of young undocumented immigrants is being criticized by some advocates who say it doesn't go far enough in ensuring adults will also be covered.
If the bill passes, California would be the largest state in the nation to offer healthcare to undocumented immigrants. The state already affords some immigrants without legal documentation state-funded financial aid and driver's licenses.
In the $115.4-billion state budget approved last week, legislators set aside about $40 million for the program proposed under Senate Bill 4 which, if it becomes law, will provide public healthcare coverage for 170,000 undocumented immigrants who are 18 or under.
An earlier version of the bill, introduced by Sen. Ricardo Lara (D-Bell Gardens) last year, would have provided full health coverage to all undocumented immigrants, but with a price tag of $1.3 billion it stalled due to cost concerns. Lara re-introduced the bill to give full Medi-Cal coverage to undocumented immigrants who are 18 or younger, with coverage extending to older immigrants if there is money left over.
But Akiko Aspillaga, community organizer with ASPIRE, the first pan-Asian undocumented youth organization in the nation, told BuzzFeed News she was skeptical that $40 million would be able to cover all of California's undocumented youth, let alone older immigrants.
"Folks who are 65 and older are the ones that need medical care the most," said Aspillaga, who testified in favor of the bill. "We have to push for more."
Luis Ojeda, an undocumented organizer in California, also criticized the bill for not going far enough, saying Lara, much like President Obama with his executive actions, is deciding who deserves access to healthcare and who doesn't.
"They are once again prioritizing children and leaving our parents, aunts, uncles and grandparents to battle for the scraps as if this was some sort of Hunger Games," Ojeda said, referring to the dystopian hardships set in the book series. "It's a sad day when a state with one of the largest economies in the world…can only muster spending $41 million dollars to expand access to healthcare for the undocumented community."
Coverage for all, however, would be significantly more. A joint report in 2014 by UCLA and UC Berkeley found that expanding Medi-Cal to all undocumented immigrants would cost up to $370 million the first year. But a recent Senate analysis pegged the annual cost at up to $740 million.
Lara's bill would, however, give all undocumented immigrants the chance to purchase unsubsidized insurance through Covered California with permission from the federal government. The state is home to about 2.6 million immigrants without legal documentation, according to the Public Policy Institute of California.
Despite the lack of comprehensive coverage, supporters said the current proposal was a big first step.
Jesse Melgar, a spokesman for Lara, said securing funding for undocumented youth was only the beginning, and that they will continue to push to cover all undocumented immigrants in California.
"Our work on the issue is not done, we're not taking victory laps," Melgar said. "This is a major step forward on achieving healthcare for all."
Reshma Shamasunder, executive director of the California Immigrant Policy Center, also said it was a major step forward in extending coverage to the state's undocumented immigrants.
"The Senate has taken a key step toward upholding a basic human right and has set a solid foundation which we are well-positioned to build upon in the future," Shamasunder told BuzzFeed News.
The bill still has to get through the state Assembly before it goes to Gov. Jerry Brown's desk.