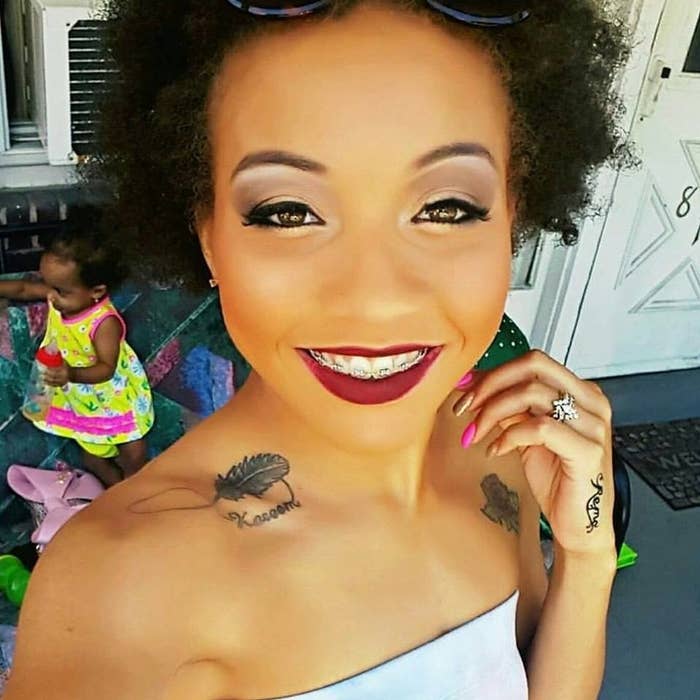 As an armed tactical officer peered into Korryn Gaines' living room Monday, the 23-year-old mother, while allegedly pointing a shotgun at officers, was filming and posting video to Facebook during an hourslong standoff with police.
Some viewers told Gaines, who had her 5-year-old son nearby, not to listen to negotiators, said Baltimore County Police Chief James Johnson. Authorities filed an emergency request to Facebook, successfully petitioning the company to suspend Gaines' account. About an hour later Gaines' social media accounts were taken offline.
"Gaines was posting video of the operation, and followers were encouraging her not to comply with negotiators' requests that she surrender peacefully," a spokesperson for the Baltimore County Police Department said. "This was a serious concern; successful negotiations often depend on the negotiators' ability to converse directly with the subject, without interference or distraction during extremely volatile conditions."
By the time the standoff was over Gaines would be fatally shot by police and her son injured by a bullet. The incident highlights the relationship authorities have with social media platforms like Facebook at a time when people are increasingly filming and broadcasting their interactions with police.
According to a Facebook Government Request Report, the company received 855 disclosure of information requests from a government agency in cases of risk of serious physical harm or death to a person between July and December 2015. Facebook provided the data requested in 73% of cases.
Facebook didn't immediately respond to a BuzzFeed News request for comment.
In one of the videos posted on her Instagram, police can be heard asking Gaines a question about a phone, to which she replies, "It's charging." She points the camera to her 5-year-old son and asks him what the police are trying to do.
"They trying to kill us," her son says.
"Do you want to go out there?" she asks later.
"No," he says.
The videos are not publicly visible on her Facebook page, but have been shared widely by users on other social networks like Twitter.
The standoff began Monday morning after the Baltimore County Police Department went to an apartment in Randallstown, an unincorporated community near Baltimore, to serve an arrest warrant for Kareem Courtney and Gaines.
At about 9:20 a.m., officers knocked on the door repeatedly with no answer, despite hearing a man and woman inside, as well as a crying child, Johnson said. When officers were able to open the door using a key, they saw Gaines sitting on the floor pointing a 12-gauge shotgun at one of three officers and a 5-year-old near her.
Courtney was quickly arrested after running out of the apartment with a 1-year-old boy. Then around 3 p.m., Gaines pointed her weapon at a tactical officer and said, "If you don't leave, I'm going to kill you," according to authorities.
At that point, officers fired one round and Gaines fired two rounds in return, Johnson said. Authorities fired their weapons again, fatally striking her. The child was also struck by a round during the exchange but did not sustain life-threatening injuries.
It's unclear if the child's injury came from Gaines' gun or the police, authorities said, but he was in good condition Tuesday. Gaines had purchased the gun last year.