Even Major League Baseball Players Have Problems With Their Visas
An analysis by a right-leaning public-policy group found that millionaire baseball players were sometimes denied entry into the U.S. because of problems with their visas, according to a report first released to BuzzFeed News. The report's author said it's indicative of how complicated the immigration system is.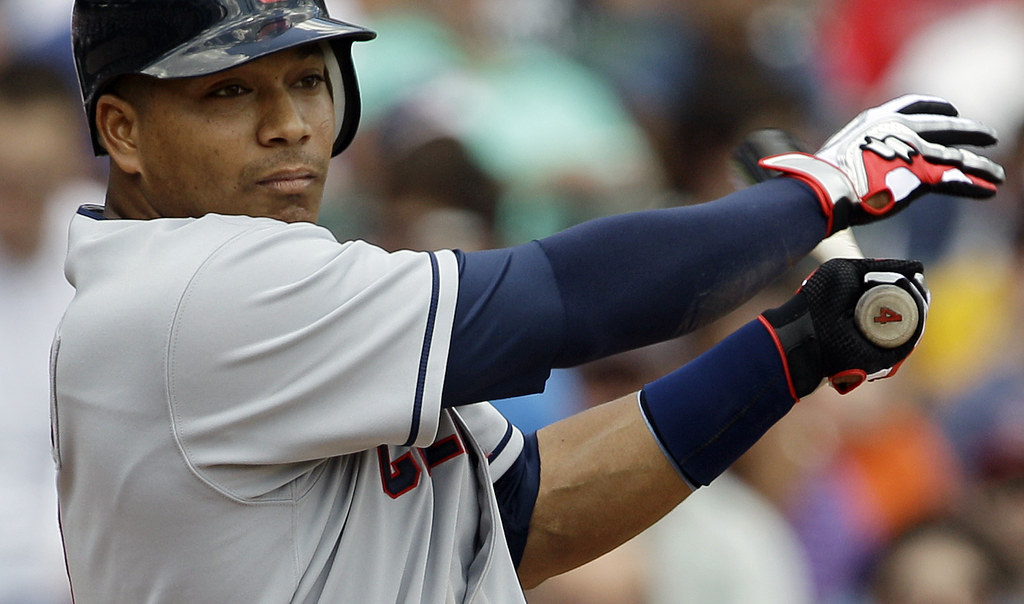 A man working in the U.S. on a visa was temporarily delayed entry into the country because he changed employers without filling out a form. Another had to stay in Venezuela three weeks due to "visa issues." And in one instance a United States senator had to intervene after a Japanese man was denied entry due to paperwork delays at the Department of Homeland Security.
These men could easily be one of hundreds of immigrants navigating the United States immigration system, but in this case they were professional baseball players who couldn't start the season or spring training because of issues with their visas.
A report released first to BuzzFeed News from the American Action Forum, a DC-based right-leaning public-policy institute, compiled instances of professional baseball players having trouble entering the U.S. along with statistics on the P-1 Visa, the permit that these athletes broadly fall under.
Players who had problems with their visas include former Cleveland Indians player José López, Kendrys Morales of the Kansas City Royals, former Washington Nationals All-Star closer Rafael Soriano and New York Yankees pitcher Masahiro Tanaka. Kendry Flores of the Miami Marlins; Juan Sandoval of the Tampa Bay Rays; Alex Colome of the Rays; and Dian Toscano, who signed a four-year $6 million contract with the Atlanta Braves, also had issues.
The analysis found that more than 24,000 athletes or musicians were denied P-1 visas from 2009 to 2013, a 27.4% increase from the previous five-year period. The denial rate began to decrease in 2011 to about 17% from 18% the previous year. The rate was at about 15% in 2012 and 2013.
The Department of Homeland Security did not immediately return calls for comment.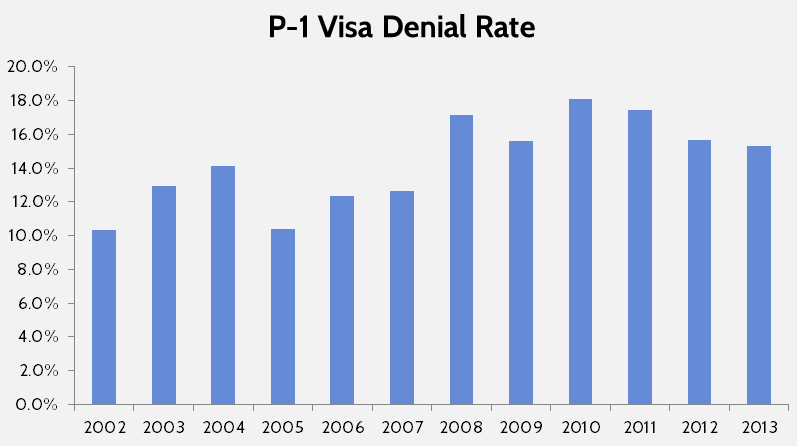 Sam Batkins, director of regulatory policy at the American Action Forum and the report's author, said annually there are about 2,000 applications for Alien Employment Certification, forms needed to get a visa.
The issues these players faced were temporary, unlike many other immigrants seeking a work permit, Batkins said, however they were indicative of how difficult it is to apply for a visa.
"Part of the reasons why we have 11 million undocumented immigrants is because the immigration system is incredibly complicated and expensive," Batkins said.
It doesn't matter if you're a millionaire or have the support of billionaire team owners, you can still run into complications, Batkins said.
Not everyone can have their visa expedited by New York Senator Charles Schumer, Batkins said. In 2014 Masahiro Tanaka, who had signed a seven-year $155 million contract with the Yankees, nearly missed spring training because of paperwork delays at the Department of Homeland Security, the New York Daily News Reported.
"For millions of other qualified and highly-skilled immigrants, the story rarely leads to a happy ending," Batkins wrote in his analysis.