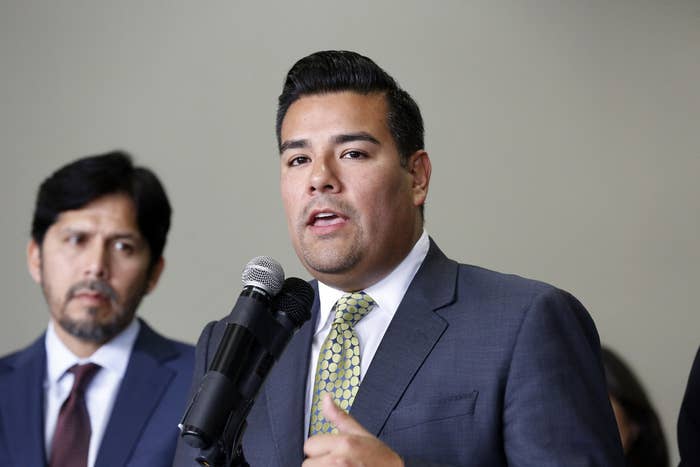 California Gov. Jerry Brown on Friday signed into law a bill that extends healthcare coverage to thousands of undocumented immigrant youth.
Senate Bill 4, which goes into effect in May 2016, sets aside $40 million for public healthcare coverage for 170,000 undocumented immigrants 18 and under. It is projected to cost $132 million each subsequent year.
Sen. Ricardo Lara (D-Bell Gardens), who introduced the bill, said the move will make California the state with the largest immigrant population to provide healthcare to low-income undocumented children.
California already affords some immigrants without legal documentation state-funded financial aid and driver's licenses. The state is home to about 2.6 million immigrants without legal documentation, according to the Public Policy Institute of California.

"This is a tremendous victory that will send a message across the country that says compassion should always trump bigotry when we're talking about our immigrant population," Lara said in a statement. "But we're not done. We still have work to do to cover the remaining uninsured. This major victory for the health of our state is only a down payment on achieving true health for all.
A previous incarnation of the bill would have provided full health coverage to all undocumented immigrants in the state. But the proposal stalled against an estimated start-up price tag of $1.3 billion. Lara then re-introduced the bill to give full Medi-Cal coverage to undocumented immigrants who are 18 or younger.
A joint report in 2014 by UCLA and UC Berkeley found that expanding Medi-Cal to all undocumented immigrants would cost up to $370 million the first year. But a recent state Senate analysis pegged the annual cost at up to $740 million.
The measure also allows children who are currently receiving limited public healthcare to apply for full-scope Medi-Cal.
Lara also introduced Senate Bill 10, a proposed law he hopes will advance next year, that would allow adults through a capped enrollment program to be eligible for public healthcare. It also requests a federal waiver allowing immigrants to purchase health care through Covered California, the public health insurance exchange.