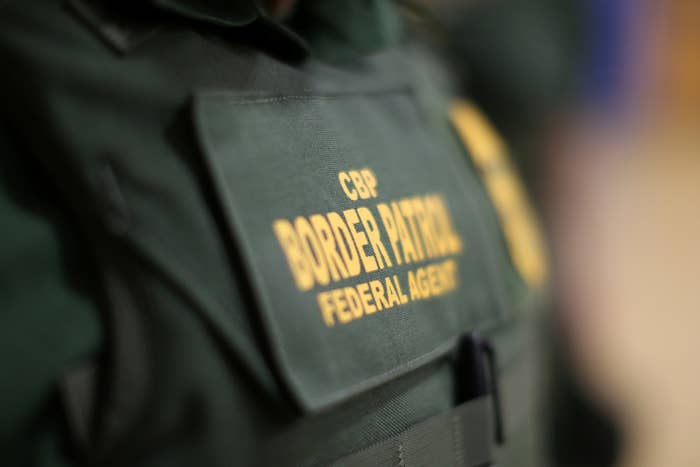 A Border Patrol agent shot and killed a migrant woman in Rio Bravo, Texas, Wednesday, according to officials with US Customs and Border Protection.
The agent was responding to a report of illegal activity near a culvert and was attacked by migrants with "blunt objects" after he tried to detain them, CBP said in a news release. The agent shot a migrant woman in the head during the encounter.
The agent then gave the woman CPR until emergency responders arrived, but she later died from her injury. The other people fled the scene after the shot was fired and three were later detained by other agents, CBP said.
Marta Martinez, who lives next to the area where the woman was shot, said she heard the shot around 12:20 p.m. and went out to investigate while livestreaming on Facebook. She saw a woman lying on the ground, and said it was not clear how old the victim was.
"I heard a Border Patrol agent screaming, 'See what happens? See what you caused?'" Martinez told BuzzFeed News.

Martinez said she saw Border Patrol agents flip the woman over, and that she was bleeding heavily from the left side of her face.
In the video, a Border Patrol agent is seen walking out of an empty building with two people in cuffs. "Why did you kill that woman? You killed her!" Martinez is heard saying to the agents. "I saw you with the gun."

Martinez suggests in the video that the migrants were running, but said that she did not see them flee. She does not believe they were attacking the agent when the woman was shot.

"The girl was in the grass and trees; to me she was hiding," Martinez said. "They're saying they threw rocks at the agents, but the two migrants were scared and the one guy was scared — they didn't have rocks in their hands."
The shooting is being investigated by the Federal Bureau of Investigation and Texas Rangers.
CBP has said that assaults on Border Patrol agents are on the rise. Last November, when a pair of Border Patrol agents were injured, one fatally, while investigating activity also near a culvert, the Border Patrol union and Republican lawmakers were quick to conclude that they had been attacked by migrants throwing rocks. The FBI later said there was no evidence of such an attack.
Data released by the agency show a 73% jump in attacks on Border Patrol agents last year, from 454 in fiscal year 2016 to 786 in 2017.
However, the Intercept reported that CBP appears to have inflated those statistics. Specifically, the outlet found that a reported attack on seven Border Patrol agents in the Rio Grande Valley Sector by six migrants in 2017 was tallied as 126 assaults — 119 more than would be counted using standard law enforcement accounting.