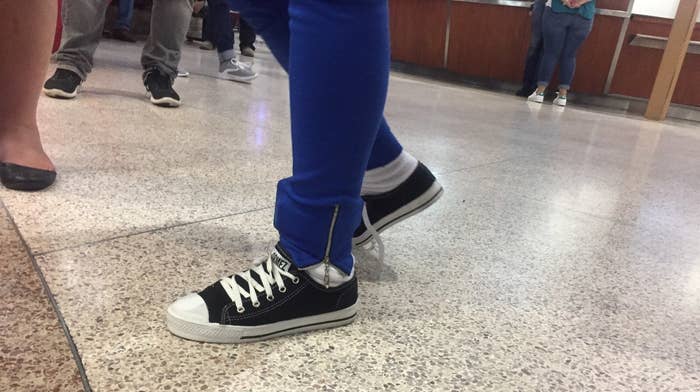 McALLEN, Texas — The way Maydi initially saw it, she had two options: She could wait at a US port of entry for days to ask for asylum and be vulnerable to criminals waiting to exploit immigrants on the Mexican side of the border, or she could try to cross the border illegally and be separated from her two sons.
Ultimately, she chose neither option. Instead, she bought a $49 ticket on a bus headed to McAllen, Texas, and requested asylum when a border agent asked her for her documents when the bus was at the port of entry. The agent was required by US law to allow her to request asylum.
"Waiting is a risk because criminals are waiting for us there," Maydi, 25, told BuzzFeed News earlier this week, requesting that she be identified by only her first name. "I'd rather take my risk with authorities in the US than with criminals at the border."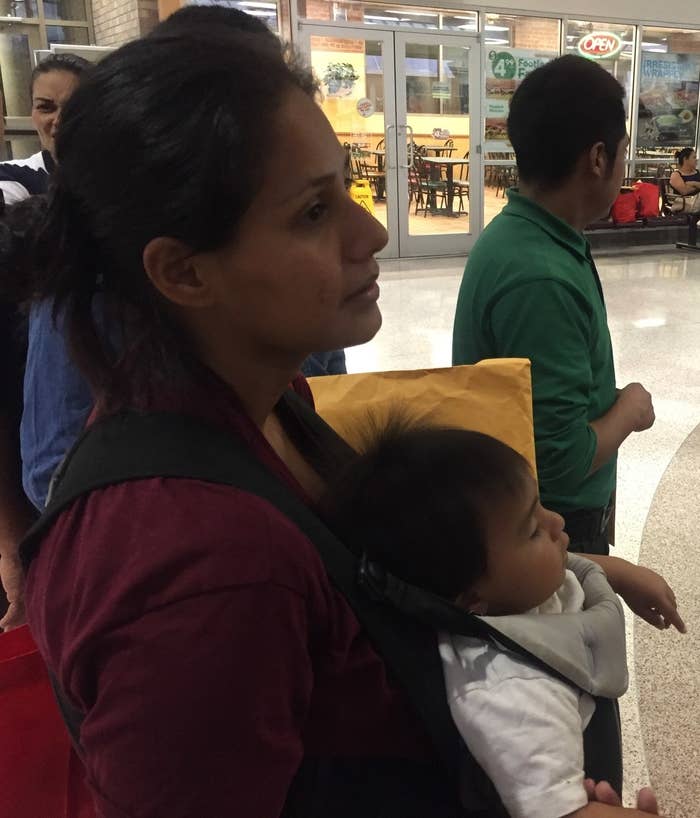 Maydi's decision to board a bus for the US shows the lengths some asylum-seekers go to avoid problems at the border, such as attacks from criminals or being separated from their children.
During a visit to the Texas border on Sunday, Oregon Sen. Jeff Merkley said he'd met a Honduran woman who, with her 2-month-old daughter, pretended to be washing the windows of cars waiting to cross the border at Hidalgo, Texas. As the line progressed, she moved closer and closer to the US side. Once she was on US soil, she asked for asylum.

Too often, advocates say, Customs and Border Protection agents turn asylum-seekers away, claiming they don't have the space to process them. That forces the would-be asylum-seekers to camp out near the border for days, where criminals are at the ready to extort them.
Or they can try their luck at crossing the border illegally somewhere outside the port of entry — a method the Trump administration considers a crime for which it will have "zero tolerance," requiring the arrest of the immigrant and, since April 19, the separation of adults from their children, who can't be held in adult facilities.
But Maydi's bus ride to the US allowed her to avoid both the long wait to seek asylum at a port of entry and the risk of being caught trying to cross into the US outside a port of entry, which would lead to her likely separation from her sons, 6 and 11 months. At least 2,300 children have suffered that fate under Trump's "zero tolerance" policy.
Less than a week after the Border Patrol agent asked for her documents at the border, Maydi had been released into the United States and was waiting in McAllen for a bus that would take her to North Carolina and a friend's home.
With her were her sons. On her ankle was the tracking device she must wear until she reappears in court to hear the verdict on her asylum request, though there is a chance she could get it removed sooner. Around her, immigrant families who'd also been detained at the border but were now released waited for bus tickets to the places where they, too, would await decisions in their immigration cases.
When Maydi arrived at the border on Saturday, she knew she might be separated from her sons if she crossed illegally. She understood the appeal of making a run at crossing the border; she'd watched a number of immigrants being turned away by border agents when they tried to ask for asylum. But she wasn't willing to risk it.

"Taking away my kids is like taking away my life," Maydi said.
Then the idea of approaching the border by bus occurred to her.
"I saw buses going to McAllen and I bought a ticket for 1,000 pesos," Maydi said. "I figured I'd act like I had a visa. It seemed like the only way to advance my asylum case." Her asylum case was based on her October 2015 flight from Honduras, which she took because of gang threats, and the beatings that she received from her boyfriend in Mexico.
Jonathan Ryan, executive director of the Refugee and Immigrant Center for Education and Legal Services (RAICES), a nonprofit that provides free or low-cost legal aid to immigrants, said he's not surprised that Maydi came up with a way that got her across the border in spite of the border agents' reluctance to take more asylum applicants.
"People are having to invent creative ways just to get the ability to ask for asylum," Ryan told BuzzFeed News.
Ryan said the asylum process has been stacked against applicants, with protocols and procedures changing to make asylum less attainable. Last week, Attorney General Jeff Sessions changed the rules under which asylum could be granted to victims of domestic abuse and gang violence.
"How can we be surprised that people in desperate times are crossing the border between ports of entry and seeking asylum inside the country?" Ryan said.
Merkley said the woman who pretended to be a window washer told him she was fleeing death threats from gangs and didn't want to wait for days for a chance to apply for asylum on the bridge that connects Hidalgo and the Mexican city of Reynosa.

When Merkley visited the border earlier in the month, he met families who'd been waiting more than 10 days at the Hidalgo port of entry to be able to ask for asylum.
In addition to having to worry about criminals in Mexico who see immigrants as easy prey, they also had to avoid Mexican immigration agents who could arrest them for being in that country illegally.
"They're only processing four to five people a day here and the rest have to wait on the other side. It's problematic," Merkley said. "They're making it virtually impossible to get through a port of entry."