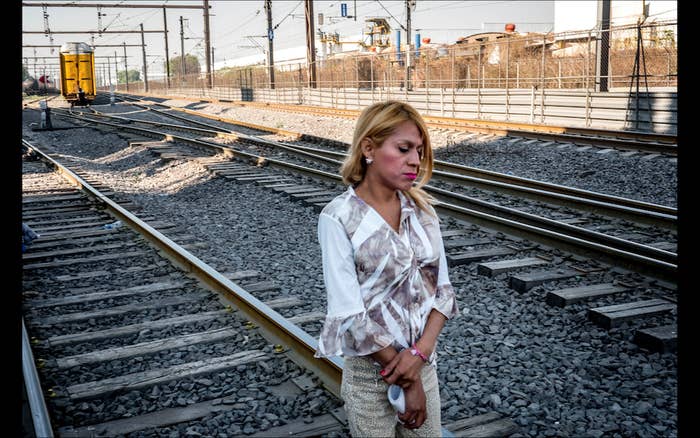 A transgender woman who was part of the caravan of Central American migrants that arrived at the US border earlier this month died in custody Friday from what appeared to be cardiac arrest.
Roxsana Hernandez, 33, died in the custody of US Immigration and Customs Enforcement (ICE) at a hospital in Albuquerque, New Mexico. She had been taken to another hospital in New Mexico more than a week earlier with symptoms of pneumonia, dehydration, and complications associated with HIV.
Hernandez asked for asylum at the San Ysidro port of entry on May 9, according to Pueblo Sin Fronteras, which organized the caravan. The group said she was first detained by US Customs and Border Protection (CBP) in holding cells known as "iceboxes" because of how cold they are.
In addition to being cold, Pueblo Sin Fronteras said, Hernandez lacked adequate food and medical care and was held in a cell where the lights were turned on 24 hours a day. On May 16, she was then taken to a transgender unit at the Cibola County Correctional Center, a federal prison facility in Milan, New Mexico, that contracts with ICE.
The following day Hernandez was admitted to Cibola General Hospital and was later transferred via air ambulance to Albuquerque's Lovelace Medical Center, where she remained in the intensive care unit until she died on May 25. The preliminary cause of death was cardiac arrest, according to ICE.
In an interview with BuzzFeed News last month, Hernandez said she had fled Honduras in part because of the discrimination and violence she faced for being transgender.
Four months before joining the caravan, Hernandez said, she was walking home when MS-13 gang members started screaming "We don't want you in this neighborhood, you fucking faggot" at her before gang-raping her.
"Four of them raped me and as a result I got HIV," Hernandez told BuzzFeed News. "Trans people in my neighborhood are killed and chopped into pieces, then dumped inside potato bags."
Standing in front of a church in Puebla, Mexico, playing with a silver cross around her neck, Hernandez said that gangs had continued to threaten her and told her she had to leave the area where she lived in Honduras.
"I didn't want to come to Mexico — I wanted to stay in Honduras but I couldn't," Hernandez said. "They kill trans people in Honduras. I'm scared of that."
Hernandez said she was able to put some money together to head to Guatemala. Her plan was to return to the US, from which she had previously been deported three times. She had some family in the US but said they did not accept her because she was trans.
From Guatemala she went to Mexico, where she eventually linked up with the caravan of 1,200 to 1,500 migrants heading north.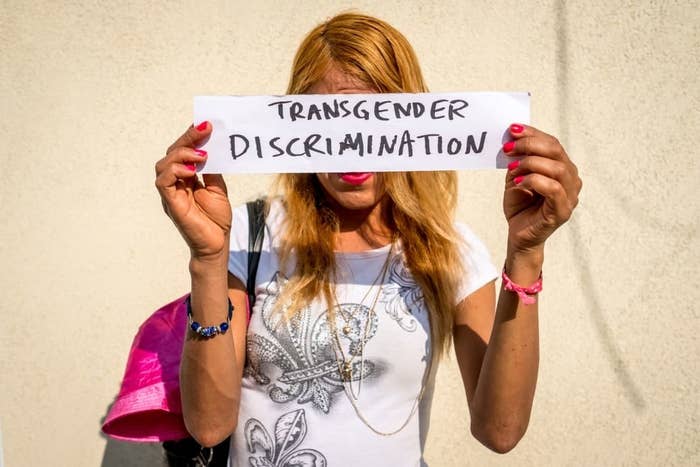 Stacy, a detainee at Cibola, said she met Hernandez in Tapachula, Chiapas where they both joined the caravan that took off from the border city on March 25. When they entered CBP detention in San Diego she said they were put in the holding cells or iceboxes where she would stay for five days.
"She started coughing a lot, had much pain in her whole body," Stacy said in a statement. "When she ate she would vomit and had diarrhea from the food."
Immigration authorities yelled at her for being sick, Stacy said, and when Hernandez asked to see a doctor she was denied. When Hernandez arrived at Cibola she was very sick and went to the nurse here who had her taken to the hospital at Cibola, Stacy said, who believes she died from complications from HIV as a result of being in the holding cells.
"Since she died I've dreamed about her being at my side; we were always together through Mexico," Stacy said. "Because of what happened, I feel bad and am afraid that the same could happen to me, since I have HIV."

Immigrant advocacy organizations — including Pueblo Sin Fronteras, Diversidad sin Fronteras, and Al Otro Lado — also blamed Hernandez's death on US immigration authorities.
"Roxy died due to medical negligence by US immigration authorities," the groups said in a statement. "Why incarcerate and torture her like this? She had a home waiting for her in the United States. They could have let her go there. If they had, she would still be with us."
Irving Mondragón, a cofounder of Diversidad sin Fronteras, a collective of LGBTQ migrant advocates, said immigrants are denied medical attention inside CBP holding cells.
"Everybody's human rights are violated. From the moment they enter there are no guarantees," Mondragón told BuzzFeed News. "People have said that she was safe because she made it to the US, that the hardest part was over. But it's not true — the US is an imperial democracy and tyrannical. Asking for asylum can lead to death."
Mondragón said Hernandez had been sick when she turned herself in to US border authorities but was in good spirits.
"She told me she loved me. She had courage, but was nervous at the thought of entering the US again," Mondragón said. "I'll remember her as a timid, respectful person, always giving the other girls advice and sharing her food."
Mondragón said he's worried about the other trans women from the caravan who remain in detention, many of whom are on medications for hormones and at least one who is taking medication for HIV.
In a statement announcing Hernandez's death, ICE said comprehensive medical care is provided to detainees for the duration of their stay at the agency's detention centers.
"All ICE detainees receive medical, dental and mental health intake screening within 12 hours of arriving at each detention facility, a full health assessment within 14 days of entering ICE custody or arrival at a facility, and access to daily sick call and 24-hour emergency care," the statement said.
Hernandez was set to be deported without seeing an immigration judge, a process known as expedited removal, ICE said.
Hernandez had entered the US illegally twice between 2005 and 2009, and was granted voluntary return to Mexico because she claimed Mexican nationality to authorities, according to ICE's statement. She later entered the US illegally a third time and was deported on March 11, 2014, after being convicted of illegal reentry.
ICE's statement also noted that Hernandez was convicted of lewd, immoral, indecent conduct and prostitution while in Dallas in May 2009, and was also convicted of theft while in the US in 2006.
Jennicet Gutiérrez, national organizer for Familia: Trans Queer Liberation Movement, said Hernandez's record is irrelevant to the fact that she died in ICE's custody.
"They are responsible for her death. Trans women continue to face violence inside and outside detention centers, and are oftentimes forced to do sex work as a means of survival," Gutiérrez said. "She was trying to find safety in the United States and sadly she's no longer with us. We demand answers and justice for Roxana."