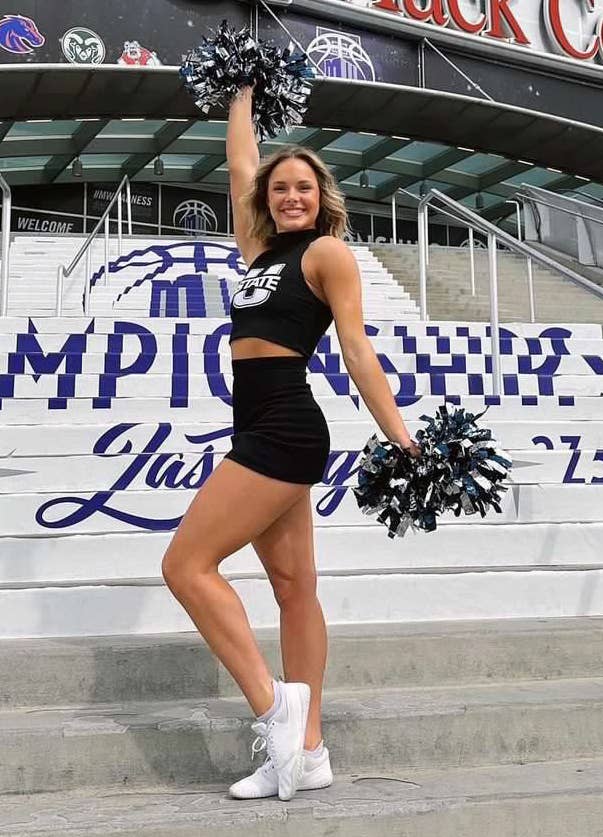 One of the most viral images from this year's March Madness is of a Utah State University cheerleader welling up with tears in her eyes and her lip quivering.
Many online seemed to think her emotional breakdown was due to her team, Utah State University, losing.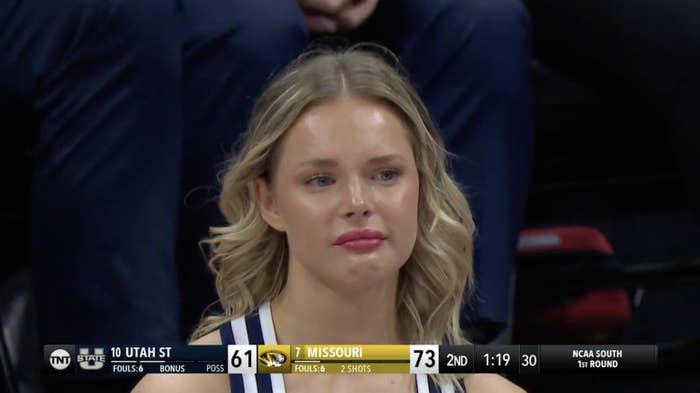 "Awe! She's sad her team is getting beat down," one person tweeted.
"March sadness," joked another.
But the cheerleader, Ashlyn Whimpey, told BuzzFeed News her tears were actually about something far more personal: She was mourning her likely final performance as a cheerleader.
"The sadness of not being on the team was particularly what I was so sad about — having to be done with something that is so enjoyable, that I get to do with my best friends," she said. "Honestly, it was super overwhelming; that was kind of the main emotion that I was feeling."
Ashlyn was courtside at the men's NCAA Basketball Tournament last week when a camera captured her tearing up.
Bleacher Report posted the clip on its official Twitter page with the caption, "This Utah State cheerleader was going through it," and it has been viewed more than 3 million times.
"I was reading some of the comments, and thank goodness, most of them were super supportive," said the 20-year-old. "Going viral is not something you'd ever think would happen to you, especially from a video of you crying."
Her vulnerable moment came amid an upset for Utah State, who lost 76–65 to Missouri in the tournament's first round. People online rushed to defend Ashlyn after Bleacher's viral post appeared to mock her emotions.
"The fans and team members can look back after this loss and remember that you were giving your all. Such emotion and devotion. Teams need a lot more of you," one person wrote.
Ashlyn, who is studying to become a nurse, has spent seven years cheering.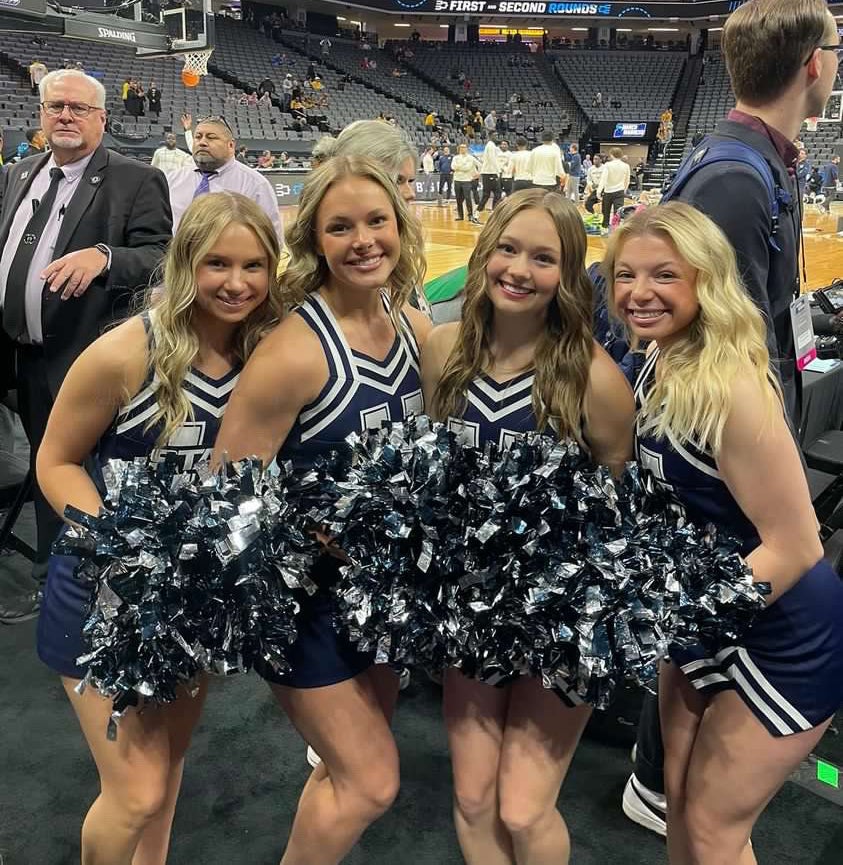 "Cheer has been such a large part of my life," she said. "Sadly, once you get out of the university age, there are not a lot of options."
The end of her cheerleading career has her facing "a little bit of an identity crisis."
"One of the coolest things and one of the saddest things about having to be done with cheerleading is realizing that my life would seriously be completely different without it," she added.
Ashlyn said she was particularly grateful for the community and the prospects available due to being on the team.
"The opportunities that it gave me and the people that it led me to do are more important than just cheering at games — even though I do love that stuff," she said.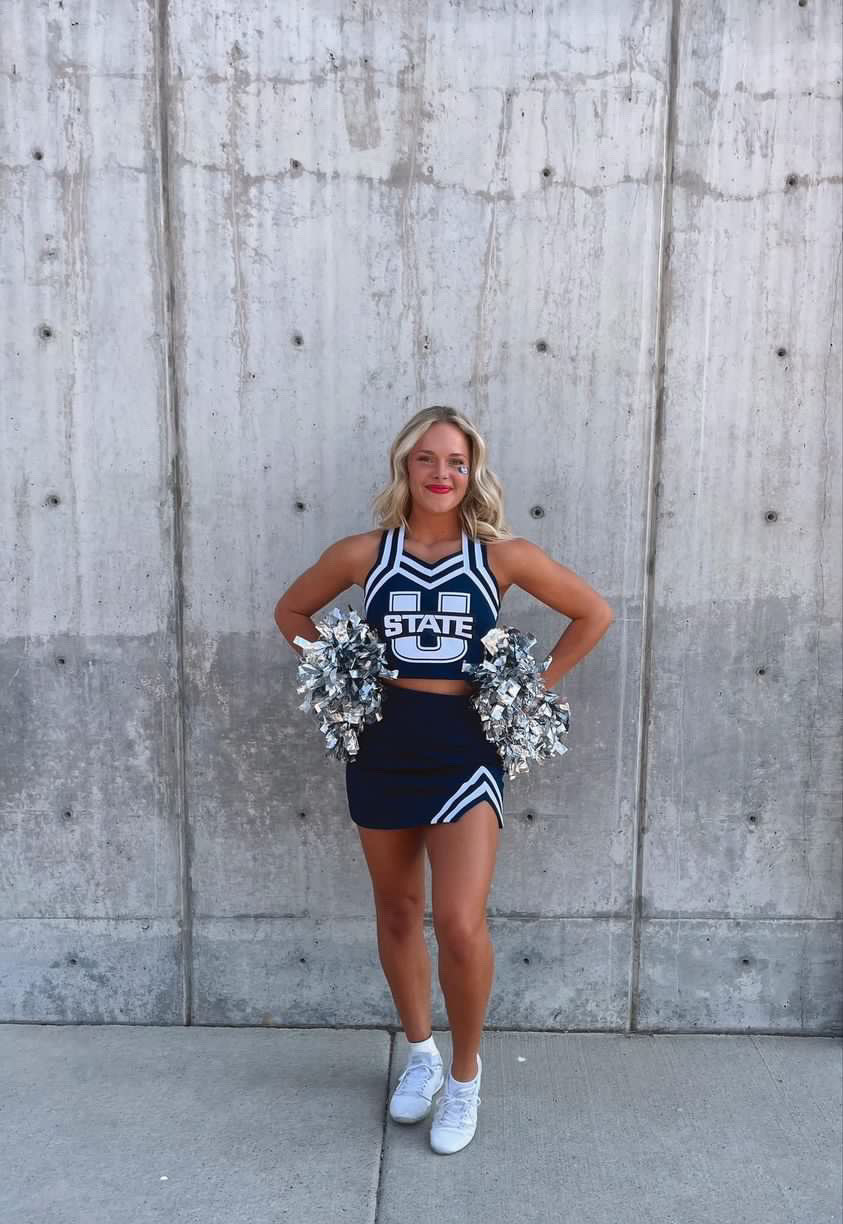 On TikTok, the Utah State senior acknowledged her online fame with a post captioned, "And now I'm a meme," with "World's Smallest Violin" playing in the background. She later added that she was "going out with a bang."
As she transitions into focusing on achieving her dreams of becoming a nurse, Ashlyn is hopeful that she will be able to find hobbies that fit her busy schedule and active lifestyle — and potentially pass on the gift of cheer to others. She's taught dance and cheer before and is open to doing it again, "but most of my energy is going into becoming a nurse," she said.
While she may not be courtside and armed with pompoms, Ashlyn is dedicated to always being the person who encourages and cheers on other people.
"Even though I might not be on the sideline, I'm still definitely gonna be a cheerleader, whether it's for my boyfriend or my future kids," she said.