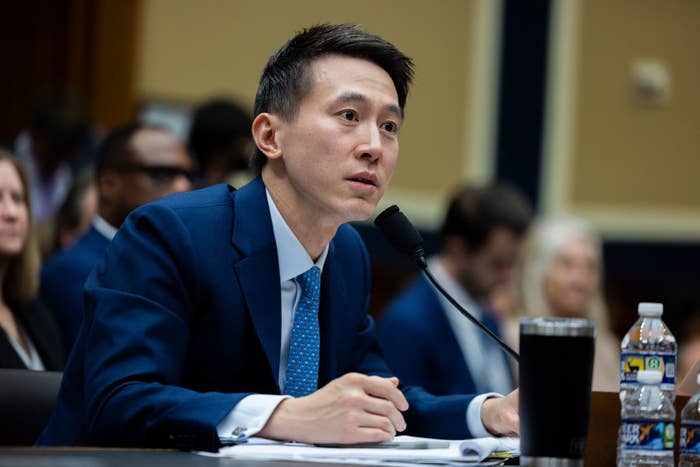 Video collages and thirsty comments dedicated to TikTok CEO Shou Zi Chew have begun to pop up on the platform following the CEO's testimony to Congress yesterday, when he spent five hours defending the platform in front of the House Energy and Commerce Committee.
On TikTok, fan edits dedicated to the 40-year-old have declared him "TikTok daddy" and "the finest ceo of our generation."
Chew was in the hot seat fielding questions from lawmakers on the future of the popular video-sharing app, which currently has over 150 million monthly users in the United States alone.
Both Democratic and Republican politicians have expressed concerns over the app's China-based parent company and what it means for user safety, data privacy, and national security. Some lawmakers have called for the platform to be banned in the US over worries that its parent company, ByteDance, could or would share American user data with the Chinese government. In his testimony, Chew said there was no evidence the Chinese government had ever accessed user data.
"Let me state this unequivocally: ByteDance is not an agent of China or any other country," Chew said in the written statement that started his testimony.
There are currently three bills in Congress that could affect American access to TikTok. Two would legislate an outright ban of the platform, while the other would give the government the power to ban any technologies that are deemed a national security risk.
Yesterday's hearing put the TikTok CEO in the spotlight as he asserted banning the app would be harmful to millions of American businesses, and that a new subsidiary named Project Texas would provide a meaningful solution that would allow the app to remain active in the US.
While lawmakers looked to be unconvinced, Chew's defense of the application, including his praise for subcommunities within the app, like "BookTok," a community for people to discuss reading recommendations, seemed to strike a chord with those who have found inspiration on the platform.
Online, a growing group of creators appeared impressed by Chew's performance despite the tense nature of the hearing and have shown their admiration in the most organic way: by creating fan edits and memes.
"This app is single-handedly keeping the global economy from tanking so help me understand the problem," one creator captioned her video, which features a green screen collage of Chew in action.
"I had zero opinion of him before but now I like this dude," one commentator wrote.
"The USA congress just made this man america most eligible bachelor AND HE AINT EVEN AMERICAN," another said.
(For clarity, Chew is neither eligible nor a bachelor. Chew is married to Vivian Kao, whom he met in 2008 when they were both attending Harvard Business School.)
"Zuckerberg is just mad bc he could never be this fine," another wrote, referencing Meta CEO Mark Zuckerberg, who has also testified in front of Congress.
Following the hearing, a representative from TikTok issued a statement to BuzzFeed News criticizing the inquiry as "political grandstanding."
"Shou came prepared to answer questions from Congress, but, unfortunately, the day was dominated by political grandstanding that failed to acknowledge the real solutions already underway through Project Texas or productively address industry-wide issues of youth safety," the spokesperson said.
TikTok users also had plenty of criticism for lawmakers for their handling of the hearing and some of the questions directed at the CEO, including very basic questions such as whether the app accessed users' home Wi-Fi networks and more complex ones such as whether its parent company ByteDance had spied on Americans at the request of the Chinese government.
"They won't let the poor man talk or explain anything," one poster said.
"All these 80+ year old gov people have never touched this app let alone be asking questions about it," another wrote.
As BuzzFeed News reported last year, on several occasions in 2021 and 2022, ByteDance employees accessed nonpublic US TikTok user data. In December, ByteDance said in a statement that an internal investigation revealed that personal TikTok user data, including that of the BuzzFeed News reporter who broke the story as well as several other journalists who cover TikTok, had been accessed without authorization by ByteDance employees who were then fired.
Ahead of Chew's appearance, TikTok appeared to engineer support for the platform by sponsoring influencers to participate in a demonstration on March 23, at Capitol Hill.
According to Wired, TikTok covered either the travel and or hotel accommodation expenses for more than 30 influencers at the orchestrated news conference in Washington, DC, as confirmed by a TikTok spokesperson.
The love emerging online is new for Chew, who, until recently, kept a low profile. His personal TikTok account had stalled at just under 18,000 followers as of March 22, but has now amassed more than 70,000 new followers since his testimony, according to the media analytics site Social Blade.