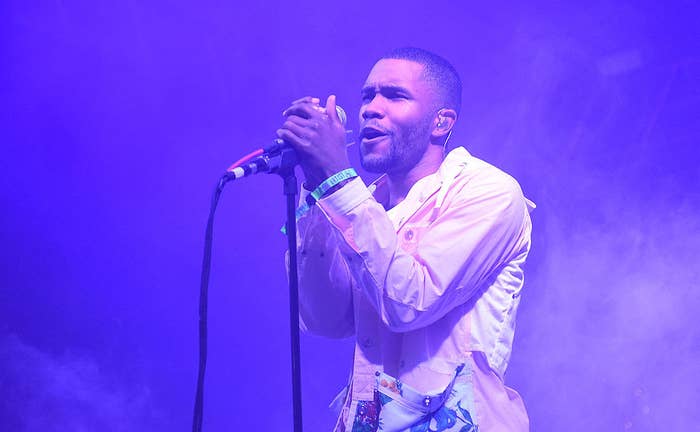 Over six years since his last live performance, singer Frank Ocean closed out the first weekend of Coachella as a headliner, but the highly anticipated show disappointed many fans.
Fans were already on edge when YouTube announced that the rare performance would not be streamed despite earlier announcements that it would.
"Frank Ocean @coachella and @YouTube y'all better count your fucking days," a disgruntled fan warned.
The 35-year-old appeared onstage at the Indio, California, music festival nearly an hour late, so his scheduled two-hour performance ended abruptly due to curfew restrictions, further frustrating fans.
Ocean's performance comes three years after he was first billed to headline Coachella in 2020. The show was delayed as the pandemic claimed millions of lives and halted the event industry; Coachella didn't return until 2022, when Harry Styles, Billie Eilish, and Swedish House Mafia x the Weeknd headlined. 2020 also marked the year Ocean lost his 18-year-old brother, Ryan Breaux, who died in a car crash.
On Sunday, the reluctant superstar paused the show to acknowledge his late sibling in a moving moment with the audience, telling them that his life had "changed so much."
"My brother and I came to this festival a lot," he said as he recalled his memories of braving the desert with his brother's encouragement to see Rae Sremmurd.
"I know he would have been so excited to be here with all of us. I want to say thank you for the support and the years, and the love all this time. Now I'll get back to the songs."
While there was some praise for Ocean's vocals as he worked through his catalog, frequent pauses between songs and complaints that the singer was barely visible to the audience left most fans disappointed. Attendees complained of bad stage lighting, and several features on the stage only further obstructed the singer, who wasn't visible at all for his first number, according to a review of the show.
"You couldn't see him for more than half of it, and then he was barely performing. That shit was sad," one unimpressed fan wrote.
"Frank Ocean leaving the desert after collecting his check from his bare minimum @coachella set," another person tweeted, with a GIF of the fictional Joanne the scammer.
The performance was branded as a "pr disaster" by Festive Owl, a newsletter and community dedicated to the festival industry.
"The entire thing felt forced, unprepared, and just sad. Possibly the worst headliner, ever? Shocking, tbh," moderators for the organization's social media account wrote.
And some fans expressed relief that they didn't "waste money" by purchasing festival tickets, which start at $549 for a general admission weekend pass.
Ocean is expected to return to the main stage of the festival's Weekend 2, where some fans hope he will redeem himself, although fans have already begun to speculate that the performer will cancel — something he has done in the past.
One highlight of the show? An individual wearing a security T-shirt was captured on the big screen delivering a twerking performance that, as one critic said on Reddit, "had more energy than Frank's entire set."