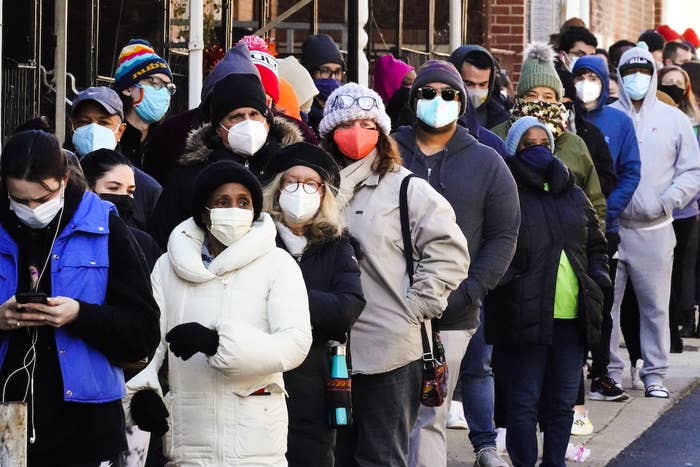 As the Omicron variant blasts across the US, people are sharing horror stories of COVID testing access — from multi-hour wait times to frustrating surprise expenses to pharmacies sold out of rapid rests and desperate uncertainty ahead of holiday season travel.
MiriYam Judd tried to get tested for COVID at an urgent care center on Friday in Hamden, Connecticut, three days after she'd been exposed to someone who had later tested positive.
After waiting about 35 minutes in line next to "visibly sick" people, the 22-year-old was told her insurance wouldn't cover her visit and she couldn't qualify for a PCR test because she didn't have COVID symptoms.
A rapid test would cost her $195. As a recent university graduate, the cost was too much for Judd.
"I was really confused and shocked," Judd told BuzzFeed News. "She asked if I wanted to proceed, and I told her I couldn't afford it and left. It pissed me off more than anything, because I don't understand how this is ever supposed to end if people don't have access to tests? We're told to be safe, to do what we can to mitigate the spread, but also expected to pay almost $200 for a test if we aren't yet symptomatic?"
Judd ended up going back the next day and telling the staff she had COVID symptoms — even though she didn't — just to get a test as soon as possible. Her test was negative.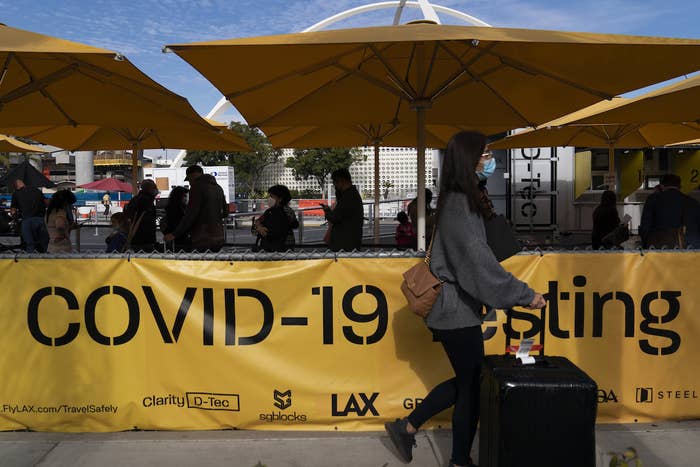 Demand for COVID tests has surged as global coronavirus cases spike, spurred by the easily spread Omicron variant. Over 70,000 new COVID cases were reported in the US on Sunday.
Test providers have run out of supplies or lagged behind public need, driving worried people to pay exorbitant prices for answers or simply walk away. People are confused about what kind of tests they should take, how many they need, and when they should get checked for the easily spread variants — and sharing their disappointment of positive test results received right before planned holiday gatherings.
The District of Columbia reinstated its mask mandate and announced an order of more than a million rapid test kits. Cars waited in lines for up to three hours on Monday at Barnett Park in Orlando. New York City residents endured lines in brisk temperatures below 25 degrees as the city said it would distribute 500,000 at-home test kits to community organizations and 1 million KN95 masks.
Iida Linkka, a student at Fordham University, documented her two-and-half-hour wait in the rain to get tested for TikTok at an EZ tent located in Midtown, Manhattan.
The 18-year-old was advised to get tested after visiting a vaccine clinic for kids where she occasionally dresses up as a Disney character to help ease needle anxiety.
Linkka told BuzzFeed News that she arrived just after 3 p.m., and around 60 people were already ahead of her.
"I have been tested multiple times before, and this was definitely the longest wait time I have ever had," she said. "I had gone to two CityMDs at first to get tested that day, but they both turned me away saying they were fully booked, so then I found this tent. I have never not been able to get tested at a place, I was shocked."
The mood in the line was "frantic," Linkka said. She added that the huge crowds gave her the feeling the pandemic was worsening.
Price has also compounded the chaos. People complained about tests costing $225 and how it's difficult to tell what is or isn't covered by insurance providers. An Instagram-worthy kit of 40 tests from On/Go costs $499 on Amazon. Others reported they were told at urgent care centers to wait to be seen by a physician's assistant after their test, potentially raising the overall cost of their appointment if their insurance is billed for an office visit.
For minimum-wage workers who make $7.25 in some states, it's about half a day's earnings to afford one at-home test, North Carolina–based activist Bree Newsome Bass pointed out in a tweet. Some people shared spending over $68 on a take-home test kit that costs around $20 at most stores; others called out frustrations over "pandemic capitalism," the inherent delineation of who can or can't afford to know whether they're sick.
"Driving to nine pharmacies across the city to ultimately find the last four COVID-19 rapid tests for $50 is not a good public health model and further exacerbates economic inequities, not to mention it is deeply ableist," Natalie Johnstone, 31, of Portland, Oregon, told BuzzFeed News, who also has "long COVID" symptoms, including joint pain. "I needed access to time off, a car, cash, and a cellphone to get these tests today."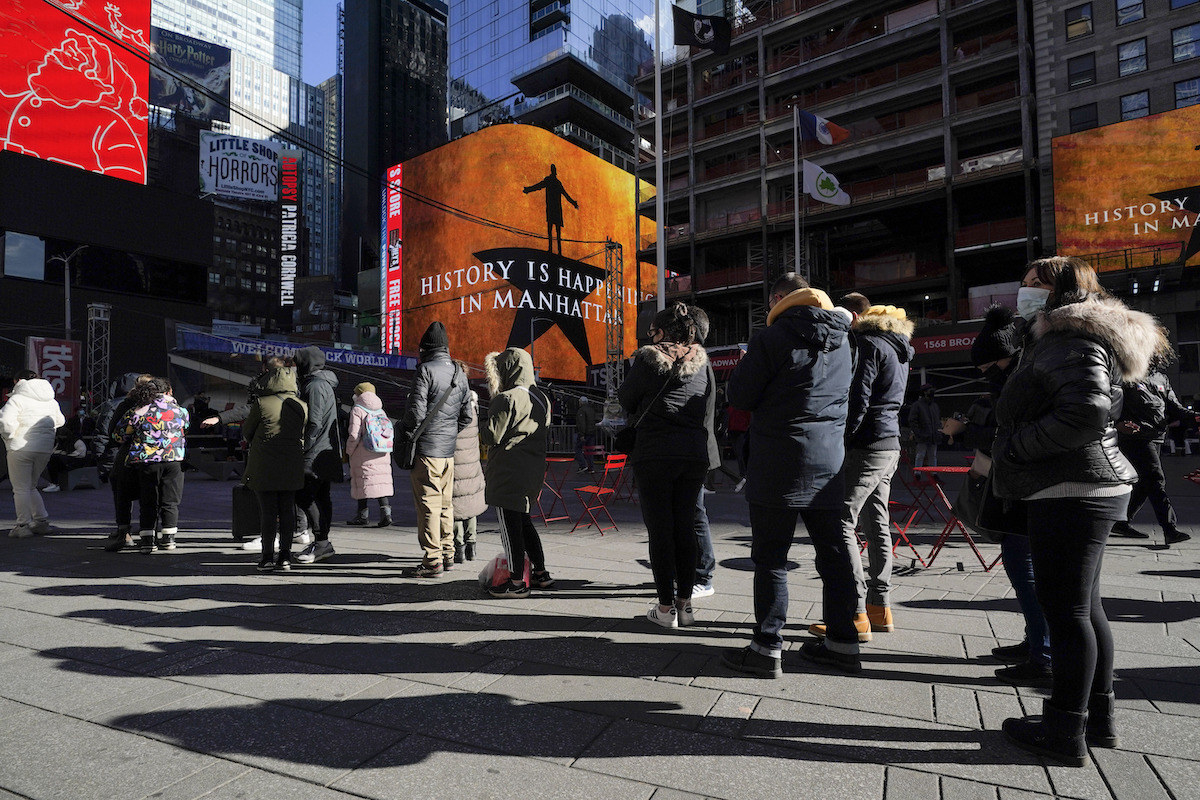 For people desperate for answers days before the holidays, local efforts to bolster testing might not be enough. One halal truck in New York City reportedly attempted to administer PCR tests. And some raised the point that it's not clear whether the push for at-home testing is even efficient when positive or negative test results may never get reported to health officials. It's up to people who self-test to tell healthcare professionals or local authorities if they're sick.
Dr. Ted Long, director of the NYC Test & Trace Corps, told reporters that efforts were being made to ramp up testing capacity across the city, but this week would be a "busy" one.
"If there's a line longer than 30 minutes, we're going to offer you a home kit to take away with you," Long said.
In Boston, library branches were offering one kit with two tests for each household member, according to a tweet from Boston City Councilor Liz Breadon.
The Brighton branch opened at 10 a.m. on Monday, but one resident told BuzzFeed News kits were gone by 2:30 p.m.
Christine Varriale, editor-in-chief of a Boston music blog, tweeted that lines in Harvard Square in Cambridge, Massachusetts, were so long they might need to "double loop." It took over two hours in freezing weather to get tested, Varriale posted, adding, "I've been home for a few minutes and still can't feel my hands or toes very well woo."
"I'd rather the @CityofBoston just open a walk in testing site in Allston instead," Varriale replied to BuzzFeed News' request for comment.
Mia, 31, of Royal Oak, Michigan, who asked to just use her first name for privacy reasons, told BuzzFeed News she went to get tested after local authorities alerted her of a recent exposure. One local site was completely booked, so she made an appointment at another local urgent care.
When she arrived Monday morning, the staff not only weren't wearing masks but also told Mia their system had triple-booked all online appointments (BuzzFeed News has reached out to the urgent care for comment). She, and the other people waiting for appointments, would need to wait at least an hour to get tested — far longer than she could spare given her responsibilities as a full-time caregiver.
"It was frustrating," Mia said. She doesn't want to go back to an "extremely unsafe" place where the testing staff, who have potentially been exposed to positive cases, do not wear masks. She said urgency in her Detroit-area community to get tested has heightened in the past few weeks, although it doesn't yet feel like what she's heard of in cities such as New York.
Luke Wilson of Reston, Virginia, told BuzzFeed News his roommate has COVID, and he needs a test before his Wednesday flight home for the holidays.
With only two days' notice, the 26-year-old said test appointments at his local CVS and Walgreens were all booked and home kits were sold out at the six pharmacies he called. He could have driven an hour into DC to pick up a free at-home test kit from a public library -– but Wilson said he didn't try the library option given the distance.
His only choice, he said, seemed to be a company called Sameday Health that offered next-day booking for a $95 rapid antigen test or a $175 PCR "priority" test — even with insurance.
He booked a rapid test for Tuesday and will have to drive nearly 30 minutes for the appointment. His insurance will reimburse him, but Wilson said he's not sure the process of submitting a claim is even "worth the trouble."
"Of course I'm motivated to give up," Wilson said. "I'm going to South Carolina. My family doesn't care if I come there sick. I'm trying to do this for the greater good."