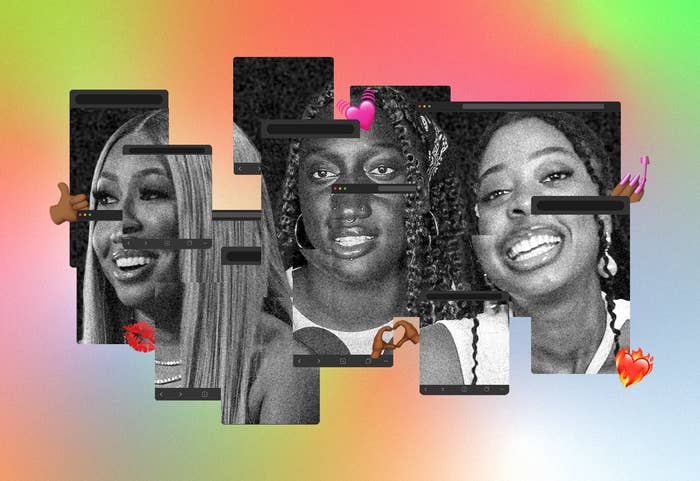 The girlies from the internet culture team give their picks for the best things they've found on Al Gore's internet this year. Sign up for our Please Like Me newsletter here.
r29Unbothered
While much of Instagram has become awash with reels and monochromatic "day in my life"–style edits, r29Unbothered pushed through with color, style, and intentionality. Shout out to the social media team behind Refinery 29's unapologetically Black sister page for always serving up the best visuals, delivering the right quotes at the right time, and pushing Black storytelling.

The vertical turned 5 this year and celebrated with a star-studded lineup of Black social media stars including Elsa Majimbo, Lala Milan, and my favorite English teacher, Cleotrapa.
Elijah
Yellow squares have a new meaning to me since falling into the online world of Elijah, a London-based writer, DJ, artist manager, and cofounder of the record label Butterz. His daily musings on creativity, music, business, and everything in between have captivated a community of followers all tapped in and waiting to see where he takes the conversation next.

The project has culminated in real-world activations, including a series of lectures where Elijah lifts the veil on the music industry with transparency and knowledge for emerging creatives.
Melissa's Wardrobe
Melissa Holdbrook-Akposoe is your favorite influencer's influencer. The hashtag #MelMadeMeDoIt is a testament to the power of her approval and the phrase is in circulation so much, it just had to be immortalized in music history.
The single "Mel Made Me Do It" was the first solo release from British-Ghanaian rapper Stormzy in three years and came complete with a blockbuster music video featuring a litany of cameos from Black British cultural icons, and none other than Melissa herself. If she isn't giving her witty commentary on UK reality television, she's running around London styling celebrity clients or sharing the best tips on her platform "It's a Lifestyle, Hun" on how to live life with a bit more dazzle.
Caresha Please
After spending years trying to rally her fans around the moniker "Yung Miami," Caresha Brownlee finally gave in to the name she was born with and came into her own as a social media star.

Leveraging her fame as one-half of the Miami group City Girls, Caresha's brand found its feet as the face of the Revolt podcast Caresha Please, an interview series with some of hip-hop and entertainment's notable figures for "wild and unfiltered conversations."
She didn't disappoint and launched with an interview quizzing Revolt co-founder Diddy, who she happened to be conveniently romantically involved with, about their relationship. In an interview with XXL, the 28-year-old let it be known that she wants to be "the Black Oprah," which sent sections of the internet into a spiral for obvious reasons.
Vanessa Gymiah
There are beauty creators and then there's Vanessa. Her makeup artistry and editing skills come together in next-level transformations that are creative and way beyond my skill set, so all I can do is ooh and aah at what she's able to pull off with a brush and a palette.

Emmanuel Duverneau
TikTok has served up a fair amount of cursed cooking content this year. The kind where food items are fondled and handled in a way I wish I could delete from my mind. Our much-needed palate cleanser is Emmanuel Duverneau with his wholesome recipes served up with a side of dance breaks. Will I ever try out a recipe? Probably not, but that doesn't stop me from appreciating Emmanuel's culinary skills and stunning kitchen. It's not a Duverneau dish if it doesn't conclude with a taste test and an enthusiastic "excellent" as a seal of approval.

Victor Kunda
Need I say more? Just look at him — even Lil Nas X agrees. From TikTok to red carpets, and even the occasional cameo at BuzzFeed, Victor's flourishing career as a content creator and influencer is both wholesome and exciting to watch. His comedic timing has struck viral gold on multiple occasions, and 2022 cemented Victor's fashion era: His personal style made him a favorite to watch on the red carpet. It's no surprise that brands like Jack Wills and Kurt Geiger have tapped him to appear in major campaigns.
I'm on a personal mission to see the sale of podcast microphones decline in 2023, but ISWIS is an exception — give them all the mics and turn up the volume. Hosts FK Abudu and Jola Ayeye are the perfect pair to dive into current affairs through the lens of the African millennial.
The podcast was one of the 13 recipients of Spotify's inaugural Africa Podcast Grant created to highlight voices from the continent. Highly recommended listening to Season 4, Episode 37, "Fuji House of Commotion." The ladies are joined by a guest who gives their personal account of growing up in a polygamous household. It's as dramatic as you would expect.
Khadija Mbowe
Mbowe rarely misses when it comes to discussing meaty topics, and every point hits in their detailed video essays. From unpacking desirability to pulling apart the "nice guy" trope, Mbowe's YouTube videos are always thoroughly researched, sprinkled with comedy, and right on the money when it comes to the major conversations. If you aren't already one of their 550K subscribers, tap in because it's worth your time.

Nick Trawick
The adventures of Kleptora, or Black Dora as I like to refer to her, is a simple sketch but never fails to make me laugh. Wherever you see hair swishing and hear the jingle "Backpack, Backpack!" rest assured that something is getting stolen. Trawick gets extra points for commitment to character with a wardrobe supplied with unlimited pink tops and orange bottoms.
Chinasa Anukam
I'm a Ziwe fan, so it only made sense to love Chinasa Anukam. Her brand of humor is the special sauce that makes her YouTube series Is This Seat Taken? perfect viewing.
In ITST, the multitalented creator sits down with fellow content makers and celebrities for what can only be described as the most awkward first date ever. In her own words, Anukam considers herself a sort of amalgamation of Issa Rae, Trevor Noah, and Kevin Hart, which was the type of smart, funny, and chaotic energy I needed for 2022.
Big Manny
Looking to grow copper sulfate crystals? Or maybe you're interested in testing the pH levels of some of your household products? Big Manny's TikTok account was the place for all that and more as the biomedical science student filled his page with accessible science lessons and fun experiments that I do not advocate trying at home. Manny has more than 1 million followers tapped into his science explainers, but his talents also include music. Come for the science, stay for the vibes.

Yung Nollywood
Long after the Y2K aesthetic is replaced with another recycled era to harvest for looks and inspiration, I will remain loyal to all things classic Nollywood. No other account has brought together memes, motivation, and the poorly made movies of the '00s quite like Yung Nollywood. It's my go-to destination for quick laughs and unlocking childhood memories of absorbing all things Nollywood in a Nigerian household in London.
As the saying goes, if Yung Nollywood has a million fans, then I'm one of them. If Yung Nollywood has one fan, then I'm that one. If Yung Nollywood has no fans, that means I'm dead.