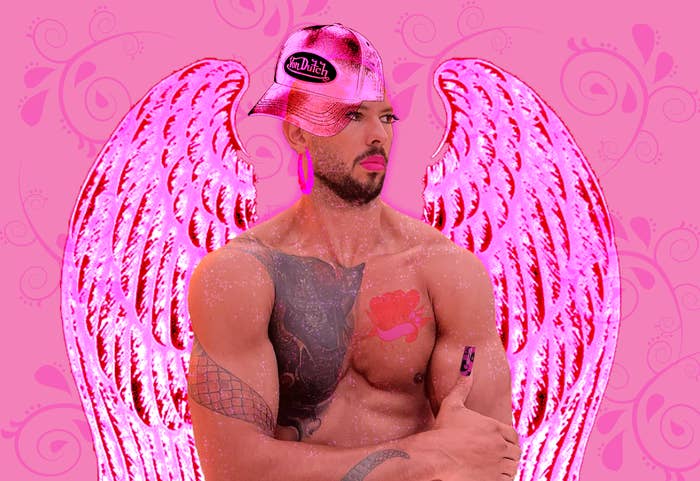 Andrew Tate, a former kickboxer turned content creator, is receiving a makeover online from people who are trolling him for his misogynist views by showing him yassified.
The yassify meme, which originates from queer culture, first gained popularity in November last year with photos of several prominent figures being heavily edited until they are transformed into ultraglam and sultry bad bitches.
Thirty-five-year-old self-described "success coach" Tate is now the latest target in response to his growing visibility in recent weeks, amplified by appearances on podcasts, media coverage, and viral moments on social media.
Morgan, a full-time Twitch streamer from Michigan who asked to be identified only by her first name, told BuzzFeed News that she found herself unable to "escape" Tate's content on the platform after watching several larger creators' attempts to debate him including Adin Ross, xQc, and Hasan Piker, also known as HasanAbi.
"I realized he was just an asshole," she said. "I was like, there's no way he's a real person."
Tate's presence online has been described as "dangerous" in a viral Instagram post by queer creator Matt Bernstein that called on tech platforms to intervene citing Tate's violent, anti-LGBTQ, and misogynistic comments made across various podcast appearances.
Tate has described married women as "property" that belongs to their husbands, and in 2017, he tweeted, among many other inflammatory comments, that women should take "some responsibility" for being sexually assaulted.
Morgan was inspired to make her edit when she decided to change her Discord profile photo and asked for suggestions on what it should look like.
"Somebody suggested Andrew Tate but on my face," she said. "My brand, I guess, includes lashes and nails and stuff. So I just edited his face onto me with the hijab and I added the nails. People thought it was hilarious."
In the edited pic, Tate and his long fake lashes sit in front of a pink glitter background, with his nails painted red, blue, and yellow.
Various edits on TikTok have been shared using his name as one of the hashtags, which presently has over 12.8 billion views.
One viral TikTok, with over 1.7 million views, shows Tate being yassified into an early 2000s Paris Hilton–era socialite with a Juicy Couture velour tracksuit, Victoria's Secret underwear, and the Playboy logo. The yassification of Tate is a way to parody him: If you hate women so much, what if women memed you into being the most cliché version of feminine womanhood imaginable?
Morgan believes that Tate would likely be "really pissed" if he were to see them.
"Since he has this, like, 'alpha male' aesthetic, he probably doesn't want to be emasculated especially when people are editing, like, him wearing Victoria's Secret pink sweatpants, holding Gucci purses, having long hair, and these big acrylic nails," she said.
In one edit that has over 4.5 million views, Tate is transformed into a Lana Del Rey–loving ballerina complete with a bright pink tutu.
"I feel like people like him have such a fragile ego and fragile masculinity that I feel like he'd be upset if he saw stuff like that," Morgan said.