WASHINGTON — On Wednesday night, Rep. Marjorie Taylor Greene will take the field with the Republican congressional baseball team, joining the ranks of more than a century's worth of lawmakers living their major league dreams in the name of charity and bragging rights.

The game — seven innings on a big league field — is a Washington tradition from an earlier era, marked with the kinds of odes to bipartisanship that either cause eyes to roll or people to admit that yes, it's important after all to remember that lawmakers are people too. And the lawmakers take it very seriously: They've been practicing daily before dawn, and members of both teams have waxed poetic leading up to the game about how good a pitcher former representative Cedric Richmond was before he was poached by the West Wing. After the 2017 shooting that targeted a Republican practice and nearly killed House Minority Whip Steve Scalise, the game has bridged our current era of violence and polarization with a different one.
But isn't it strange, I've been asking Democratic lawmakers, to play against Greene in a charity game about bipartisanship — given, you know, all of it?
Greene was just one of 147 Republicans who voted against certifying the results of the 2020 election after the Jan. 6 insurrection, but she's been among the loudest cheerleaders of false election conspiracies. Every House Democrat and 11 Republicans voted to strip Greene of her committee assignments in just her second month in Congress due to her history of racist remarks and comments she had made prior to her election in support of violence against Democrats. In the months since, she's harassed Reps. Alexandria Ocasio-Cortez and Cori Bush to the extent that Ocasio-Cortez raised security concerns and Bush chose to move her office away from Greene's "for [her] team's safety," voted against awarding Congressional Gold Medals to the Capitol Police officers who responded on Jan. 6, and compared coronavirus restrictions to the Holocaust.
But members of the Democratic roster largely seemed miffed that I'd wondered if politics could get in the way of a bunch of politicians playing baseball.
"I think this is one of the times that, you know, even though I still am mad at many members — Republican members that supported at least the thought behind the insurrection in terms of overturning the election — that we're going to just focus on the game," Arizona Rep. Ruben Gallego said.
He definitely isn't worried about Greene's skill on the field, either. "If she plays baseball as bad as I saw her shoot the M82, I don't think she's gonna be a very effective baseball player," he said, referring to a campaign ad where Greene shoots a Prius with a 50-caliber rifle.
In response to a request for comment for this story, Nick Dyer, a spokesperson for Greene, said in an email, "Over 70 Democrats have signed up to expel Congresswoman Greene from Congress and every Democrat voted to remove her from committees. Who really are the aggressors? Who is really being nasty?"
Dyer went on to blame Greene's series of public confrontations with Democratic members on Democrats, including Rep. Eric Swalwell who he said had had a "mental breakdown in the Capitol" and added, "​​It's time for you to learn to be an actual journalist instead of a gossip columnist."
Swalwell, another Democratic player, compared the baseball game to the Olympics, where countries with many differences come together to celebrate sports, and to former president George W. Bush throwing the first pitch at Yankee Stadium after 9/11. "I don't want politics to, you know, be a part of the game," he said.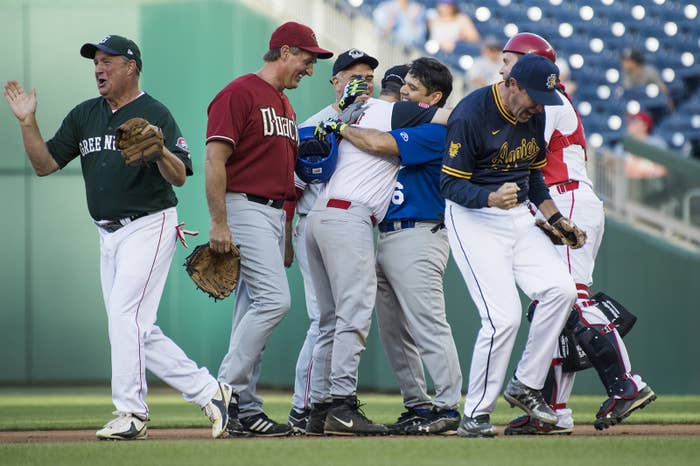 Rep. Mike Doyle of Pennsylvania, one of the Democratic team's two managers, said he and many other players have made friends with Republican members through the baseball games and that they "try to put as much of that behind" them as they can.
"Obviously, we have very strong disagreements not only about what happened on Jan. 6, but on other issues, too," Doyle said during an interview ahead of the game. "But this is one day in the year that we try to put on a decent show for the people that come in the stands and buy a ticket, knowing that that money is all for the charities that we support."
Still, Doyle recognizes on some level that this is a different kind of year, with an unending pandemic and a former president who insists, with the help of allies like Greene, that the election was stolen from him. "We'll see," he added. "I know that our intent isn't to go in there angry. Our intent is to go in there and beat them on the baseball field."
As is tradition, the game will raise money for a number of charities in the DC area, including the United States Capitol Police Memorial Fund. The fund was added to the charities a few years ago, following the shooting of Scalise, a lobbyist, a staffer, and a member of Scalise's security, during practice the day before the 2017 game; without the Capitol Police officers in the detail returning the shooter's fire, it's very possible the practice would have become a mass casualty event.
The fund is bleakly, freshly relevant again this year. Not yet nine months have passed since the Jan. 6 insurrection, when five people, including one police officer, died during or shortly after the attack. Four police officers, including one Capitol Police officer, who responded have died by suicide in the months since.
While I was reporting this story, Greene thrust herself into the news yet again, this time starting a screaming match about abortion on the Capitol steps, when she yelled to a group of Democratic members gathered for a press conference to "stand with women." Democratic Reps. Pete Aguilar and Debbie Dingell snapped back; the former called Greene "performative," and the latter told her to "practice the basic thing you're taught in church: Respect your neighbor."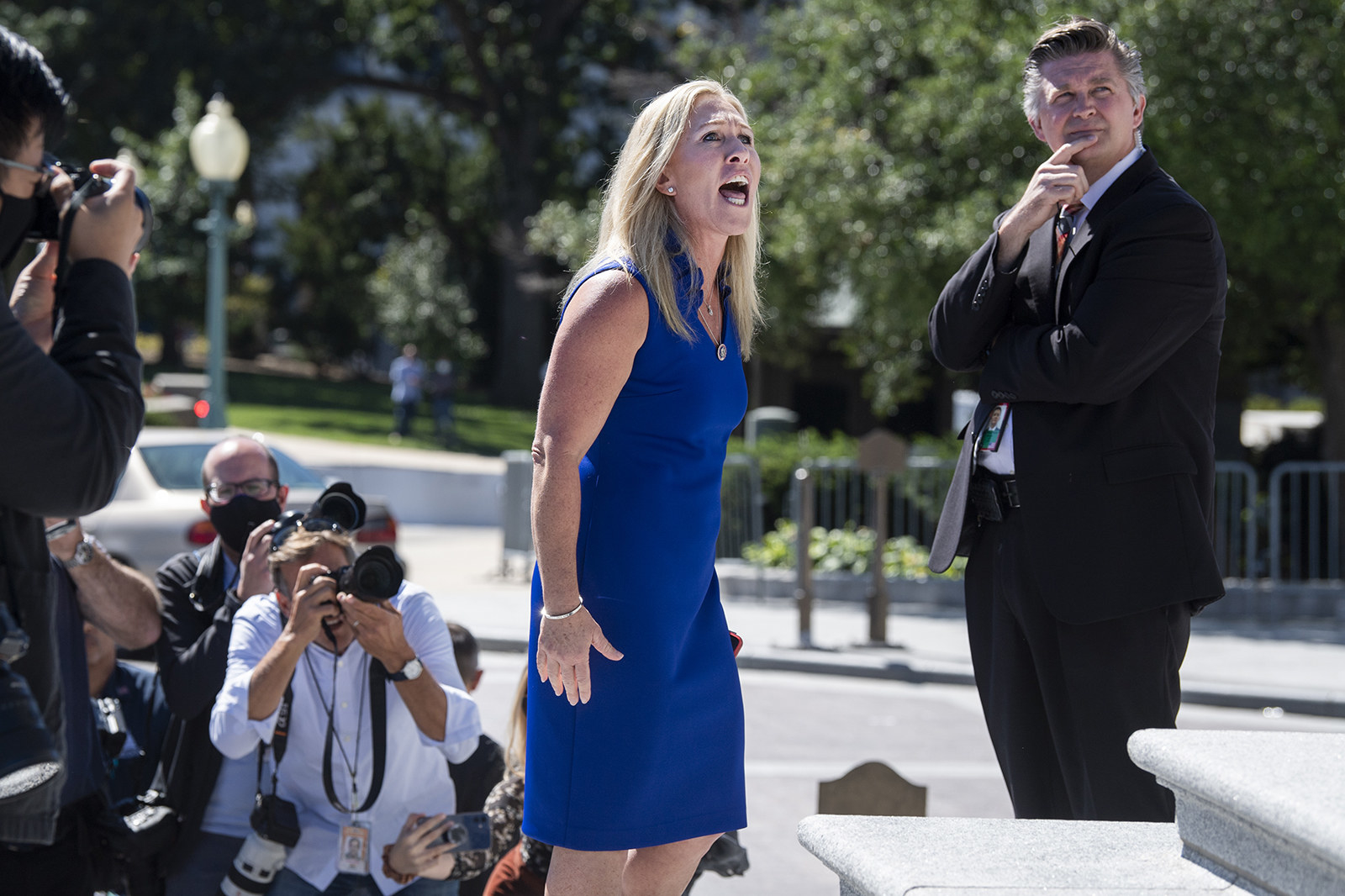 Later the same day, on Twitter, Greene quote-tweeted Dingell, writing, "ALL House Democrats are evil and will kill unborn babies all the way up to birth & then celebrate." In another tweet the next morning, Greene wrote, "Dingellberry is like one of those annoying little pieces of 💩that clings on far too long."
But Aguilar, a member of the Democratic baseball team, said he doesn't think it will be awkward to see her again on the field. Like many of his colleagues, he said he will be focused on winning the game, but he won't be surprised if Greene picks up the fight again during the game. "She clearly loves the spotlight and loves to yell at her colleagues when the cameras are around, so I would imagine with the cameras being on she'll continue to do the same," he said.
Aguilar has played on the team since he was elected seven years ago. He said he remembers well the camaraderie forged between Democrats and Republicans in the games following the shooting at the Republican practice. But this year, he confessed, doesn't feel the same.
"A lot of our colleagues on the other team were on the House floor with me, and they voted not to certify the election after a mob tried to storm the Capitol and kill us," Aguilar said during an interview Tuesday afternoon. "So I think that part's a little hard, when you start thinking about how we came together after that one incident and then how divided we are after this incident. … It's hard to wrap your mind around."
Aguilar sits on the committee investigating Jan. 6. He wonders if his Republican colleagues look at him differently now too.
Rep. Jared Huffman of California also said this year feels strange to him. "We have played this game during difficult political moments. We played it in the shadow of the terrible shooting of Steve Scalise — but this feels like the most surreal moment of all, and this game, you know, doesn't happen in a vacuum," he said. "It happens in the context of what's going on in the nation's capital and in the nation itself."
The lawmaker struggled to find the right words to describe how he felt about playing against Greene, specifically regarding Jan. 6.
"It can be, you know, what's the right word? Awkward, intense, creepy. I don't know," he said. "I certainly hope we can find a moment of charitable common cause and nonpartisanship. That's what this game has always been about, and it's what most of us love about it."
Early Tuesday morning, at a field in northeast DC flanked by security guards, a handful of Democratic lawmakers gathered for their second-to-last practice before the big day. Rep. Linda Sánchez of California, who was sporting pink streaks in her hair, has played on the team for 19 years.
We stood along the first base line, watching her colleagues take hacks at crisp batting practice pitches thrown by a staffer. "It's harder to come into the office every day and be around people that you can't trust," Sánchez said when I asked whether the attack — and the sympathy some of her Republican colleagues have shown for the insurrectionists — affects how she's thinking about the game this year. But, she added, "On a baseball field, you're focused on the game."
Sánchez paused as another Democrat passed by and handed her her glove, which he'd been using to snatch fly balls in the outfield, before she continued. "So you don't really think about that. But yeah, I mean, Jan. 6 is seared into everyone's collective memory. I still have anxiety as a result of that." Then she started to choke up. ●
Correction: Four police officers have died by suicide in the months since Jan. 6. An earlier version of this story miscategorized the officers.