California AG "Shocked" To Learn Her Office Wanted To Keep Eligible Parolees In Jail To Work
Lawyers for California Attorney General Kamala Harris argued releasing non-violent inmates early would harm efforts to fight California wildfires. Harris told BuzzFeed News she first heard about this when she read it in the paper.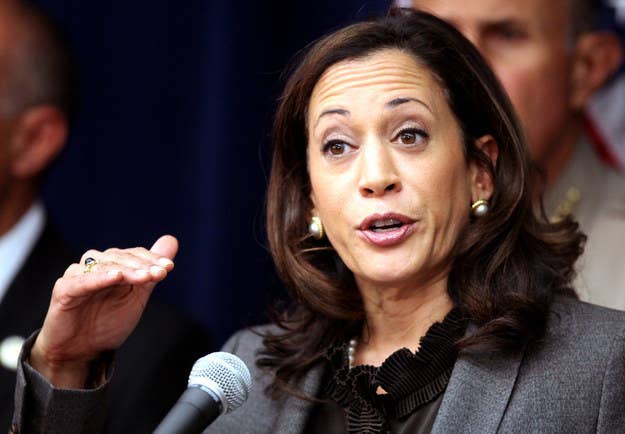 Lawyers for California Attorney General Kamala Harris argued in court this fall against the release of eligible nonviolent prisoners from California's overcrowded prisons — because the state wanted to keep them as a labor force.
Harris, a rising star in the Democratic Party, said she learned about the argument when she read it in the paper.
"I will be very candid with you, because I saw that article this morning, and I was shocked, and I'm looking into it to see if the way it was characterized in the paper is actually how it occurred in court," Harris told BuzzFeed News in an interview Monday. "I was very troubled by what I read. I just need to find out what did we actually say in court."
The Supreme Court found California's prisons were so overcrowded in 2011 that the conditions violated the Constitution's prohibition on cruel and unusual punishment. Since then, California has been under federal court supervision as it seeks to comply with the order that the state reduce its prison population. In February, the state had agreed to reduce its population by releasing nonviolent prisoners with only two felonies who had served half their sentences.
Last week, the Los Angeles Times reported that attorneys in Harris' office had unsuccessfully argued in court that the state could not release the prisoners it had agreed to release because "if forced to release these inmates early, prisons would lose an important labor pool." Those prisoners, the Times reported, earn wages that range from "8 cents to 37 cents per hour."
In a Sept. 30 filing in the case, signed by Deputy Attorney General Patrick McKinney but under Harris' name, the state argued, "Extending 2-for-1 credits to all minimum custody inmates at this time would severely impact fire camp participation — a dangerous outcome while California is in the middle of a difficult fire season and severe drought."
Approximately 4,400 California prisoners help the state battle wildfires, at wages of about $2 a day. There is an exception in the agreement that allows the state to retain firefighters — but only firefighters — who are otherwise eligible for release.
Like incarcerated firefighters, inmates who perform "assignments necessary for the continued operation of the institution and essential to local communities" draw from the same pool of inmates who pose a limited threat to public safety, the state argued in a September filing. Therefore, reducing that population would require the prisons to draw more incarcerated workers away from its firefighting crews.
The attorneys representing the plaintiffs in the prison overcrowding lawsuit scoffed at the state's argument. "They could hire public employees to perform tasks like garbage collection, garage work and recycling; if they deplete the fire crews in order to staff their garage crews, that would be their own choice," they responded in their filing.
The federal judges supervising the case didn't find the state's argument persuasive either.
"The record contains no evidence that defendants cannot implement the required parole process by that date, eleven months after they agreed to do so 'promptly,'" the judges wrote.
A previous version of this post said BuzzFeed News reached out to Harris' representative for comment; the request was accidentally sent to the wrong email address.
Following publication, the press secretary of the California Department of Corrections and Rehabilitation sent the following statement:
"On Feb. 10, 2014, the federal three-judge court gave CDCR the following order (among others): 'Minimum custody inmates will be eligible to earn 2-for-1 good time credits to the extent such credits do not deplete participation in fire camps where inmates also earn 2-for-1 good time credits …'"