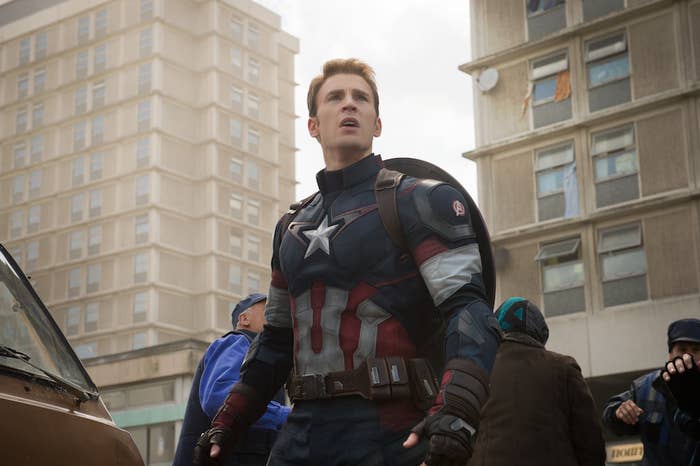 Of all the criticisms of Avengers: Age of Ultron, one of the most common is that the Marvel Studios' movie felt overstuffed with so many superhero characters and villains that it could hardly contain them. And for Marvel Studios' next big May blockbuster, Captain America: Civil War, they have stuffed even more characters into the mix.
In a press release on Thursday noting that production had started on the third Captain America film, Marvel Studios announced that Paul Rudd — the star of Marvel Studios' Ant-Man, opening in July — "will make his first appearance alongside the Avengers" in Captain America 3.
At the risk of spoiling the end of Age of Ultron (which means SPOILER ALERT for the following sentence), the studio also confirmed that Paul Bettany (as The Vision), Don Cheadle (as Jim Rhodes, aka War Machine), Anthony Mackie (as Sam Wilson, aka Falcon), and Elizabeth Olsen (as Wanda Maximoff, aka Scarlet Witch) will also appear Captain America: Civil War.
Along with Mackie, Marvel Studios confirmed that most of the cast of 2014's Captain America: The Winter Soldier — including Sebastian Stan (as Bucky Barnes, aka the Winter Soldier), Emily VanCamp (as Sharon Carter, aka Agent 13), and Frank Grillo (as Brock Rumlow, aka Crossbones) — will appear in Civil War. Marvel Studios also announced that William Hurt will reprise his role as General Thaddeus "Thunderbolt" Ross from 2008's long-forgotten The Incredible Hulk. (Mark Ruffalo, however, was not included in the announcement, so it is unclear whether he will play Bruce Banner, aka the Hulk, in Civil War.)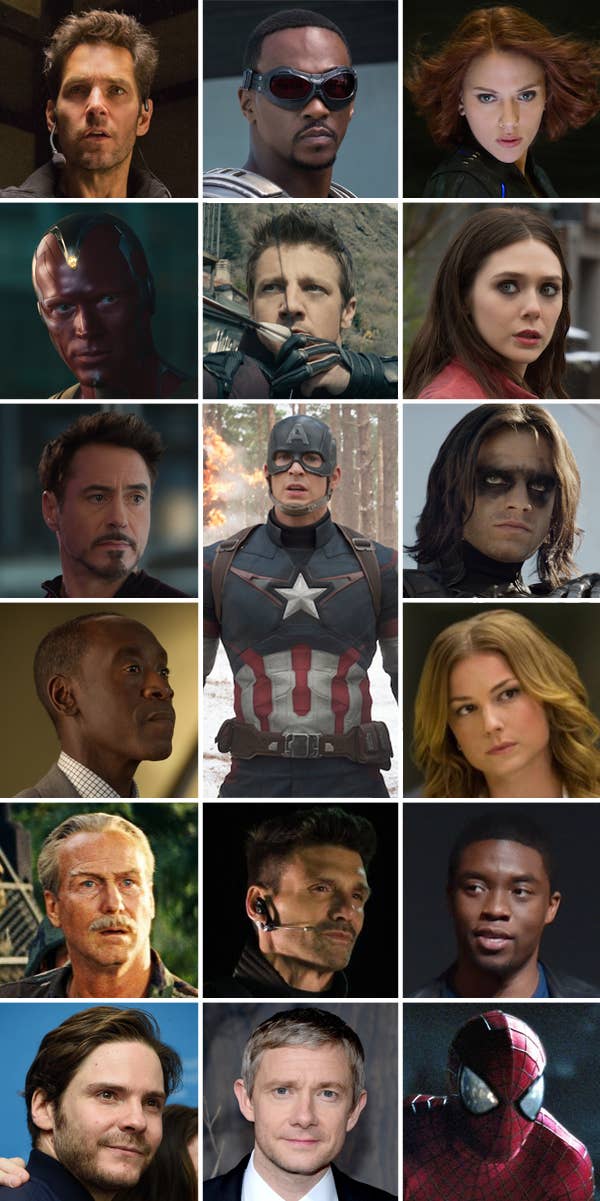 If that wasn't enough, several actors who are brand new to the Marvel Cinematic Universe are also starring in Civil War, first among them Chadwick Boseman (42), as T'Challa aka Black Panther, which was announced to great fanfare at a Marvel Studios press event last October. Daniel Brühl (Inglorious Basterds) and Martin Freeman (Sherlock, The Hobbit) are also joining the cast, in as yet unspecified roles.
And as part of Marvel Studios' deal with Sony Pictures, a new, as yet unannounced actor is expected to play Spider-Man in Civil War as well.
Meanwhile, three of the original Avengers cast — Robert Downey Jr. (as Tony Stark, aka Iron Man), Scarlett Johansson (as Natasha Romanoff, aka Black Widow), and Jeremy Renner (as Clint Barton, aka Hawkeye) — will join the nominal star of Captain America: Civil War, Chris Evans, as Steve Rogers, aka You Get The Idea.
Even if some of these actors will appear in not much more than cameos, that is at least 17 significant characters the film's story needs to account for.
According to the release, Civil War's plot will revolve around "another international incident involving the Avengers [that] results in collateral damage," forcing the superhero team to grapple with political pressure to hold super-powered people more accountable for their actions, which in turn breaks them apart into separate factions.
For that tension to resonate in the film, the movie would certainly need to include as many super-powered people as possible — otherwise, it could feel like no big deal. The question for Marvel Studios, however, is whether including that many super-powered characters will be so much of a good thing that it also breaks the movie apart.