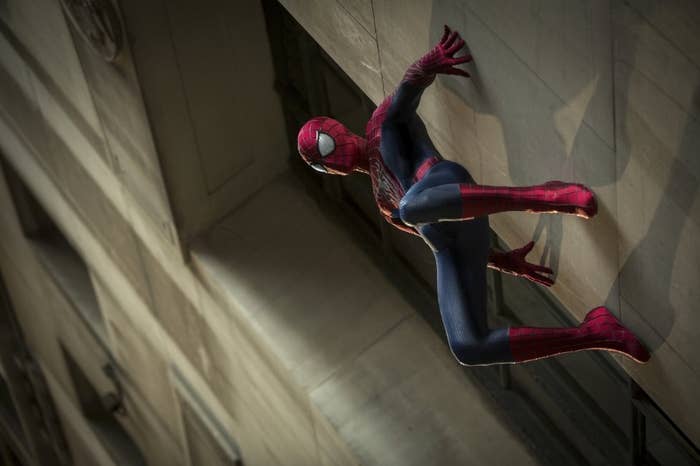 Marvel Studios has basically captured Spider-Man.
In an unprecedented deal between two giant multinational corporations, Sony Pictures and Marvel Studios announced late Monday that the character of Spider-Man would join the Marvel Cinematic Universe, the interconnected series of films featuring Iron Man, Captain America, Thor, Hulk, and the Guardians of the Galaxy.
Spider-Man will first appear in an unspecified film from Marvel Studios, which is owned by the Walt Disney Company. Then, on July 28, 2017, Spidey will headline his own feature film, released by Sony Pictures and produced by Marvel Studios Chief Kevin Feige and Sony's Amy Pascal, who recently stepped down from her role as the co-chair of Sony Pictures.
According to a press release, Sony Pictures, which has held the exclusive feature film rights to the web-slinger since 2002's Spider-Man, "will continue to finance, distribute, own, and have final creative control of the Spider-Man films." A source with knowledge of the situation, however, has confirmed to BuzzFeed News that Andrew Garfield will not play Spider-Man moving forward. A new actor will be cast.
Sony Pictures is also moving forward with plans for spin-off movies featuring Spider-Man villains the Sinister Six and Venom. The release dates for those films will likely be pushed back to accommodate the new plans for Spider-Man to join the MCU.
Sony and Marvel are also "exploring opportunities to integrate characters from the MCU into future Spider-Man films," according to the release.
The announcement reflects an astonishing amount of cooperation between what would seem like two corporate rivals. Disney has even pushed back almost all of Marvel Studios' slate of upcoming films to make room for Sony Pictures' next Spider-Man film, starting with Thor: Ragnarok, which will relocate from July 28, 2017, to Nov. 3, 2017. That, in turn, will bump Black Panther to July 6, 2018, Captain Marvel to Nov. 2, 2018, and Inhumans to July 12, 2019. The two Avengers: Infinity War movies, however, are still slated to open on May 4, 2018, and May 3, 2019.
Representatives for Marvel Studios are declining to comment on which title will see Spider-Man make his debut. But given the announced timeline, it would seem Spidey will be in Captain America: Civil War, especially since Spider-Man plays a pivotal role in Marvel's corresponding comic book series detailing the civil war between Captain America and Iron Man.
On paper, the deal appears to be a genuine have-your-cake-and-eat-it-too moment for both Disney/Marvel and Sony. The former gets to bring a lucrative crown jewel character into the fold of its vast and expanding mega-franchise, while the latter can hit the reset button on its biggest franchise after the previous two Amazing Spider-Man movies enjoyed moderate success financially but were seen as creative disappointments. This time, Sony gets to go along for the ride with the MCU's enormous creative and commercial popularity.
Whether these two companies can ultimately navigate the tangled intercorporate web they've spun for themselves, however, remains to be seen.